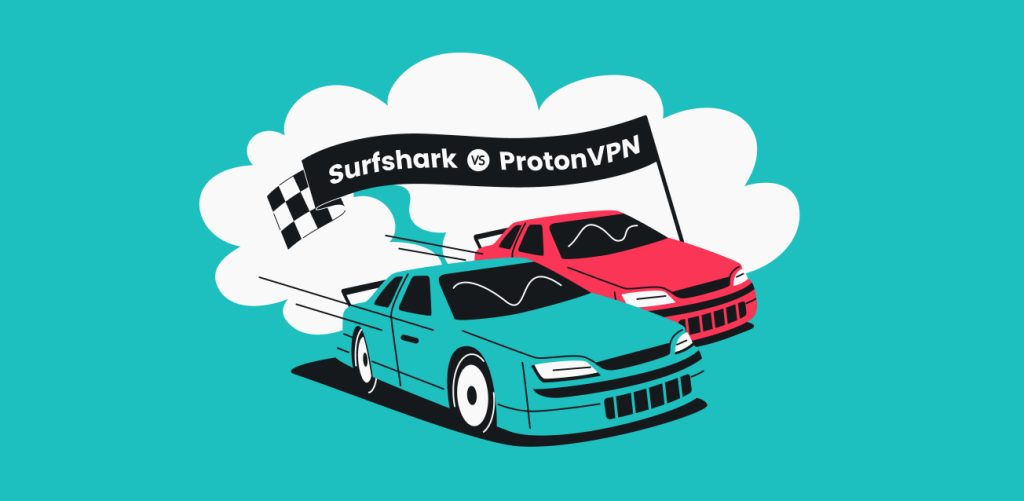 Comparing VPN providers can be tricky since there may be no noticeable distinctions between them, making it challenging to pick the right one. In this Surfshark vs. ProtonVPN comparison review, we will guide you through the benefits and drawbacks of each so you can choose the best VPN for you.
Note: the comparison was made on May 30, 2023.
Antivirus that works backstage

Secure your device, files, & webcam in real-time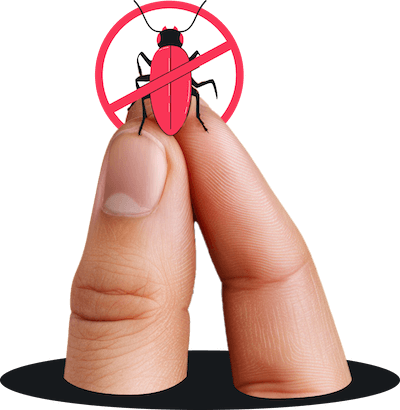 Surfshark vs. ProtonVPN: at a glance
| | Surfshark | ProtonVPN |
| --- | --- | --- |
| | | $4.99/mo |
| | 30 days | 30 days |
| | Unlimited | 10 |
| | 3200+ | 2661 |
| | 100 | 67 |
| | | |
| | | |
| | * | * |
After a quick look, it seems that Surfshark and ProtonVPN mainly differ in price, simultaneous connections, and servers.
Yet, the table above barely scrapes the surface, so the differences between the providers might still be unclear. You must dig deeper into the technical details before deciding whose hands to put your safety in. So let's dig together!
Security
First and foremost, both VPN service providers guarantee complete security as they don't collect your browsing history or any other related data. That means they don't keep a record of your online activity. Surfshark is based in the Netherlands, and ProtonVPN's headquarters are in Switzerland — ideal locations for data protection. 
Technically speaking, a few intricacies allow us to assess the security section of both VPN providers, one of the most important ones being encryption.
Surfshark

ProtonVPN

WireGuard, OpenVPN, IKEv2

WireGuard, OpenVPN, IKEv2

AES-256 (OpenVPN, IKEv2)
ChaCha20 (WireGuard)

AES-256 (OpenVPN, IKEv2)
ChaCha20 (WireGuard)

RSA-2048

RSA-4096

Kill Switch

Kill Switch

Private DNS

Private DNS
VPN protocols and DNS status
There is no crucial difference regarding VPN protocols and DNS (Domain Name System) status when comparing Surfshark and ProtonVPN. They both offer WireGuard, OpenVPN, and IKEv2. Also, both VPN providers ensure that your DNS requests will be handled by their private DNS so no one can access them in an unencrypted format.
Encryption
From VPN protocols to data encryption, you can see that most of the security features between Surfshark and ProtonVPN are similar. Both providers offer the same VPN protocols, Kill Switch, and use robust AES-256 (Advanced Encryption Standard) encryption.
Data encryption
Along with AES-256 encryption, Surfshark and ProtonVPN go hand in hand and use ChaCha20 encryption for the WireGuard protocol.

Both encryptions are very similar, but the main difference is that AES-256 divides data into blocks, whereas ChaCha20 ciphers each bit of data separately. Hence, some consider the latter to be faster, although the differences in speed and complexity are minor.
Encryption key
ProtonVPN uses a 4096-bit version of the RSA (Rivest-Shamir-Adleman) encryption key, but the 2048-bit version is already secure enough. The RSA-2048 bit key would take approximately 300 trillion years for an ordinary conventional computer to crack.

The length of the key affects how much processing is required to read it by the server. So doubling the number of bits to add that extra layer of protection brings one drawback — speed.
Closing thoughts on security
Surfshark and ProtonVPN guarantee strong and unbreakable encryption to protect your online activities and data.
Speed
Imagine your internet connection was as fast as Lightning McQueen when connected to a VPN. Wouldn't that be amazing? While your VPN connection speed defeating Chick Hicks would be a unique conversation starter, VPN and car speeds are measured differently (obviously). But let's press the brake pedal and learn how the VPN speed is measured.
Have you ever heard of Gbps (gigabits per second) or Mbps (megabits per second)? These measurement units indicate your internet speed.
Surfshark and ProtonVPN servers offer a speed of at least 1Gbps. Both VPN services also say that in most locations, their server speed can reach 10Gbps. That's not too bad, considering you only need 3Mbps for video calls and 30Mbps for browsing.
WireGuard protocol
As mentioned, both Surshark and ProtonVPN use the WireGuard protocol as they identify it as the fastest.
How do we know it is the fastest? Well, we carried out many tests using speedtest.net by Ookla. We tested the server speed of both VPN providers across the US, the UK, Australia, and Japan. Our research baseline was 300 Mbps download speed and 250 Mbps upload speed. 
A few words before the big reveal: speed can differ. It depends on many factors, such as location, device, network, ISP (Internet Service Provider), etc. So let's move on to the results, shall we?
| WireGuard | Surfshark | ProtonVPN |
| --- | --- | --- |
| Download average | 268 Mbps | 234 Mbps |
| Upload average | 163 Mbps | 180 Mbps |
As you can see, there aren't any significant differences. Surfshark provided a better download speed, and ProtonVPN's speed was better for uploads. Interestingly, giving upload speeds up to 12 Mbps in some locations caused setbacks for both VPN services.
OpenVPN protocol
We also tested Surfshark and ProtonVPN servers on the OpenVPN protocol.
| OpenVPN UDP | Surfshark | ProtonVPN |
| --- | --- | --- |
| Download average | 154 Mbps | 130 Mbps |
| Upload average | 121 Mbps | 112 Mbps |
Surfshark performed better on both download and upload speeds on the OpenVPN protocol. However, the differences aren't that significant.
Closing thoughts on speed
Surfshark's upload speed was faster on both WireGuard and OpenVPN protocols, and its download speed was faster on the OpenVPN protocol. ProtonVPN took the lead on upload speed on the WireGuard protocol.
Features
Apart from serving a VPN's main purpose — protecting your connection online — both Surfshark VPN and ProtonVPN are packed with additional features under their hood. Truly a cherry on top.
For your convenience, we will briefly explain all the features.
AdBlocker
Prevents your browsing from ads, trackers, malware, and phishing attempts. Surfshark offers CleanWeb, and ProtonVPN has a NetShield feature — both work as ad blockers.
Cookie pop-up blocker
Avoids the annoying cookie consent pop-ups. It is available as a Surfshark browser extension feature. It is not available with ProtonVPN.
Kill Switch
Disconnects your device from the internet if the VPN connection drops unexpectedly. Both Surfshark and ProtonVPN offer extra protection through Kill Switch.
Pause VPN
Allows pausing the VPN connection for 5 minutes, 30 minutes, or 2 hours. The connection automatically resumes once the selected time ends. It is not available with ProtonVPN.
Tor over VPN
Accesses the anonymous Tor network: hidden services and onion sites. ProtonVPN offers particular servers that can reroute internet traffic through the Tor network. Surfshark doesn't provide such a feature.
GPS
override
Tricks GPS-enabled apps such as Google Maps, Uber, and Snapchat into thinking you're elsewhere. Surfshark offers this feature on Android devices. GPS spoofing is not accessible with ProtonVPN.
P2P servers
In a P2P (Peer-to-Peer) network, all computers are equal and access all or some part of the same resources and data. P2P sharing is available using both Surfshark and ProtonVPN.
Stealth
Allows you to use VPN through network restrictions such as geoblocking or government censorship. Surfshark calls it NoBorders, and ProtonVPN calls it Stealth.
Split tunneling
This feature allows you to select particular apps & websites to bypass the VPN tunnel. Surfshark calls it Bypasser, and ProtonVPN sticks to the original title of Split tunneling.
VPN Accelerator
Delivers the best VPN speed and a more stable VPN connection. ProtonVPN has built it in all ProtonVPN applications, whereas Surfshark doesn't support such a feature.
Private DNS
Both VPN services can boast about having their own private DNS. It converts domain names into IP (Internet Protocol) addresses. That said, no one, even your ISP and DNS provider, will ever have access to them in an unencrypted form.
Browser extensions
Secures your browser only instead of the whole device. Both Surfshark and ProtonVPN offer extensions for Chromium-based browsers (such as Microsoft Edge, Brave, etc.) and Firefox-based browsers.
IP Rotator
This feature changes the user's IP address on the chosen location every 5 to 10 minutes without disconnecting from the VPN. ProtonVPN doesn't offer this feature.
Double VPN
This function provides you with double encryption. In other words, it makes your connection even more secure by connecting you via two different VPN servers. Surfshark calls it Dynamic MultiHop, and ProtonVPN calls it Secure Core.
Smart DNS
Use private DNS while streaming on your smart TV in case it doesn't support the Surfshark app. Surfshark makes sure to cover even unsupported devices, such as Apple TV. This feature is not available with ProtonVPN.
With Surfshark, you can enrich your base VPN subscription for an extra price and get the Surfshark One bundle. Use Surfshark Antivirus to protect your devices from viruses and malware, Surfshark Search to perform anonymous and ad-free searches, and Surfshark Alert to protect your accounts against data breaches.
Closing thoughts on features
Both VPN services provide a wide variety of additional features, including exclusive features that only one or the other can boast about.
Server locations
When using a VPN, you connect to your VPN provider's available locations to hide your IP address and protect your online connection. If there are more server locations, there are more alternatives for hiding your internet traffic. On top of that, if a service provides more servers in particular locations, you can get less busy traffic, which results in better speeds. Let's look at how our VPN racers perform in this section.
| | Surfshark | ProtonVPN |
| --- | --- | --- |
| | 3200+ | 2661 |
| | 100 | 67 |
| | 18 | 12 |
| | 46 | 32 |
| | 27 | 14 |
| | 9 | 6 |
If we're looking at servers within specific countries, the most significant difference is in the US. But either provider will work if you use locations in the UK, Australia, Canada, the Netherlands, or Germany.
Restricted countries
You have to ensure that your VPN will perform while connecting to or being in a restricted country. Surfshark offers servers in countries known for network and VPN restrictions, such as Uzbekistan. To counter network restriction issues such as geoblocking or government censorship, Surfshark offers the NoBorders feature. If Surfshark's app notices network limitations, it provides you with a selection of the best servers at that moment.
As for ProtonVPN, they have implemented alternative routing. If their software cannot connect directly to their servers, it will route your connection through unblockable third-party services. As well as that, they offer a Stealth VPN protocol that also allows you to bypass internet censorship and VPN blocks.
Closing thoughts on server locations
Surfshark offers a slightly bigger number of countries, but both VPN services have a significant server count. More servers — less loaded traffic. Both VPN services provide complete lists of server countries, so check that out before choosing the right VPN provider for you.
User-friendliness
It's nice to have a service compatible with all your devices. So, let's imagine a situation. You get a VPN and spend an evening binging your beloved TV series on your laptop. But your laptop breaks in the middle of the final episode. You try to connect to the VPN on your TV, but nothing happens — you don't have a VPN app on your TV. You double-check your provider's website and learn that your VPN is not compatible with your TV. What a bummer!
Compatibility
The moral of the story is you have to think about the devices you regularly use and the service's compatibility with them. It will help you make a better decision. 
| | Surfshark | ProtonVPN |
| --- | --- | --- |
| Windows | | |
| macOS | | |
| Android | | |
| iPhone/iPad | | |
| Linux | | |
| Chromebook | | |
| AndroidTV | | |
| FireTV | | |
| Chrome | | |
| Firefox | | |
| Edge | | |
Also, remember that Surfshark doesn't limit the devices you connect to your account.
Interface
ProtonVPN's interface includes a world map and only comes in a dark theme on their app. You can fold up the map and stay with a list of locations. It looks like this:
Surfshark's interface can be either light or dark. It doesn't contain any distractions — you can see the complete list of servers, the selected server's details, and your location information. Pretty handy, right?
Closing thoughts on user-friendliness
Both Surfshark and ProtonVPN are compatible with a significant number of devices. However, while Surfshark doesn't limit the number of connections with one account, ProtonVPN can protect only 10 devices.
Pricing & plans
Surfshark and ProtonVPN both offer three plans — a 1-month, 1-year, and 2-year plan. While you can see that ProtonVPN offers a cheaper 1-month plan, Surfshark is more affordable in the long run by providing a more reasonable 2-year plan.
| Plan/Vendor | Surfshark | ProtonVPN |
| --- | --- | --- |
| | $16.95/mo | $9.99/mo |
| | $3.99/mo | $5.99/mo |
| | | $4.99/mo |
Both VPN services come with a 30-day money-back guarantee. So if you decide to give either service a shot, you can do so risk-free.
Closing thoughts on pricing & plans
ProtonVPN offers a cheaper 1-month plan, while Surfshark provides a more affordable plan in the long run.
Customer support
How a service takes care of its customers' needs says a lot about the service itself. That's why we will also evaluate Surfshark and ProtonVPN customer support.
| Customer service | Surfshark | ProtonVPN |
| --- | --- | --- |
| | | |
| | | |
| | | |
| | | |
| Searchable knowledge base | | |
| | Youtube | |
| Average email response time | 3 hours | 58 minutes |
As you can see from the table, ProtonVPN responds faster via email. They accomplish a quick response by pushing a support form for customer inquiries.
On the other hand, Surfshark offers live chat and YouTube video guides — a lifesaver for quick answers or solutions.
Closing thoughts on customer support
Both services provide great online support. ProtonVPN's email response time is faster, but Surfshark offers a live chat function and video guides.
Surfshark vs. ProtonVPN: the results 
| Section | Remarks |
| --- | --- |
| Compatibility | Both VPN services provide a wide variety of compatible devices. Surfshark offers unlimited connections with one account, while ProtonVPN offers 10 VPN connections by default. |
| Interface | Surfshark has light and dark theme options, and ProtonVPN has an interactive map. A personal choice indeed. |
| Speed | The tests revealed Surfshark offers a higher speed in most locations. |
| Security | ProtonVPN uses an RSA key that provides moderately higher security but decreases the speed. Other than that, the security is similar for both services. |
| Features | Both Surfshark and ProtonVPN offer an extensive selection of unique additional features. |
| Server locations | Surfshark covers more countries. However, both VPN services provide a significant server count. |
| Price | ProtonVPN offers a cheaper 1-month plan, while Surfshark provides a more affordable 2-year plan. |
| Customer support | ProtonVPN responds to queries faster, while Surfshark has a live chat function and informative video guides. |
Surfshark vs. ProtonVPN: the rundown
Both Surfshark and ProtonVPN offer excellent service. From exceptional speeds and unique additional features to an astonishing number of servers worldwide and economical subscription prices.
However, it's not for us to tell you which one is better since it all comes down to your daily needs. You're in charge of the steering wheel, and deciding where to park in this VPN market is up to you.
Surfshark VPN: is it the right fit for you?
If you've made it so far in this article and are still trying to decide whether Surfshark VPN is the right choice, take a look at the Surfshark review. It covers the reviews from VPN experts and our users, presents Surfshark benefits and features, and more!
If that's not enough and you want to know how Surfshark VPN looks compared to other VPNs worldwide, enjoy our other comparison blog posts, including the following:
FAQ
Is Surfshark VPN better than ProtonVPN? 
Both VPN services provide outstanding service. However, Surfshark provides:
Slightly better server speeds; 

More server locations;

Additional features like live chat customer support and unlimited simultaneous connections.
Is ProtonVPN trustworthy? 
Yes, it is. ProtonVPN uses robust AES-256 encryption that is almost impossible to crack. The source code for each ProtonVPN app on different devices is publicly available to check if it is safe.
Is ProtonVPN the best VPN?
ProtonVPN is one of the best VPNs on the market. It uses powerful encryption, is user-friendly, offers good speeds, and supports up to ten connections and P2P file sharing.
What is better than ProtonVPN?
Surfshark can serve as a fantastic alternative to ProtonVPN. It offers exclusive features, covers more than 100 countries worldwide, and allows connecting unlimited devices within one subscription.