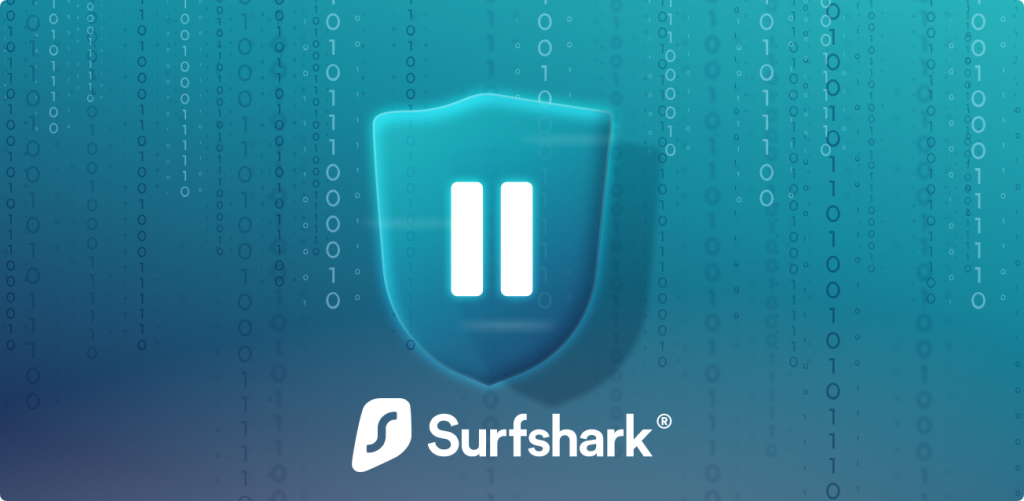 Hello, It's been a wee while. You could almost say it's been a short pause (heh).
Poorly written jokes aside, we're announcing our new and highly requested VPN feature, Pause VPN (currently available on Android and iOS; coming soon for Windows and macOS apps).
We want everyone who uses Surfshark to have more control over their connection and feel as safe as possible. So, you'll now be able to pause your VPN connection for a set amount of time.
Pause VPN is a button on your connection screen that puts your VPN on hold. You can choose to pause the connection for 5 minutes, 30 minutes, or 2 hours. The VPN connection will automatically resume once the selected time period ends.
How does Pause VPN work?
Once activated, it allows your entire internet traffic to skip the VPN protection (the encryption and private tunneling) for a certain amount of time. What Pause VPN doesn't do is disconnect you from the VPN. 
You could look at it like Bypasser (a feature that skips VPN protection for selected apps and sites) for your entire connection. But instead of specific apps or websites skipping the VPN, it pauses the protection for a limited time.
Why use Pause VPN?
While we don't recommend surfing without a VPN connection, there are cases where you need to. With that in mind, Pause VPN will help you with:
Saving brain RAM.

 

No need to reconnect manually after disconnecting.

Accessibility. 

Avoid access issues with location-sensitive services (online banking, etc.) 

Avoid access issues with services that have blacklisted VPN server IP (Internet Protocol) addresses.

Convenience.

 

No need to turn auto-connect off to temporarily disconnect.

Avoid captchas and too many requests from the same IP.
Excited? We hope you are. Do check it out and tell us what you think!