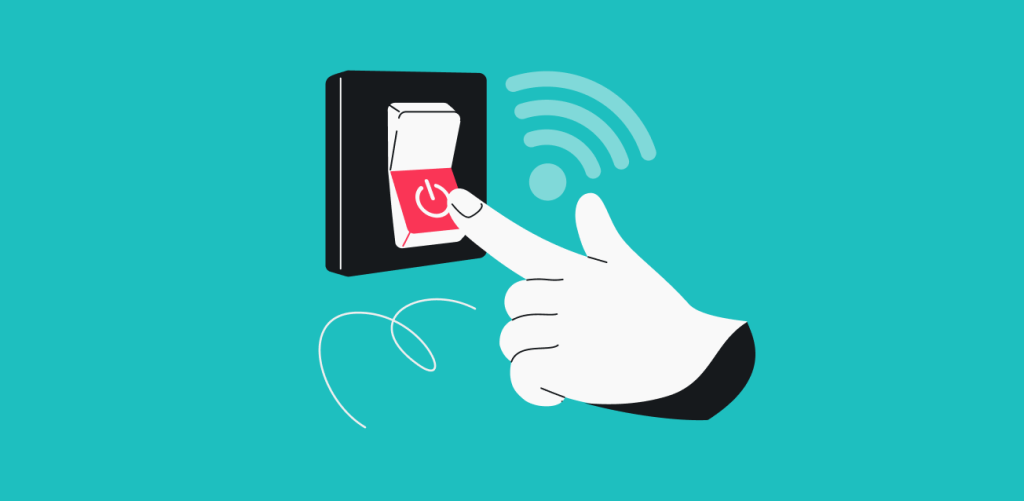 You may be setting up a Wi-Fi network, entering a place where virtual private networks (VPNs) are restricted, or you need to access a specific website. We get it — there are multiple reasons to disable a VPN. Although we recommend keeping it turned on, we're here to share a step-by-step guide to turning off your VPN on major devices.
Don't worry if your internet connection drops when you switch off your VPN. It means the VPN you're rocking has a Kill Switch function enabled. But more on that (and other topical goodies) later in the article.
Disclaimer: browsing the web without a VPN isn't safe and may lead to exposing your sensitive data on a local network or the web. Always be cautious of what you do on the internet!
How to disable a VPN on iPhone?
Follow these steps to turn off a VPN via the general settings:
Go to Settings → General → VPN & Device Management → Toggle the Status switch off, so it reads Not Connected. Boom! Now you're generally done.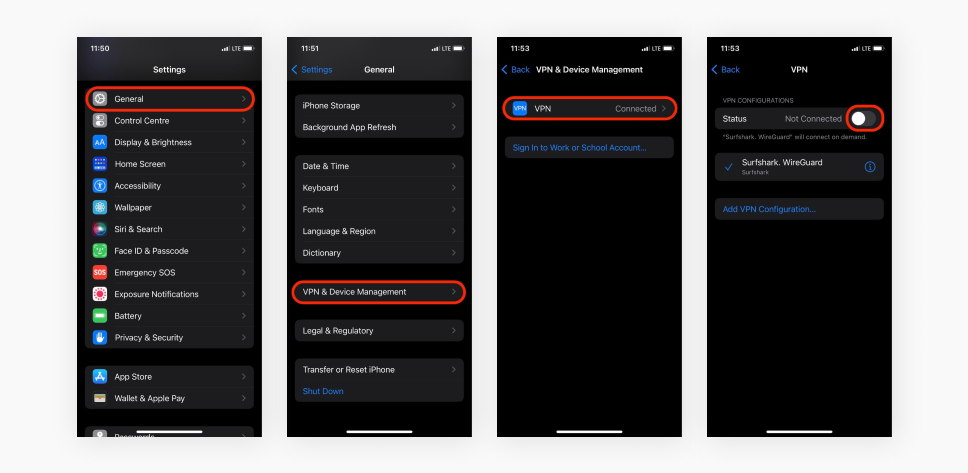 How to disable a VPN on Mac?
Hit the Apple icon at the top left corner of the screen → Choose System Preferences → Click on Network → Select a VPN you want to disconnect from → Click the Disconnect option on the right.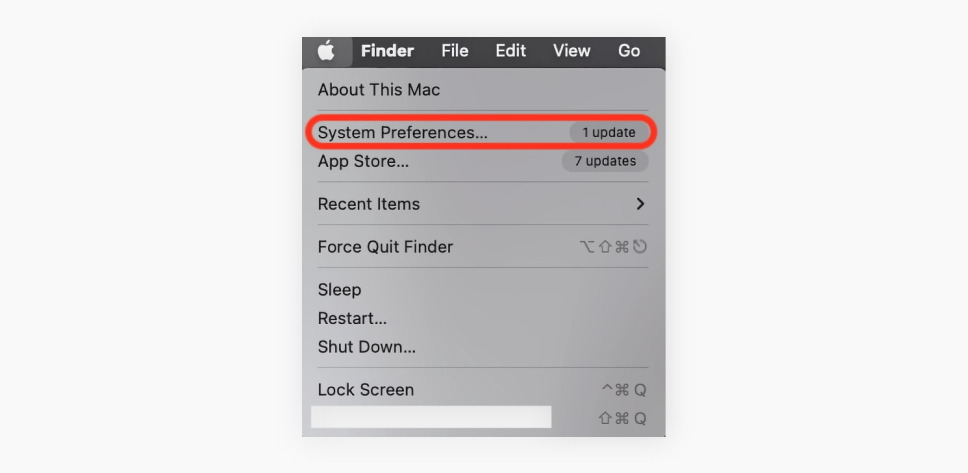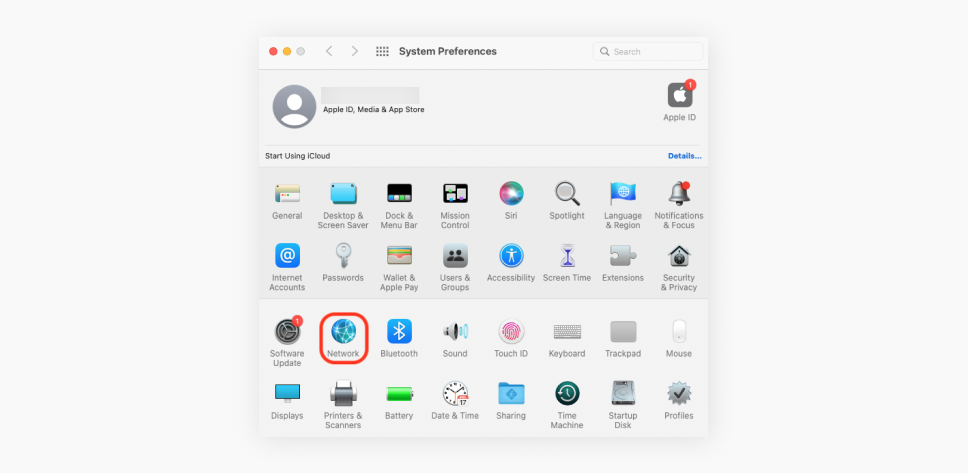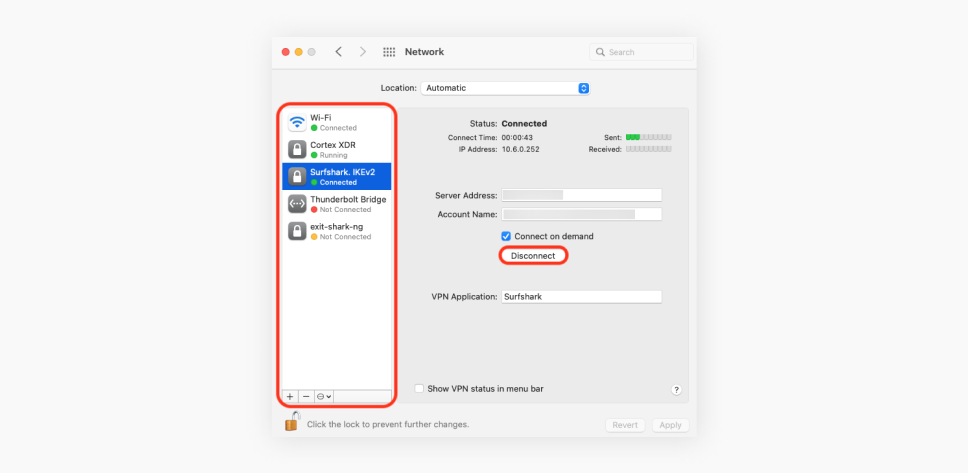 How to disable a VPN on Android?
Not all Android operating systems are the same, so let's apply some general rules of thumb: Go to your Device Settings → Look for a Connections or a Network tab; there should be a VPN option. And usually, there's a toggle switch → Turn it off (it should turn gray).
Some menus are simpler and easier to navigate: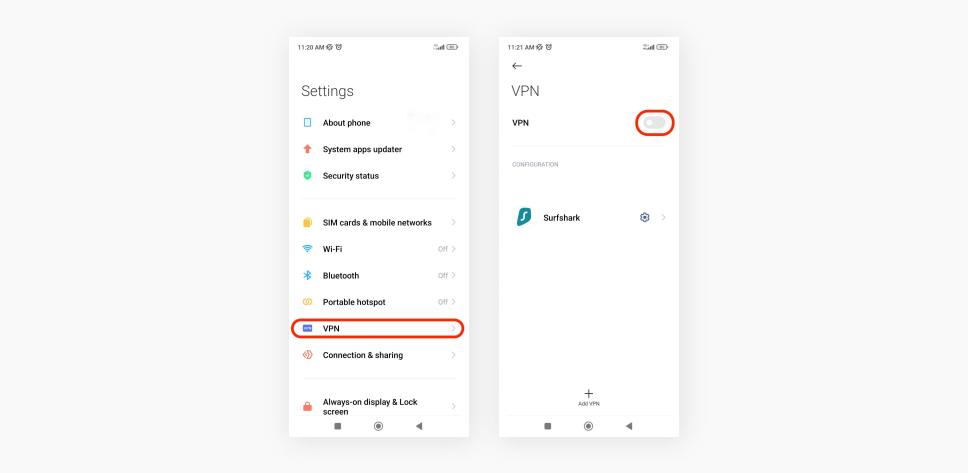 How to disable a VPN on Windows 10?
Press the Windows button or click the Windows icon → Choose Settings → Network & Internet → VPN → Pick a VPN you want to disable → Select Disconnect.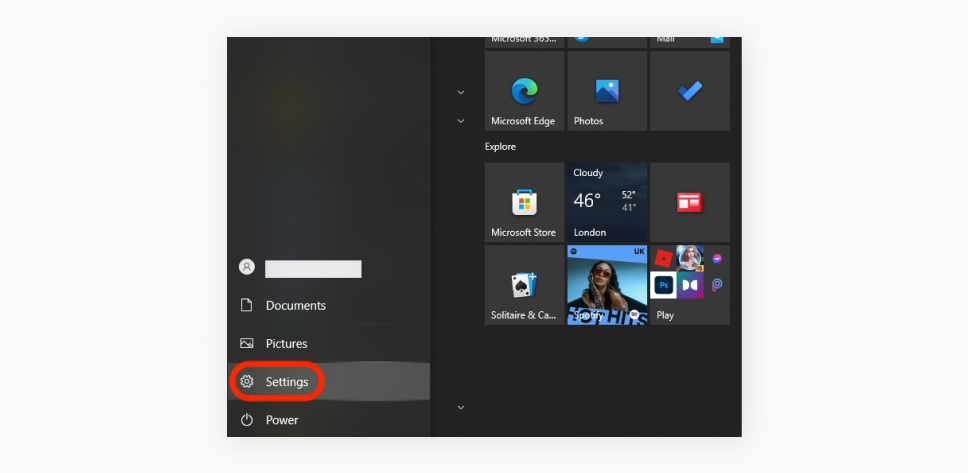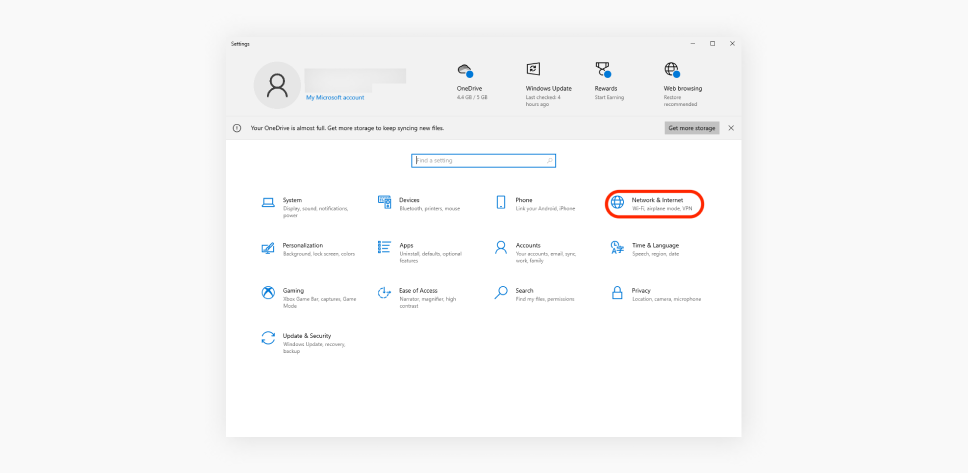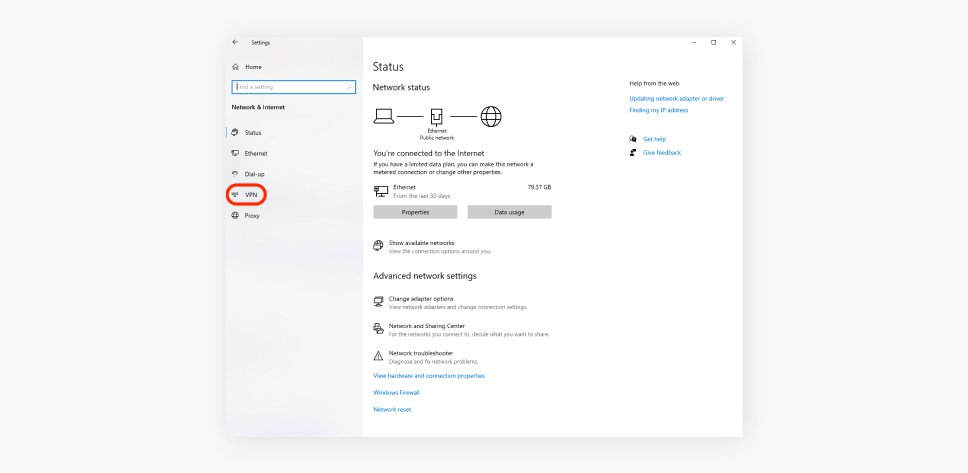 How to disable a VPN on a browser?
Turning off a VPN app on your browser is all about extension management and fiddling with its settings. Take a gander at how to disable VPN on major browsers, oh great internet explorer! (Pun! Because we're talking about browsers, and you're the one exploring. OK, I'll show myself out…)
Note: Safari currently doesn't support any VPN extensions, and Opera has its own privacy solution.
Disable a VPN on Google Chrome
Click the puzzle piece icon (Extensions) on the right of the address bar → Choose Manage Extensions at the drop-down menu → Click the toggle switch off on the VPN extension tab.
OR
Click the three dots at the top right corner of the browser → Settings → Click Extensions at the menu on the left → Click the VPN toggle switch off.
Disable a VPN on Microsoft Edge
You know the drill — Three dots at the top right corner → Extensions → Toggle off the VPN switch, which is under the Installed extensions.
Disable a VPN on Firefox
Click the burger icon at the top right corner of the browser → Select Add-ons → Click the VPN extension toggle switch off.
Alternatives to disabling your VPN 
Since we don't recommend surfing without a VPN connection, we have a couple of alternatives for those hesitating to turn off their online protection.
Split tunneling — a healthy compromise
If you're balancing between security and speed, split tunneling lets you have both without turning off your VPN. Here at Surfshark, we conveniently call the split-tunneling feature the Bypasser!
It allows for more in-depth VPN tinkering — you get to decide which apps get to pass through the encrypted VPN tunnel and which don't.
Aside from letting you enjoy a safe surf on the web, the Bypasser allows you to:
Save some internet speed by excluding data-heavy apps;

Access your wireless gadgets on your home network.
The pause button
Instead of disconnecting completely, certain VPNs provide the option to temporarily pause your connection. Surfshark has just that — the Pause VPN feature. Although, for now, it's only available on smartphones. 
It lets your internet traffic skip the VPN encryption and private tunneling for a limited time. Also, the Pause VPN doesn't disconnect you from the VPN — convenient!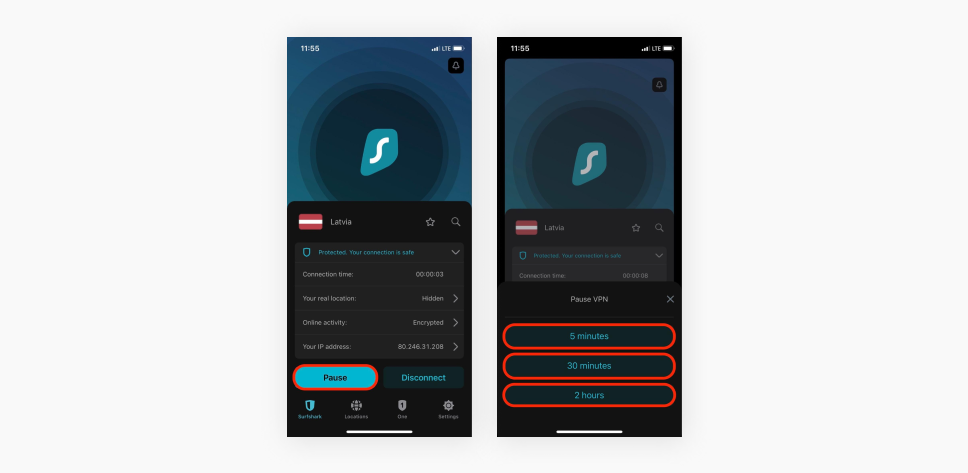 I disabled my VPN, and my internet connection dropped
Sometimes, when disabling a VPN manually (not through its application), your internet connection might drop. Occasionally the culprit is the Kill Switch.
VPNs have the Kill Switch feature to prevent situations where a VPN connection suddenly drops, and all connection to the internet is cut. A Kill Switch is meant to prevent data from leaking. How is that?
Let's say a snooper or an internet service provider (ISP) is trying to look at your data stream and see what you're doing. They couldn't do so with a VPN turned on because it encrypts the data traffic. 
If for whatever reason, the VPN service stops working, your connection is no longer encrypted. Thus the snoopers can see whatever you're doing. To prevent that from happening, Kill Switch cuts the connection. But let's get back to the matter.
If you can't connect to the internet after shutting down your VPN, return to its software and turn the Kill Switch feature off. Then disable the VPN by repeating the steps you took before.
Follow these steps to disable Kill Switch on the Surfshark app:
Hit

Settings

at the left corner of the app window;

Click on the

VPN settings

;

Hover over the

enable/disable button Kill Switch

;  

Click! It should turn gray if it's turned off.
A how-to conclusion
We should always be wary of what we do on the internet so we'd know when it's safe to disable our VPNs and venture forth without protection.
It's clear as day that there are situations where a VPN should be turned off. That's why we offer convenient  security alternatives.

FAQ
Does a VPN affect all devices?
No, a VPN only affects the data of the device it's on. Unless that device is a Wi-Fi router, then the network and all its devices will also be encrypted.
Does a VPN connect to all devices?
Not really. You need a running VPN app and probably an account on each device. Or you could set up a VPN on your router and have the same effect. Luckily, Surfshark allows both options.
Why would I turn off my VPN?
The usual suspects in turning off the VPN are:
To save some internet

speed

;

To protect your device's

battery life

;

To use

PayPal

;

To access local

banking apps

;

You might be in a

VPN-restricted area

.
How do I remove a VPN from my Wi-Fi?
You're essentially asking how to disable a VPN on your router. Many of them differ, but the quickest way is to reset your router. Remember — this will disable VPN connections on all devices on the network. If that fails, here's what you can try as well: