4.3 out of 5
Protect your privacy with a VPN Kill Switch
If your VPN connection drops unexpectedly, Kill Switch disconnects you from the internet, safeguarding your privacy.
What is a VPN Kill Switch and how does it work?
A VPN Kill Switch is an automatic deactivation button for your internet connection. Kill Switch disables your internet connection on a system level if your VPN connection would drop without warning. This ensures your sensitive information is always under the protection of our industry-leading encryption and security protocols.
What are the benefits of a Kill Switch?
Protect your sensitive data in case your VPN connection drops
Make sure your traffic is always encrypted
Guard your identity against hackers and snoopers
Make sure you're secure in a heavily restricted country
Make sure you protect your privacy while file sharing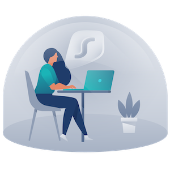 Enjoy the internet worry-free, knowing you're safe
How does Surfshark Kill Switch work on my device?
To see Kill Switch in action, first log in to your account, or sign up if you're new.
Go to Settings and enable the Kill Switch button.
Done! Your data will be safe with our industry-leading encryption at all times.
Start using Kill Switch
Sign up & get an exclusive discount