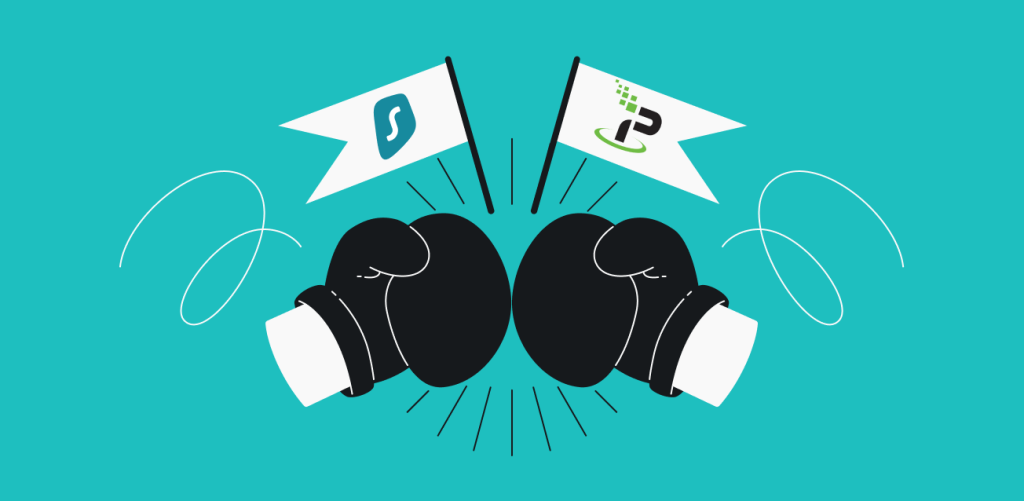 Introducing first, in the white corner, an up-and-coming but already recognized as PCMag's champion — Surfshark! 
And second, in the green corner, a champion of the old — IPVanish!
The officials are ready, and the fighters are in. So for the thousands in attendance and the millions watching worldwide: ladies and gentlemen, let's get ready to… compare the two VPNs (Virtual Private Networks). Surfshark vs. IPVanish — which is better?
Note: the comparison was made on June 7, 2023.
Surfshark vs. IPVanish:
at a
glance
| | Surfshark | IPVanish |
| --- | --- | --- |
| | Unlimited | Unlimited |
| | 3200+ servers in 100 countries | 1,900+ servers in 75+ different locations |
| | WireGuard, IKEv2, OpenVPN | WireGuard, IKEv2, OpenVPN, IPSec |
| Platforms and apps that run the VPN | Windows, macOS, iOS, Android, Fire TV, Linux, Chrome, Firefox, Edge, major gaming consoles | Windows, macOS, iOS, Android, Fire TV, Linux, Chrome |
| | $2.30 (2-year plan) | $3.33 (2-year plan) |
| | | |
| | Browser extensions, server infrastructure, no-logging | No-logging |
Surfshark and IPVanish are premium VPN services with top-grade encryption and unlimited simultaneous connections. So what more is there to look for?
Speed
When talking about what makes a good VPN, speed is essential. Considering that, we'll look at the biggest factors contributing to VPN speed. Then, we'll run some tests to determine which industry titan offers better speeds.
The actual connection speed on a VPN will be determined by:
So, once you're using a VPN, the stats you should look at are download speed, upload speed, and an increase in ping. They're measured in megabits per second (Mbps) — the speed at which your data is transferred.
All of the taken speed results will differ, and that's A-OK because all of us are from different parts of the world with different internet speeds.
Speed test results
Important info interpreting the test results:
We picked two places — one very far away from us and another very close;

With each place, we performed 10 tests:

the average speed is shown below

. Then, we compared the internet speed results with and without a VPN;

We used Speedtest.net by Ookla;

The percentage info shows how much your speed drops.
Speed test using a server closer to us
| VPN service | Download speed | Upload speed | Increase in ping |
| --- | --- | --- | --- |
| Surfshark | No drop | 37% | 1.7 times the normal ping |
| IPVanish | 63% | 82% | 3 times the normal ping |
Speed test using a server further away from us
| VPN service | Download speed | Upload speed | Increase in ping |
| --- | --- | --- | --- |
| Surfshark | No drop | 61% | 23 times the normal ping |
| IPVanish | 61% | 61% | 25 times the normal ping |
Surfshark showed a 1.7 times increase in ping in the near server test and 23 times in the far server test, while IPVanish had 3 times and 25 times respectively. Keep in mind that results will differ depending on the location they're performed at.
Closing thoughts on speed
Based on the results of this test, Surfshark showed better ping results when testing with nearby servers, while far-away server results didn't show a meaningful difference. However, location is one of the most important factors in determining speed, so be wary of where you perform the speed test.
Also, it's important to note that internet speed has several bottlenecks, two of which are the quantity and location of the servers.
Servers
In this case, quantity means quality. Let me explain.
On paper, Surfshark uses 10Gbps servers, while IPVanish boasts 25Gbps servers. These numbers mean the bandwidth that they offer. Server bandwidth (Gbps/Mbps) is the diameter of the internet "pipe" — the bigger the diameter, the more the internet "water" (data) can flow through. But, in reality, these numbers don't matter quite as much. 
Server output
The thing is, one server has only one "pipe" of limited bandwidth. That bandwidth is split among all its users. The more users, the less bandwidth for an individual user — meaning slower internet speeds for you. More servers for people to join means less populated servers — faster browsing for you.
How does server location influence your internet speed? Let's say you are visiting a website — the closer you are to the web server, the fewer networks the data passes through. A shorter journey for the data means faster browsing for you.
Also, the location of a server influences another important thing — geolocation and georestriction. You can access lower-priced markets with a larger pool of servers in different countries. More servers → more markets → fewer expenses.
So, now that we've established that quantity IS quality here, let's check the server count and locations.
Server count & locations
Both VPNs cover the globe and overlap in general locations like North and South America, Europe, Asia, and Oceania. However, Surfshark stands out with its servers in almost every region of the world.
The table below shows the server locations and server count per platform:
| | Surfshark | IPVanish |
| --- | --- | --- |
| | 3200+ | 2000+ |
| | 100 | 52 |
| | 18 | 27 |
| | 46 | 31 |
| | 27 | 11 |
| The Middle East and Africa | 9 | 2 |
Want a more specific list? We've got you. The following countries are home to Surfshark servers but don't host a single IPVanish server:
Europe

— Andorra, Armenia, Bosnia and Herzegovina, Cyprus, Georgia, Greenland, Isle of Man, Liechtenstein, Lithuania, Malta, Monaco, Montenegro, North Macedonia, Ukraine;

Americas

— Bahamas, Belize, Bolivia, Ecuador, Panama, Paraguay, Uruguay, Venezuela;

Asia

— Azerbaijan, Bangladesh, Bhutan, Brunei, Cambodia, Hong Kong, Indonesia, Kazakhstan, Laos, Macau, Mongolia, Myanmar, Nepal, Philippines, Sri Lanka, Thailand, Uzbekistan, Vietnam;

The Middle East and Africa

— Algeria, Egypt,

Morocco

, Nigeria.
Now, I have to be honest with you — IPVanish touts more servers in the US. They have over 1,300+ US servers, while Surfshark has over 600+. Still, the general server pool of Surfshark is higher.
Also, Surfshark offers static IP Servers.
Closing thoughts on servers
Surfshark has more servers in different places, meaning more access to georestricted websites. However, IPVanish has more American servers. 
Features
Although both VPNs provide data encryption, only one has more features than the other. Here's a quick overview of the features that they offer:
| Feature | Surfshark | IPVanish |
| --- | --- | --- |
| | | |
| | | |
| Unlimited connections | | |
| Split tunneling | | |
| | | |
| | | |
| Browser extensions | | |
| | | |
| | | |
| | | |
| | | |
| DNS & leak protection | | |
| Obfuscation | | |
| | | |
| Automatic startup | | |
| Cloud storage | | |
Obfuscation
Also known as the Camouflage mode at Surfshark, obfuscation masks the fact that you're using a VPN. Even from your ISP (Internet Service Provider). Both IPVanish and Surfshark use it.
GPS spoofing
Also known as fake GPS or GPS override, GPS spoofing makes you appear to be in a different place. Both IPVanish and Surfshark have it.
Split tunneling
Also known as Bypasser at Surfshark, split tunneling means that only a part of your information (of your choosing, of course) goes through a VPN. It helps separate activities that need a VPN from those that don't. Both IPVanish and Surfshark use it.
Kill Switch
Kill Switch disables your internet connection if the VPN connection drops without any notice. Nobody wants to get caught with their pants off, do they? IPVanish and Surfshark have it (IPVanish doesn't support this feature on Linux and iOS, though). 
No-logs
policy
A no-logs policy guarantees that any action taken in the cyberworld will not be logged and kept. Both IPVanish and Surfshark follow it. 
Cookie pop-up blocker
It's a browser extension that declines and rejects all cookies that are unnecessary. If some are crucial for you to continue — those are accepted. Only Surfshark has it. 
NoBorders mode
This comes into play only if you're in a country that forbids VPNs or restricts internet freedom. The feature will help you log in to your Surfshark app and see the list of best servers under current network restrictions. Only Surfshark has it. 
Ad block
We call it CleanWeb at Surfshark. One way to infect your computer is by clicking on a malicious advert. So it seemed natural to add a feature that keeps your browsing clean of such ads. Only Surfshark has it.
Dynamic
MultiHop
Also known as Double VPN, this feature lets you direct your data through a couple of different servers chained together to increase your security. Surfshark uses it, and IPVanish doesn't.
Nexus
Surfshark uses a network of servers scattered worldwide to hide your IP address. Connecting to Nexus routes your internet traffic through a network of servers rather than a single VPN tunnel. Only Surfshark has it (across all VPNs). 
SugarSync
Up to 500 GB of secure cloud storage space with cross-device compatibility. Only IPVanish offers it.
Automatic startup
A feature that automatically activates your VPN once there is an internet connection. Only IPVanish has it.
Closing thoughts on features
Going by the raw numbers of distinct features, Surfshark offers more than IPVanish. 
Security & privacy
The majority of VPN users choose a VPN based on its security. That security depends on several things, like protocols, security features, followed policies, encryption, server infrastructure, and location.
Encryption
A VPN's primary purpose is encrypting data with different encryption standards. In that regard, Surfshark and IPVanish use the VPN industry standard, AES 256-bit encryption (the fastest one).
VPN protocols
Then, we have VPN protocols — the engine and the rulebook behind that encryption. These include:
| Protocol | Description | Surfshark | IPVanish |
| --- | --- | --- | --- |
| WireGuard | The fastest protocol overall | | |
| IKEv2 | The best and fastest protocol for mobile users | * | |
| OpenVPN | A fast and reliable open-source VPN system, the only one that many routers natively support | | |
| IPSec (Internet Protocol Security) | A protocol suite that encrypts IP packets and provides a framework for secure transport and tunneling | | |
Of course, it's not just about encryption.
Server infrastructure
Another way of enforcing security is server infrastructure. Surfshark is ahead of  IPVanish here because we use RAM-only servers, taking that no-logging practice to the next level. RAM-only servers mean no information can be physically taken from the servers because we can't keep user data long-term.
So, because the servers constantly get wiped as a part of our security protocols, your data remains 100% secure, and your browsing experience private. Even if we wanted to log it, there's just nothing to log. And we don't stop there.
Trust
Naturally, besides all the security tech, trust matters at least as much. One way to build it is by establishing credibility via audits and following policies. 
On that front, both VPNs boast about following the no-logs policy. But some years ago and under different management, IPVanish had an "oopsie" — they logged activity and provided it to the authorities. Since then, IPVanish has certified its adherence to the no-logs policy by an independent auditor — Leviathan.
While on the topic of audits, Surfshark's server infrastructure and browser extensions have undergone independent audits by Cure53.
And recently, Deloitte, one of the big four auditing companies, verified our no-logs policy.
Closing thoughts on security & privacy
Based on prior history, security features, server infrastructure, and audits, you are more likely to keep your internet activity private and secure if you choose Surfshark.
Mobile apps
There's not a lot to talk about — the truth is that both Surfshark and IPVanish offer end-to-end data encryption for all major mobile devices. Also, IPVanish and Surfshark support router encryption, letting you have a VPN on unlimited devices.
In addition to your overall security, the Surfshark One bundle also offers antivirus software for Android mobile users.
The same goes for IPVanish with their VIPRE product, an antivirus program.
Closing thoughts on mobile apps
Surfshark and IPVanish both offer great online security on all mobile devices with the option of an extra layer of protection provided by their antiviruses.
Pricing & plans
Both VPNs offer the same bundle of goodies no matter what plan you choose. And the pricing is based on the same principle — you pay less monthly for a longer plan.
Both providers receive payment for services in the most conventional forms, but seemingly only Surfshark provides a way to pay with cryptocurrencies.
Both also offer a 30-day money-back guarantee.
| Surfshark | IPVanish |
| --- | --- |
| 1 month: $12.95/mo | 1 month: $11.99/mo |
| 12 months: $3.99/mo | 12 months: $4.5/mo |
| 24 months: $2.30/mo + 2 months free | 24 months: $3.33/mo |
Closing thoughts on pricing & plans
I'd like to use the tattered and sickening phrase, "get the most bang for your buck," but I won't. IPVanish is more economical with regards to the 1-month plan, but Surfshark offers lower prices for 12- and 24-month plans.
Customer support
Per usual, live chat and email are the go-to options for support. But there's more to choose from, and mentioning the differences is important.
IPVanish shines bright, offering phone support, but Surfshark stands tall with its searchable knowledge base and constantly updated video guides.
Customer support channels
| Customer Service | Surfshark | IPVanish |
| --- | --- | --- |
| Live chat | | |
| Ticket support | | |
| Email support | | |
| Phone support | | |
| Searchable knowledge base | | |
| Video guides | | |
The average email response time for both VPN providers is between an hour and two. Likewise, both have articles and video content offering technical support.
Closing thoughts on customer support
Surfshark and IPVanish stand as equals with minimal exceptions. Both have a knowledge base, but only Surfshark has a search option.
Even though they lack freshness in their video department, IPVanish still has a strong presence in this category thanks to their over-the-phone support. Hats off to them!
Surfshark vs. IPVanish:
the final scores
IPVanish offers servers with bigger bandwidth and the option of cloud storage, however, Surfshark offers better pricing as well as incremental benefits in other categories.
Category

Summary

Surfshark showed lower ping when connecting to a nearby server than IPVanish, but connecting to far-off servers showed almost no difference between the two.

Both platforms support industry-standard protocols like OpenVPN, IKEv2, and WireGuard, with IPVanish additionally offering IPsec.

While IPVanish offers a lot of the same VPN features as Surfshark as well as auto-startup and cloud storage, it misses out on stuff like Nexus, NoBorder mode, and Cookie pop-up Blocker.

While largely comparable, Surfshark does edge out IPVanish when it comes to some privacy features as well as history in this area.

Surfshark offers both more servers and server locations. However, IPVanish hosts more servers in the Americas.

In terms of monthly subscription costs, PIA charges $3.33 per month (on a 2-year plan), while Surfshark

$2.49

per month (2-year plan).

Both platforms have a wide range of banking methods, but onlySurfshark accepts crypto payments.

Support levels are largely similar, however, IPVanish offers a support phone line.
So, which one do you choose?
Additional Surfshark reviews and comparisons
Is Surfshark for you? To help you make a better decision, here's a Surfshark review! Want to know how Surfshark compares to other players in the market? We've got you covered.
FAQ
What's better than IPVanish?
Surfshark is a great VPN alternative with a feature-heavy bundle and often provides a better quality of service. Surfshark has gone through three separate audits to show they're serious about keeping your privacy intact.
Is Surfshark more trustworthy than IPVanish?
Yes, Surfshark may be considered more trustworthy because it has more high-level security features and a clear company history compared to IPVanish, especially when we're talking about the no-logs policy.
Is Surfshark a good VPN? 
Yes, it allows top-grade VPN traffic encryption and unlimited simultaneous connections for a competitive price.
Where are IPVanish and Surfshark VPNs located?
Surfshark is located in the Netherlands, and IPVanish's parent company is in Dallas, US.