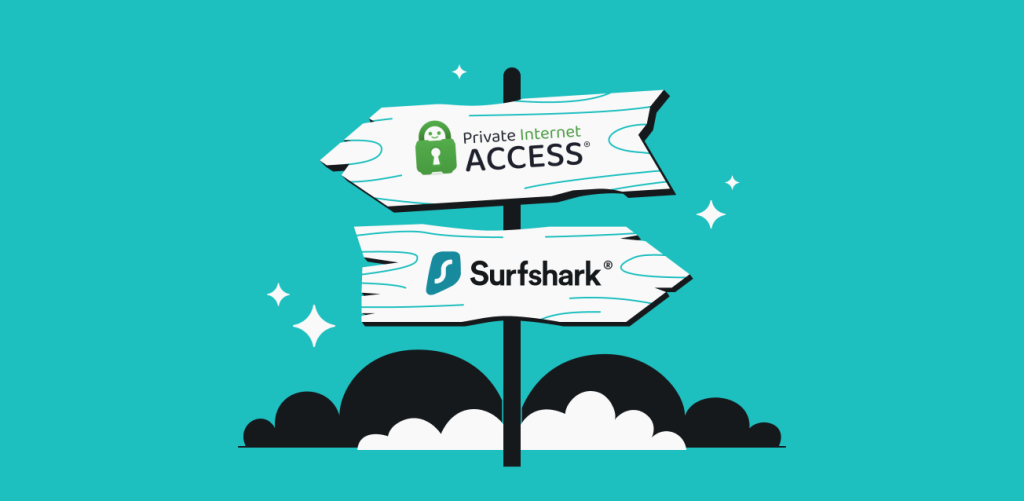 It's Surfshark vs. Private Internet Access. David vs. Goliath. Batman vs. Superman. But we'll let you decide who comes out on top.
Stick around as we compare and contrast PIA vs. Surfshark. We'll delve deep and see what makes each platform tick. From added features, server speeds, and privacy settings to leading protocols, subscription costs, and customer support — it's time to see who takes the 2023 title.
Surfshark vs. PIA: summary
Surfshark

PIA

Unlimited

10

100

84

OpenVPN, WireGuard

WireGuard, OpenVPN, IKEv2, IPSec

*

$2.03 monthly

30 days

30 days

VPN, Search, Alert, Adblock, Cookie Pop-Up Blocker, Antivirus

VPN, Adblock, Antivirus, Dedicated IP address

Desktop/mobile compatibility

Windows, macOS, Linux, Android, Apple iOS, Chrome, Firefox, consoles, smart TV, FireTV, Edge

Windows, macOS, Linux, Android, Apple iOS, Chrome, Firefox, Opera, Consoles, smart TV

17+ including crypto

17+ including crypto

Free trial

(available via the App Store and Google Play)

seven days

seven days
Speed 
Speed will always be the biggest marker for a top VPN platform. But how does each service compare? It's Surfshark vs. PIA in the ultimate need for speed.
We tested each platform, using the United States, Brazil, and Switzerland as our jumping-off points. We also focused on WireGuard and OpenVPN protocols and measured our results in Mbps (megabits per second). Here's what we found. 
Surfshark vs. PIA speed test results (
WireGuard
)
| Fastest protocol | Surfshark (WireGuard) | PIA (PIA WireGuard) |
| --- | --- | --- |
| | 278 Mbps | 167 Mbps |
| | 183 Mbps | 112.3 Mbps |
Surfshark vs. PIA speed test results (
OpenVPN
)
| VPN service | Surfshark (OpenVPN) | PIA (OpenVPN) |
| --- | --- | --- |
| | 125.6 Mbps | 109.7 Mbps |
| | 136.8 Mbps | 125.4 Mbps |
Surfshark speed was consistently faster on both WireGuard and OpenVPN, while PIA came in slightly faster in Brazil but slower in the USA and Switzerland.
That said, a bunch of different factors can affect your internet speed. While the above metrics were displayed for me, you may see different results according to your region, Wi-Fi, operating system, connection, etc.
Key takeaway: While the PIA speed test produced good results, Surfshark performed consistently better on both WireGuard and OpenVPN protocols.
Speed winner: Surfshark
Features
Let's unpack some added features designed to enhance your digital life.
| Feature | Surfshark | PIA |
| --- | --- | --- |
| | CleanWeb | PIA MACE |
| | Surfshark Antivirus | Antivirus by PIA |
| | Dynamic MultiHop | |
| | Bypasser | Configurable Split Tunneling |
| | Surfshark Search | |
| | GPS Override | |
| | | |
| | | |
| | Surfshark Alert | Identity Guard |
Ad blockers
Surfshark's CleanWeb ad blocker prevents malicious ads, pop-ups, trackers, or dangerous websites from accessing your information. The feature is included in all subscriptions and is available on Android, iOS, macOS, and Windows.
PIA's MACE feature provides a similar service by blocking ads, trackers, and malicious websites. The feature is part of a monthly subscription and runs on Android, iOS, macOS, and Windows.
Antivirus
Surfshark's lightweight antivirus app will give you real-time online protection. Available for Windows, Mac, and Android, the feature scans your system for viruses and malware while analyzing unknown files to stop zero-day attacks. Moreover, the app won't take up too much space or slow down your device as multiple antivirus programs would.
PIA has its own in-house antivirus that will scan your PC and protect your account from online attacks. Both platforms have data breach monitoring tools and the ability to hide your IP address and physical location. We found that, while less robust than PIA, Surfshark Antivirus was easier to set up.
Double VPN
Surfshark's Dynamic MultiHop double VPN feature will hide your online activity by routing your traffic through two different VPN servers instead of one. With a double VPN, your onsite data will be encrypted twice, giving you an added layer of protection and potentially faster processing speeds. Currently, PIA doesn't offer this service. 
Split tunneling
Both platforms have a built-in split tunneling feature where you can choose which data you'd like to encrypt. Split tunneling protects sensitive information (banking details, passwords, etc.) by using multiple IP addresses to separate files.
You can access split tunneling on both PIA's and Surshark's desktop and mobile apps, although Surshark's is called Bypasser. 
Search capability
Surfshark has a built-in private search feature where you can pull up organic results specific to your region on Google and Bing. Surfshark Search will never track your activity and will never display onsite ads. Currently, PIA doesn't have its own incognito search tool.
GPS override 
Using GPS Override on Surfshark's Android app will make your device appear in a different location or time zone, meaning you can ensure your online privacy and personal data aren't tracked by unnecessary apps. At this time, PIA offers minimal GPS spoofing capabilities. 
Cookie pop-up blocker
Surfshark's cookie pop-up blocker removes all cookie pop-ups, meaning you'll never have to deal with annoying banners and consent requests when browsing online. PIA doesn't have such a feature at the moment.
Alerts and notifications
PIA's Identity Guard tool allows you to check if your email addresses have been compromised in a data breach. However, it won't alert you to suspicious activity in real time.
Surfshark, on the other hand, actively monitors your personal information with Surfshark Alert and notifies you in real time if your email address, banking details, password, or any other sensitive information has been breached.
Features winner: Surfshark
Stay safe with an all-in-one cybersecurity solution
VPN, Antivirus, Search, and Alert in a single subscription
Get Surshark One
Privacy and security 
Brace yourself as we tackle privacy and security. At this point, things can get a little…hazy. Jargon takes over, descriptions get tricky, and your eyes may start to glaze over. But never fear! We'll make it easy for you to follow.
Below is a list of the privacy and security features available at Surfshark and PIA.
| | Surfshark | PIA |
| --- | --- | --- |
| | OpenVPN, WireGuard | WireGuard, OpenVPN, IPSec |
| | AES-256 | AES-256 |
| | Camouflage mode | ShadowSOCKS protocol |
| | Kill Switch | Kill Switch |
| | Private DNS | Private DNS |
Encryption
Both platforms run AES-256, which is the single strongest encryption standard in 2022. AES splits incoming data into blocks and applies different cryptographic keys for each protocol.
Simply put? It's virtually impossible to hack your data.
Moreover, both platforms use RSA 2048 encryption keys which are uncrackable.
Surfshark and PIA use WireGuard and OpenVPN for authorization, authentication, and encryption. Both are industry-leading open-source protocols known for their breakneck download speeds, stable connections, and advanced data security. For mobile, PIA offers IPsec (for iOS), while Surfshark uses IKEv2.
Cloaking technology
Surfshark and PIA have top-notch cloaking features to hide your digital footprint. Surfshark has a built-in obfuscation tool (called Camouflage mode) that hides the fact that you're using a VPN and makes your connection look like regular traffic. Especially useful in regions with restrictive internet laws or for bypassing geoblocking websites.
PIA has its own obfuscation tool (ShadowSOCKS) that disguises your VPN data as regular, run-of-the-mill traffic while hiding all metadata.
Surfshark goes a step further with its NoBorders mode. This feature lets you browse in restricted regions and bypass government censorship.
Smart DNS
Smart DNS allows you to unblock geo-restricted sites and services through your smart TV or gaming console. You'll be able to access the free web without installing a VPN.
You can activate SmartDNS for Surfshark through your account dashboard, while SmartDNS for PIA will need to be set up through the site's client control panel.
Kill Switch
Each VPN has its own Kill Switch that will disconnect you from the internet if your connection drops. A Kill Switch ensures your privacy is always protected and your data is never compromised.
Security & privacy winner: Surfshark
Licensing and jurisdiction
When comparing Surfshark vs. PIA, jurisdiction plays a massive role. And while both Surfshark and PIA are premium providers with affordable subscription costs and strong reputations, Surshark takes the top position when it comes to licensing and jurisdiction. 
Being based in the Netherlands keeps Surfshark free from obligatory data retention laws and 5/9/14 Eyes surveillance. Furthermore, the platform's strict no-logs policy ensures your digital privacy is protected 24/7.
Private Internet Access (PIA) is a little trickier to back. Based in the United States, the service is held to Five Eyes surveillance and must release user data on request. And while the site claims to have a no-logs policy, it's still pretty difficult to enforce.
Winner: Surfshark
PIA vs. Surfshark VPN: credibility and auditing
We want to know that we're dealing with a reputable VPN service. The best way to find out is through an independent audit.
What is a VPN security audit? It's a comprehensive security evaluation performed by an independent firm to analyze a company's operations, including onsite security, privacy, data policies, and similar.
PIA audit
In 2022, PIA's internal server infrastructure was audited by Deloitte. One of the Big Four auditing companies found that PIA doesn't log any details that could be used to identify their users or pinpoint their activities.
Surfshark audit
In 2018, Surfshark was independently audited by Cure53. The company found that Surfshark's browser extensions had no serious flaws and that all security protocols were up to global standards. Surfshark addressed any recommendations and published the results.
In 2021, Cure53 audited Surfshark's entire VPN infrastructure. Again, no serious issues were discovered, and all recommendations were addressed. 
In 2023, Surfshark's no-logs statement got verified by Deloitte — even more evidence of Surfshark sticking to its privacy policy and promises.
VPN credibility & auditing winner: Surfshark
Pricing and plans 
How much is Surfshark VPN compared to PIA? Straight off the bat, you'll see that both products are evenly matched and remain two of the most affordable VPN services on the market, with PIA just nudging ahead.
Pricing
Here's a quick pricing comparison for easy reference. Remember that subscription costs may change from time to time, so be sure to check the platform's latest pricing plans before purchasing your subscription.
| Plan | Surfshark | PIA |
| --- | --- | --- |
| | $12.95 monthly | $11.95 monthly |
| | $3.99 monthly | $3.33 per month |
| | $2.30 monthly | N/A |
| | N/A | $2.03 monthly |
Payment methods
Both Surfshark and PIA offer quick, safe, and reliable banking methods, including credit/debit cards, e-wallets, and some leading cryptocurrencies. Depending on the method, payment processing can take anywhere from an hour to a day, and you'll get an email confirmation as soon as your service is active.
Surshark has 17+ banking methods, including 8+ cryptocurrencies. Both sites work with well-respected crypto payment platforms like CoinGate and CoinPayments (for Surfshark), and BitPay (for PIA).
| Payment method | Surfshark | PIA |
| --- | --- | --- |
| | | |
| | | |
| | | |
| | | |
| | | |
| | | |
| | | |
| | | |
| | | |
| | | |
| | | |
| | | |
| | | |
| | | |
| | | |
| | | |
| | | |
| | | |
| | | |
| | | |
Refund policy 
What if your VPN subscription isn't all you'd hoped for? Not to worry. Both platforms have a 30-day money-back guarantee. You'll need to reach out to either site's customer support team via email or live chat, and you will get a full refund within 30 days of purchasing the subscription.
Seven-day free trial 
When comparing Surfshark vs. PIA, both platforms offer a 7-day free trial for Android, iOS, and macOS.
To activate your 7-day free trial on either platform, download the app, add your banking details, and choose an appropriate plan (i.e., 12, 24, or 36 months). 
When your trial is up, you'll get a reminder email. If you miss the notification and get charged, you can contact customer support and get your money back.
Pricing & plans winner: It's a tie
Server locations
A quick Surfshark review shows 3200+ dedicated servers in 100 countries, while Private Internet Access servers have around 10,000+ locations in 84 countries. At first glance, PIA seems to be the outright winner. But look closer, and you'll see that most server locations are dotted throughout the United States. What about the rest of the world?
Below is a list of server locations per platform, including available countries.
| | Surfshark | PIA |
| --- | --- | --- |
| | 3200+ | 10,000+ |
| | 100 | 84 |
| | 18 | 12 |
| | 46 | 42 |
| | 27 | 26 |
| The Middle East and Africa | 9 | 7 |
Both providers are neck and neck when logging in from The Middle East, Africa, and the Asia Pacifics. Surfshark edges ahead with four more locations in Europe and 11 more countries on offer. PIA wins by a landslide in terms of localization, with tailored servers in all 50 states. That said, they do hold less sway in South and Central America, with 11 locations.
Lastly, further points go to the server speed. Surfshark is actively upgrading servers from 1 Gbps to 10 Gbps, and this alone puts them far ahead of PIA, which still has a way to go in terms of overall speed and localized precision.
Server locations winner: PIA
Customer support 
No one wants to feel like they're shouting into an empty void whenever a simple question pops up, and the right customer support team can make all the difference between liking and loving a service. We need to know that questions never go unanswered and that there is always a good solution just around the bend.
Both platforms had speedy response times on live chat, wherein the time it took me to make a coffee and grapple with Monday morning existential dread (about a minute), there were already two answers waiting for me. That said, Surfshark came in just ahead at 50 seconds.
While both sites have a solid onsite knowledge base and FAQ section, Surfshark takes the lead. Their Youtube tutorials (Surfshark Academy) are ideal for short sharp info bursts and cover everything from antivirus and password protection to top features. 
You can also search for help directly on Surfshark's homepage, while PIA can only direct you to the best sources from their help center.
Customer support winner: Surfshark
The final scores
| Category | Overall winner | Notes |
| --- | --- | --- |
| | Surfshark | Surfshark has undergone three separate independent audits making them a firm favorite for platform credibility and reputation. |
| | Surfshark | While server speed was neck and neck on both platforms, Surfshark was consistently faster. |
| | Tie | Both platforms have very similar protocols, including OpenVPN, IKEv2, WireGuard, and IPsec. |
| | Surfshark | While PIA has some great features for Antivirus and split tunneling, they can't compare to the list of tools available at Surfhsark, including Surfshark Alert, Surfshark Search, Cookie pop-up blockers, Dynamic MultiHop, etc. |
| | Surfshark | Both platforms have exceptionally strong security and encryption technology. Surfshark does, however, go above and beyond in terms of its additional privacy features, like SmartDNS and NoBorders mode. |
| | PIA | Surfshark locations appear in more countries ([server_countries] vs. 84), but PIA's list of local servers (10,000+) puts them in the lead. |
| | Surfshark | Surfshark performed slightly better than PIA, with 4K HD quality viewing. |
| | PIA | In terms of monthly subscription costs, PIA takes the lead at $2.03 per month (on a 3-year plan). |
| | Surfshark | Both platforms have a wide range of banking methods, but Surfshark won this round for having a stronger emphasis on cryptocurrency. |
| | Surfshark | Both platforms have ultra-fast customer support turnaround times, but Surfshark's was faster on live chat and email. |
| | Surfshark | The Surfshark knowledge base is much easier to navigate through. Additionally, their comprehensive list of video tutorials makes onboarding all the more enjoyable. |
The verdict — Surfshark
While PIA holds the upper hand (for now) in terms of its lower subscription costs and range of servers, Surfshark shows no sign of slowing down. With ultimate victory going to Surfshark, here's a quick reminder of how they took the title.
While PIA claims to have a no-logging policy, the proof is in the pudding, and Surfshark delivers with

three

independent audits.

Although PIA has more localized servers, Surfshark connects to more countries.

PIA is held to obligatory data retention laws, while Surfshark isn't. 

Surshark has unlimited simultaneous connections, while PIA caps at 10. 

Surfshark has more additional privacy and security features than PIA. 
Surfshark conquered almost every category, proving itself to be a fast, affordable, and viciously effective VPN service. That's just about it for this comparison. While PIA has a strong set of unique features, leading protocols, and some affordable pricing plans, Surfshark is our overall winner.
Fight the dark side of cyber
Shine the light on digital darkness
Get Surfshark
FAQ
Is Surfshark
VPN
better than PIA? 
When comparing Surfshark vs. PIA, Surfshark comes out on top — the PIA speed test wasn't as fruitful as Surfshark's, which also offers further safety protocols and more features. Added points are awarded to Surfshark for being based in a privacy-friendly location.
Can PIA be trusted?
While PIA has a strong set of security features, including AES-256 encryption and configurable split tunneling, they are still held to United States data policies and Five Eyes surveillance. Moreover, PIA forms part of Kape Technologies, a VPN conglomerate with a controversial history around data retention and online privacy.
Can Surfshark VPN be trusted?
Yes. Surfshark is one of the market's safest and most reliable VPN service providers. Key safety features include a built-in Kill Switch, split tunneling, and AES-256-bit encryption.
Is Private Internet Access safe? 
Yes and no. PIA is part of Kape Technologies, a controversial conglomerate with a history of distributing malware. And while we won't see the full effects for a while, this doesn't bode well for PIA's onsite credibility.
Do Surfshark or Private Internet Access offer any deals?
Yes, both PIA and Surfshark offer special deals; Surfshark offers unlimited simultaneous connections, and the most price-friendly plan is a two-year subscription for $2.30/month. Be on the lookout for Surfshark coupons as well.