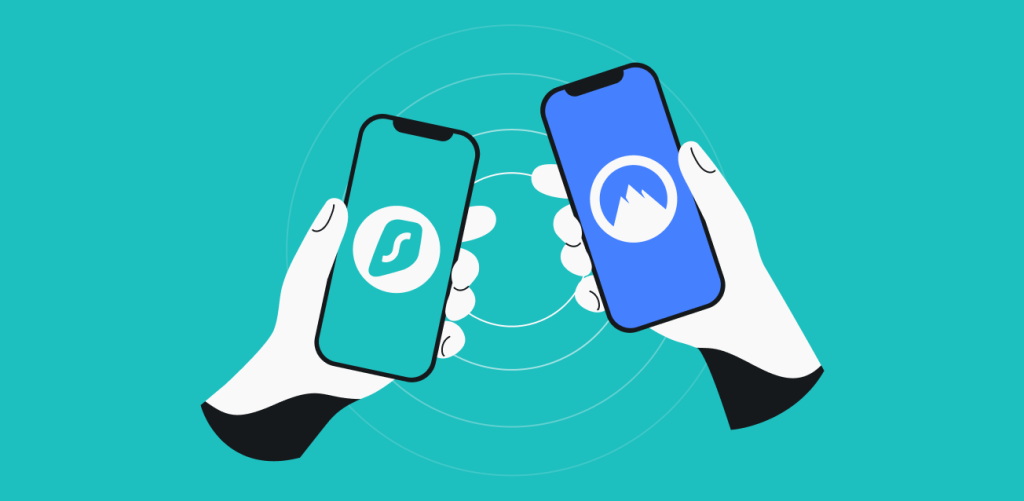 There is no tool more important than a Virtual Private Network (VPN) for protecting your data and privacy online. With your cybersecurity at stake, you will want the best service available. 
In this NordVPN vs. Surfshark comparison review, we will dissect these two giants of the VPN industry. From key performance metrics to pricing and additional features, no stone will be left unturned. So, should you go swimming with the sharks or climb the Northern peaks?
Surfshark vs. NordVPN: at a glance
| | Surfshark | NordVPN |
| --- | --- | --- |
| | Unlimited | 6 |
| | 100 | 59 |
| | 3200+ | 5000+ |
| | | $3.99/mo |
| | WireGuard, OpenVPN, IKEv2 | WireGuard (NordLynx), OpenVPN, IKEv2 |
| | | |
| | | |
| | | |
| | * | |
| | | |
| | 30 days | 30 days |
As you can see, it's an extremely close match. It should not come as a surprise since NordVPN and Surfshark are two of the best VPN service providers in the industry. Let's take a deeper look at what they offer and try to establish a distinction between the two.
Server locations
The number of locations and servers are among the key metrics you should be looking at when deciding on a VPN provider. 
Surfshark: 3200+* servers in 100 countries.
NordVPN: 5000+ servers in 59 countries.
*Some Surfshark VPN servers are virtual and don't have a physical location.
The more servers you have to choose from, the more likely you are to enjoy fast connection speeds. That's because the servers don't get too busy, and even if they do, you will usually be able to switch to a less crowded server nearby. 
Server locations can be as crucial for a fast connection as the number of servers. Having more location choices means that you will be able to connect to a server close to you. The smaller the distance between you and the server, the faster your connection.
When it comes to the battle of Surfshark vs. NordVPN, your needs dictate who wins this round. NordVPN has more servers; however, overcrowding is yet to be an issue with either one of the service providers. Both of them have also been upgrading to 10Gbps servers, which should result in better connectivity.
Perhaps more importantly, NordVPN has more servers and locations in North America and Europe, while Surfshark offers more options in South America, Asia, and Africa. Therefore, you should go with the provider that offers more options in countries you anticipate connecting to the most.
Result: draw
The winner here depends solely on who has more servers in locations you need to access. Since this is very individual, we can only announce a draw.
Server speeds
Speed is the name of the game in the VPN industry nowadays. The 24 hours we have in our days are rarely enough anymore. An extra minute of download time or a couple more seconds for a page to load can be enough to deter some people from using a certain VPN.
Thankfully, Surfshark and NordVPN are two of the fastest VPNs. We ran some tests using the Ookla Speed Test tool to determine which is faster. 
Note: before we look at the numbers, we must say that speed test results will vary between users. Some key performance factors are the distance between you and the server, server speed, and how crowded the server is.
To determine a baseline speed, we first ran a test without connecting to a VPN:
Download speed (Mbps): 272,47;
Upload speed (Mbps): 215,80;
Ping (ms): 5.
After determining the baseline, we ran tests on a local server as well as three international servers in Dallas, Sydney, and Tokyo. We used the WireGuard protocol – the fastest option for both services. Here's how it all panned out:
| Speed type | Surfshark | NordVPN |
| --- | --- | --- |
| Local server download speed (Mbps) | 238.46 | 236.50 |
| Local server upload speed (Mbps) | 190.08 | 179.71 |
| | 44 | 10 |
| International server download average (Mbps) | 181,09 | 189,06 |
| International server upload average (Mbps) | 60,5 | 59,92 |
| International server ping average (ms) | 237 | 237 |
Once again, the results are ridiculously close. The difference is so small that it's nearly impossible to feel, and either provider can be slightly faster or slower on any given day.
The only significant takeaway is that NordVPN had a lower local server ping. This may be because the NordVPN local server is closer to that of Surfshark, but it's something worth noting. The international server ping average was identical for both providers.
Result: NordVPN wins
The speed difference between NordVPN and Surfshark is paper thin; however, we can give the slightest of edges to NordVPN here. Both download and upload speeds were identical in local and international servers, and so was the international server ping average. NordVPN takes the win due to having a smaller local server ping.
Streaming performance
We all hate buffering. That's a fact. And it always gets worse as the movie gets closer to its climax. Choosing a VPN with fast server speeds is a surefire way to avoid buffering. Luckily, we have already established that both Surfshark and NordVPN have some of the fastest servers in the business.
Your connection speed is likely to be different from ours. Thankfully, Netflix provides internet connection speed recommendations for watching their content. You can run your own speed tests and measure the results against these metrics.
| | Recommended speed (Mbps) |
| --- | --- |
| High definition (HD) – 720p | 3 Mbps |
| Full high definition (FHD) – 1080p | 5 Mbps |
| | 15 Mbps |
There is one more thing you need to consider when choosing a VPN for streaming. You need to check if the VPN works with your preferred streaming services. Both NordVPN and Surfshark support streaming on all of the most popular streaming platforms.
| | Surfshark | NordVPN |
| --- | --- | --- |
| | | |
| | | |
| | | |
| | | |
| | | |
| | | |
| | | |
Result: draw
Not much to add here. Both providers offer fast server speeds and support streaming on all major platforms. There is nothing that could give Surfshark or NordVPN an edge.
Disclaimer: We prohibit using Surfshark services for any unlawful purposes as it is against our Terms of Service. Please be sure to act in compliance with all applicable laws and regulations of other service providers.
Surfshark vs. NordVPN: price
Money, money, money, must be funny in a rich man's world. 
The ABBA hit from the 70s rings as true today as it did back then. But if you want to be smart, not funny, about your money, you should consider VPN prices before choosing your service provider.
Both NordVPN and Surfshark offer 1-month, 12-month, and 24-month plans. NordVPN offers a slightly cheaper 1-month plan at $11.99/month compared to Surfshark's $12.95/month offer. But Surfshark's offerings of $3.99/month for a 12-month plan and $2.49/month for a 24-month plan are much cheaper than NordVPN's $4.99/month for 12 months and $4.19/month for 24 months.
| Plan | Surfshark | NordVPN |
| --- | --- | --- |
| | $12.95 p/m | |
| | | $4.99 p/m |
| | | $4.19 p/m |
| | 30 days | 30 days |
Payment options
You are not going to have a hard time finding a suitable payment option for either one of these service providers. Both accept credit cards, PayPal, Sofort, Google Pay, Amazon Pay, and crypto. NordVPN even offers a chance to pay by cash in retail locations in 6 different countries.
Result: Surfshark wins
Unless you plan on quitting internet soon, long-term plans are the way to go with VPN providers. Surfshark offers cheaper long-term plans, and both providers offer the same 30-day money-back guarantee, so you can try out their services without fear of commitment.
VPN protocols
You won't be surprised that we have another close comparison between NordVPN and Surfshark when it comes to VPN protocols. Both providers use the same protocols with only minor differences.
| Protocol | Surfshark | NordVPN |
| --- | --- | --- |
| | | |
| | | |
| | | (NordLynx) |
The only real distinction between the two is that NordVPN offers NordLynx, a protocol built around Wireguard. NordVPN states that this protocol makes your VPN connection even more secure.
When it comes to speed, WireGuard is the fastest protocol for either provider. IKEv2 is also valued for its speed and ability to switch networks on demand. OpenVPN is chunkier and slower than either of the protocols above. Still, users value its security, stability, and the fact that it is the only protocol many routers natively support.
Result: NordVPN wins
NordVPN squeezes past Surfshark by the tiniest of margins. The extra features offered by NordLynx are the only thing that tips the scales slightly towards NordVPN.
Customer support
You always hope that nothing goes wrong with a service you subscribe to. But if it does, you would like a good customer support team behind the product to help you out. Both NordVPN and Surfshark offer live chat and email support, an extensive knowledge base, and YouTube channels with loads of useful information.
Of course, we ran some tests to see how everything really works. In both cases, customer support agents were quick to answer live chat requests and seemed knowledgeable. 
If the issue was too problematic to solve on the spot, they processed it through the ticketing system and took care of it in a reasonable amount of time. Email support also did not take long to answer with solutions.
What if you don't feel like chatting with a customer support agent? Surfshark and NordVPN have loads of information within their searchable knowledge bases, as well as informational videos that may help solve most issues.
Result: Draw
There is nothing that you are getting from one company but not the other when it comes to customer support. Therefore, it is a tie between Surfshark and NordVPN.
Audits
In the olden times, a VPN company could have gotten away by just saying that their services are secure. Nowadays, some companies undergo independent security audits to prove they are worth your trust. 
Of course, audits should come from reputable firms. Cure53, PricewaterhouseCoopers (PWC), and firms within the Big Four are some of the most reputable auditors out there.
Surfshark audits
To show how serious they are about security, Surfshark had Cure53 audit its browser extensions in 2018. A 2021 audit of the whole infrastructure followed, once again done by Cure53.
The only thing missing was definite proof of their no-logs statement. It was achieved at the end of 2022 by an assurance report from Deloitte, one of the Big Four firms.
Neither of these audits found any serious issues, and any potential minor issues were quickly resolved.
NordVPN audits
NordVPN has already completed three separate no-logs policy audits. PricewaterhouseCoopers completed the first two in 2018 and 2020, while Deloitte completed the most recent no-logs assurance report at the end of 2022. 
The company also underwent a complete security audit of NordVPNs apps by VerSprite in 2019. As was the case with Surfshark, no critical security issues were found in any of NordVPNs audits. Any other possible threats were quickly taken care of.
Result: draw
This section of the comparison would have gone to NordVPN just a few months ago. Now that Surfshark has a report from a Big Four company to back up its no-logs claims, the two are tied.
Privacy
Securing your privacy is one of the most important reasons for using a VPN. Thankfully, both VPN providers we are looking at today have made your privacy their priority. They back it up with their no-logs policies and the headquarters locations.
No-logs
When a VPN service provider says they have a no-logs policy, that means they don't track your location, sell your data, or collect any data that is not required to provide their services. They will still need to collect some of your data. This may include your payment information, username, and email address.
Both Surfshark and NordVPN have recently had their no-logs statements approved by Deloitte. NordVPN also had two prior no-logs policy audits. So you can be sure that your privacy is safe with either of the two.
RAM-only servers
Having a no-logs policy is common amongst VPN providers nowadays. But Surfshark and NordVPN took their security to another level by switching to RAM-only servers. 
This means that they don't store data on physical drives. If it's not there, it cannot be taken in the case of a break-in. All existing data is wiped-off every time a server shuts down or is restarted, which ensures the highest level of security possible.
Headquarters locations
When choosing a VPN, make sure their headquarters are located in a country with no data retention laws. NordVPN is located in Panama, while Surfshark is based in the Netherlands. Both countries allow the VPN provider to protect your privacy completely.
Result: draw
Both providers have had their no-logs statements approved. Both headquarters are in ideal locations, and both use RAM-only servers. Your privacy is as safe as it can be whether you choose Surfshark or NordVPN.
| | Surfshark | NordVPN |
| --- | --- | --- |
| | WireGuard, OpenVPN, IkeV2 | WireGuard (NordLynx), OpenVPN, IkeV2 |
| | | AES-256 |
| | | Obfuscated servers |
| | | Kill Switch |
| | Private DNS | Private DNS |
Encryption
AES(Advanced Encryption Standard)-256 encryption is used by both providers. It is an industry-leading encryption algorithm that is nearly impossible to crack.
Kill Switch
Both NordVPN and Surfshark VPN offer an extra layer of security on all platforms with a Kill Switch feature. This tool shuts down your internet connection if your VPN connection drops. 
It may sound inconvenient, but that's the only way to ensure your data and privacy are always protected. 
Cloaking technology
Sometimes, you may need to hide that you are using a VPN. And both VPN services allow you to do so with their obfuscated servers.
Why would you want to hide the fact that you're using a VPN? First of all, using a VPN is illegal in some countries. There are also countries that are very restrictive when it comes to internet use and apply oppressive censorship to their people.
Obfuscated servers allow you to bypass these restrictions and browse the internet freely. Even if you don't have any internet restrictions in your country, an obfuscated server can help you unblock geo-restricted streaming services or hide your activity from your ISP.
Result: draw
Neither company offers anything that would tip the scale their way when it comes to security features and encryption. Therefore, we must declare a draw in the NordVPN vs. Surfshark security comparison.
NordVPN vs. Surfshark: extra features
| Feature | Surfshark | NordVPN |
| --- | --- | --- |
| | | |
| | | |
| | | |
| | | |
| | | |
| | | |
| | | |
| | | |
AdBlocker
Surfshark's CleanWeb and NordVPN's Threat Protection both include an ad blocking feature. They also block malicious websites and phishing attempts.
Keep in mind that neither of these is an antivirus. It will not block all phishing attempts, malicious websites, or ads. So stay away from suspicious links at all costs. 
Split tunneling
When a VPN is active, it usually tunnels all your data. Split tunneling is used if you need some of your data unaffected by a VPN. Both NordVPN and Surfshark VPN include this feature in their services.
A split tunnel is useful for securing sensitive data, accessing wireless devices, using two different IPs at once, and excluding data-heavy apps that are slowing down your VPN connection. 
Smart DNS
Unfortunately, many smart TVs and gaming consoles don't yet support VPNs. However, you can access restricted content on these devices thanks to the smart DNS (Domain Name System) feature. 
Both companies offer the smart DNS feature. It does take a little bit of effort to set up, but there are extensive guides to help you out with that.
Disclaimer: We prohibit using Surfshark services for any unlawful purposes as it is against our Terms of Service. Please be sure to act in compliance with all applicable laws and regulations of other service providers.
Double VPN
A Double VPN is exactly what it sounds like. It gives you extra security by routing your traffic through two VPN servers. Surfshark calls it MultiHop, but it is the same service as Nord's Double VPN. 
Be aware that using Double VPN can slow down your connection. Only use the service if you really need the extra security and not when casually browsing or streaming.
GPS spoofing
Regular use of a VPN does hide your IP address but does not hide your location from the GPS function. Surfshark does offer a GPS override feature on its Android app that helps you hide your location from the GPS. NordVPN doesn't provide GPS spoofing options.
Dedicated IP
A dedicated IP is an IP address that belongs to you only and always remains the same when using a VPN. NordVPN offers a dedicated IP address in 8 countries worldwide; however, it is a paid service without a free static IP alternative.
Surfshark does not offer a dedicated IP service. However, static IP addresses in 6 countries are included in the base plan and don't require you to make extra purchases. The only difference between a static and dedicated IP is that you share a static IP with other people on the server.
The Surfshark team does have the dedicated IP feature high up on their priority list, so you can expect to have this option with Surfshark VPN soon.
Result: draw
Both NordVPN and Surfshark have loads of useful features. Many overlap, while others are only offered by one of the service providers. The only winner here is you, getting a chance to choose a VPN with features that suit your personal needs.
Surfshark vs. NordVPN: the scores
Category

Winner

Notes

Server locations

Draw

Surfshark has servers in more countries, but NordVPN has more servers. The winner here depends on where you will connect to and from.

Server speeds

NordVPN

The download and upload speeds were pretty much identical. NordVPN takes this category because of lower ping on a local server.

Streaming performance

Draw

Both providers offer fast VPN servers and support all major streaming platforms.

Price

Surfshark

Surfshark VPN comes in at

$2.49

per month

on a 2-year plan, while NordVPN costs

$4.19 per month

for 2 years.

VPN protocols

NordVPN

Both NordVPN and Surfshark use WireGuard, IKEv2, and OpenVPN. NordVPN offers an embellished version of WireGuard called NordLynx, which gives it a slight edge over Surfshark.

Customer support

Draw

Both providers have great customer support teams and extensive searchable knowledge bases.

Audits

Draw

Companies can speak highly of themselves all they want. Surfshark and NordVPN have proven their claims, with both companies undergoing extensive audits over the years.

Privacy

Draw

With approved no-logs claims, perfect locations for a VPN, and RAM-only servers, both VPN providers offer the best privacy you can hope for.

Security and encryption

Draw

Once again, we have nothing to pick at. NordVPN and Surfshark use the best encryption algorithm and share the same additional security features. You are in safe hands, no matter who you choose.

Extra features

Draw

Most of their features are either identical or very similar. Surfshark offers GPS spoofing, while NordVPN does not. However, only NordVPN can offer a dedicated IP for now. So until Surfshark starts offering a dedicated IP feature, we have to declare this a draw.
NordVPN vs. Surfshark: who wins?
If there is one conclusion that you should have reached by reading this blog post, it's that both Surfshark and NordVPN are crème de la crème of the VPN world. We really had to nitpick to come up with a winner. And even then, we struggled.
Out of the 10 categories that we considered, 7 were draws. In categories where we could come up with a winner, the margins that led to a decision were razor-thin. 
NordVPN has more servers in North America and Europe, which makes it a slightly better option for connecting to and from these regions. It is also the only one to offer a dedicated IP, even though Surfshark promises to have this option soon.
On the other hand, Surfshark has more connection options for users in Asia, Africa, and South America. Surfshark also offers unlimited simultaneous connections while being the cheaper option of the two, making it perfect if you use many devices and want to save a few extra bucks.
As a result, we declare a draw in the Surfshark vs. NordVPN comparison. Not because they're the same but because either can be the perfect fit for different users.
Browse the internet privately while enjoying lightning-fast speeds
Get Surfshark
FAQ
Does Surfshark work with Netflix?
Yes! Surfshark works with Netflix, and thanks to its blazing speeds, you can securely enjoy it without buffering.
Is Surfshark owned by NordVPN?
No, but they belong to the same parent company – Nord Security. Surfshark announced its merger with Nord Security in February 2022. After the merger, Surfshark continues to function as a separate company. They have kept their own branding, infrastructure, employees, management, and product development.
Is Surfshark better than NordVPN?
Surfshark is not better than NordVPN, although the two are very close. That being said, Surfshark can be a better option than NordVPN if you are connecting to or from Asia or Africa or if you need unlimited simultaneous connections.