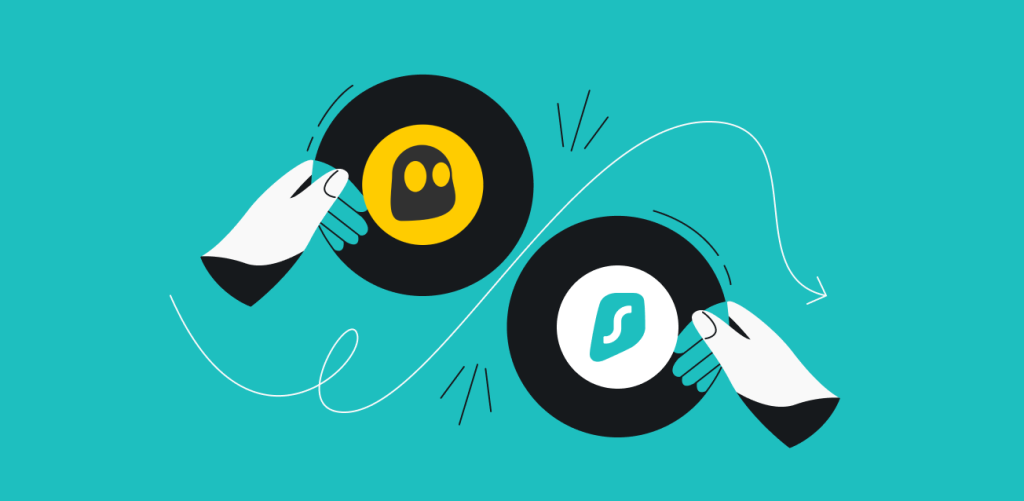 Who doesn't love the internet? It's a great place. But just like anything good, there are risks associated with surfing the net. So, it's essential to ensure your data is protected while browsing or interacting online.
VPN providers secure your personal data and browsing traffic by disguising it through a VPN tunnel. These encrypted pathways provide plenty of benefits, including:
Ensuring third parties can't see what you're up to;

Helping

you access content safely

;

Bypassing firewalls and censorship.
But with so many VPN providers, it can be difficult to know who's offering the best protection (and the best value).
This guide will compare two of the biggest VPN services: Surfshark and CyberGhost, and help you make an informed choice.
Note: the comparison was made on June 2, 2023. 
Secure your device with antivirus protection
Get email, credit card, & ID breach alerts
Change your IP address & stay safe online
Get Surfshark One
Surfshark vs. CyberGhost: at a glance
| | | |
| --- | --- | --- |
| | Unlimited | 7 |
| | 100 | 91 |
| | 3200+ | 7000+ |
| | OpenVPN, IKEv2, WireGuard | OpenVPN, IKEv2, WireGuard |
| | | |
| | | |
| | | |
| | | |
| | | $2.11/mo |
| | 30 days | 45 days |
Surfshark overview
Surfshark VPN is still a relatively new player on the field. But it's quickly become one of the most well-known and well-regarded VPN services. The VPN comes equipped with the very latest and best encryption technologies.
It's based in the Netherlands: an area known for being a strong privacy jurisdiction. Therefore, Surfshark is free from any international surveillance alliances, such as 14 Eyes.
Surfshark also operates on a strict privacy policy, meaning it doesn't keep records of its users. And any information it does save (for example, usernames) is held on RAM-only servers. This means your data is wiped with every reset, and there are no physical copies anywhere.
In terms of functionality, Surfshark offers a multitude of impressive extra features. These include:
Moreover, Surfshark provides a wide range of VPN servers in 100 countries worldwide. This means you can effortlessly log into almost any country and enjoy an uncrowded server with super-fast speeds.
Plus, with unlimited simultaneous connections, you can connect to Surfshark on all devices for only $1.99 per month (on a 2-year plan).
CyberGhost overview
CyberGhost was founded in 2011, making it one of the oldest VPN services. But just because it's old doesn't mean it's not keeping up with the times. Many still regard it as one of the best VPNs you can buy. Not to mention, CyberGhost is one of the cheapest VPNs, with prices as low as $2.11 (for a 2-year plan).
CyberGhost is located in Romania. Like the Netherlands, Romania is free from 5/9/14 Eyes surveillance. CyberGhost also has a privacy policy.
Like Surfshark, CyberGhost utilizes the best AES 256-bit encryption, making its servers hack-proof. And, speaking of servers, it offers an impressive 7,000+ selection in over 90 locations worldwide. So, there's almost nowhere you won't be able to get connected with this VPN provider.
However, it's important to know that CyberGhost's parent company is Kape Technologies, formerly Crossrider. Yeah, the same Crossrider had a history of installing malware and adware on users' devices. So it's something to be wary of.
That said, Kape Technologies claims to have turned itself around since then and now owns a few VPNs, including ExpressVPN.
Server locations 
Server coverage is a crucial feature to consider when picking a VPN provider. More locations mean you'll have more connection options worldwide, which can also help show how reliable a VPN service is.
More servers tend to mean faster connections, as each server is less likely to get too busy. It also makes it more likely that there will be an open server close to you, which is how you get the best speeds using a VPN.
CyberGhost: 7000+ servers in 113 locations across 91 countries
Surfshark: 3200+ servers in 200 locations* across 100 countries
*Some Surfshark locations are virtual-only and don't have a physical location.
Despite Surfshark offering fewer servers, it's an industry leader regarding global connectivity options. It's also worth noting that Surfshark features more server locations. This means you're less likely to experience an overcrowded server and can easily switch to an alternative option if your speeds drop.
What's more, Surfshark offers a plethora of static IP addresses and dedicated IPs to choose from. Instead of your IP address flicking around different servers, you will read as a stationary device. Therefore, you're less likely to jump through captcha hurdles or similar security protocols. The trade-off could be a slower connection.
CyberGhost also allows static IP access. But you must purchase a Dedicated IP address to use this feature.
Server speeds
We ran a few speed tests to find out which VPN provider offers the best speed and reliability. But first, we checked our speeds without a VPN engaged to establish our baseline:
Ping (ms): 2

Download (Mbps): 500.38

Upload (Mbps): 510.68
Because both providers support the WireGuard protocol (a set of rules that determine how a VPN connects), we used it to make a fair comparison:
| | Surfshark | Cyberghost |
| --- | --- | --- |
| Download (Mbps) - Local server | 381.40 | |
| Upload (Mbps) - Local server | | 214.62 |
| Ping (ms) - Local server | 4 | 4 |
| Download (Mbps) - International server | | 122.07 |
| Upload (Mbps) - International server | | 17.30 |
| Ping (ms) - International server | 78 | 78 |
Note: internet speeds aren't static, and many variables influence speeds, like your internet service provider, your location, and the location of the VPN server you're trying to connect to.
As you can see, both providers offer a swift VPN connection that should be more than capable of keeping up with streaming services.
Streaming performance
When it comes to streaming performance, the most important thing to consider is server speeds. If the speeds are consistent, streaming should be as well. 
The next essential to ensure the most comfortable streaming experience is checking whether your TV supports VPN. Luckily, both Surfshark and CyberGhost are very good in these aspects. However, there are often streaming services that refuse to work with VPNs. 
Let's look at whether Surfshark and CyberGhost have figured out your favorite streaming platforms:
| | Surfshark | CyberGhost |
| --- | --- | --- |
| Netflix | | |
| BBC iPlayer | | |
| HBO Max | | |
| Amazon Prime Video | | |
| Disney+ | | |
| Hulu | | |
| YouTube | | |
Disclaimer: We prohibit using Surfshark services for any unlawful purposes as it is against our Terms of Service. Please be sure to act in compliance with all applicable laws and regulations of streaming service providers.
CyberGhost vs. Surfshark VPN: protocols
It's difficult to make a CyberGhost vs. Surfshark comparison when it comes to VPN protocols simply because both companies offer the same options:
| Protocol | Surfshark | CyberGhost |
| --- | --- | --- |
| OpenVPN | Android, macOS, Windows, iOS, Linux | Windows, Android, Linux, FireTV app |
| IKEv2 | macOS, Android, iOS | Windows, macOS, iOS |
| WireGuard | Windows, iOS, Android, and macOS | Windows (CyberGhost8 only), macOS, Android, iOS, Linux, Android/FireTV app |
That said, it is worth noting that Surfshark VPN is available on more operating systems than Cyberghost.
While CyberGhost lets you use the FireTV app, thanks to Surfshark's smart DNS feature, you can use Surfshark to bypass firewalls and censorship on other devices such as your PlayStation or smart TV.
CyberGhost vs. Surfshark: audits
Once upon a time, VPN services could rely on their good name alone to prove they were trustworthy. But today, independent security audits have become essential to the VPN industry. These can vary from a service-specific review to a full and detailed analysis of the entire provider.
Some of the most reputable auditing firms are Cure53, PricewaterhouseCoopers (PWC), and Deloitte. So, we want to see VPNs using these firms to showcase how seriously they take user privacy and how quickly they repair any potential or existent security breaches.
Surfshark
Surfshark is an excellent example of how a VPN service can use an independent auditor to confirm the effectiveness of its security features.
In 2018, Surfshark had Cure53 audit its browser extensions. This was followed up in 2021 with a full audit of the entire Surfshark VPN infrastructure. No serious issues were found in either audit, and the few "low severity" vulnerabilities were swiftly addressed.
In 2023, the Deloitte audit verifies Surfshark's no-activity-logs statement.
CyberGhost
Similarly to Surfshark, CyberGhost was audited by Deloitte in 2022 on the same no-activity-logs policy.
By the way, CyberGhost publishes a Transparency Report every 3 months. This report shares information such as:
How many

data requests

it receives from various authorities;

Key statistics

about the CyberGhost VPN infrastructure.
Customer support
CyberGhost and Surfshark both provide friendly and accessible customer support options. This includes a 24/7 chat function (English only) and a high-quality, searchable knowledge base.
When browsing the knowledge bases for both companies, we also noticed that some of CyberGhost's information isn't up to date. An easy example of this was the server locations page in the Support Center. It stated that CyberGhost has over 6,000 servers in 88 countries. We know they have 7,000+ servers in 91 countries. So, this is a clear indicator that some of the Help pages could do with an update!
Security and encryption
| | | |
| --- | --- | --- |
| | OpenVPN, IKEv2, WireGuard | OpenVPN, IKEv2, WireGuard |
| | AES-256 | AES-256 |
| OpenVPN control channel encryption | | |
| | | None |
| | | |
| | Private DNS | Private DNS |
Encryption
At first glance, Surfshark and CyberGhost offer similar levels of encryption. Both support the AES-256-bit encryption protocol across the board. This encryption is virtually unbreakable.
Both VPNs also provide RSA keys. However, there's a difference — Surfshark fully encrypts all transactions with symmetric (AES) and asymmetric (RSA) keys. CyberGhost only encrypts using AES, except for the Password Manager, which uses RSA encryption. But it is a paid add-on feature.
What's more, CyberGhost doesn't offer any extra protection with obfuscation servers. These servers (provided by Surfshark) hide the fact that you're using a VPN… Even from your internet service provider!
If obfuscation isn't enough, Surfshark's NoBorders feature takes privacy to the next level. This feature is specially designed to bypass oppressive firewalls or censorship measures, allowing you to browse the internet without restrictions.
Kill switch
A kill switch is a vital tool in any VPN's privacy arsenal. If your VPN connection drops unexpectedly, a kill switch shuts down your internet connection. While this might sound inconvenient, your privacy and data are always protected.
Both Surfshark and CyberGhost provide the kill switch feature. It's available on all platforms with Surfshark. CyberGhost supports the feature on Windows, macOS, iOS, and Android.
Split tunneling
Split tunneling makes the lives of VPN users a lot easier. It allows them to decide which apps or websites they want to encrypt. Users can choose only to encrypt one or two apps and exclude the rest, or the other way around — encrypt all but a few apps.
Currently, Surfshark offers this feature (Bypasser) on Windows and Android. CyberGhost only provides split tunneling for Android. Worth noting that Surfshark's Bypasser works with both apps and websites. 
Logging practices
CyberGhost and Surfshark both operate on a strict privacy policy. This means they don't keep records of users or user data (except for monitoring traffic to ensure enough servers are available).
As the two VPNs are based in good locations, away from restrictive privacy laws or surveillance agreements, we can expect them both to maintain these practices.
Retaining user data
Both VPNs use RAM-only servers and claim not to log their user data apart from the necessary payment details. This means that, with every update, all data from the servers is wiped.
Aside from that Surfshark goes a step further with its Warrant canary.
Additional security features
| Feature | Surfshark | CyberGhost |
| --- | --- | --- |
| | | |
| | | |
| | | |
| Browser extensions | | |
| | | |
| | | |
CyberGhost vs. Surfshark: price
Finally, the price.
CyberGhost and Surfshark are both hugely popular VPN providers, beloved for far more affordable service than other VPNs on the market. Their cheapest plans come in at just over $2 per month.
Therefore, when choosing between the two, you should be asking yourself "what does the VPN do for me?" rather than "how much the VPN costs?"
| Plan | Surfshark | CyberGhost |
| --- | --- | --- |
| Monthly | $12.95 p/m | $12.99 p/m |
| 6 months | N/A | $6.99 p/m |
| 1 Year | $3.99 p/m | $4.29 p/m |
| 2 Years | | $2.11 p/m |
| Money-back guarantee | 30 days | 45 days |
Surfshark vs. CyberGhost:
summary
Category

Summary

Server locations

With over 7,000 servers in 91 countries, CyberGhost is ahead of most VPNs in this category.

Server speeds

Overcrowded servers likely let CyberGhost down in this round. Surfshark came out ahead in every speed test we conducted.

Protocols

Although Surfshark and CyberGhost offer the same protocols, Surfshark is available on more devices.

Audits

Surfshark has undergone three independent audits:

On its browser extensions;
On its full VPN interface;
On the no-activity-logs policy.

CyberGhost only has a single independent audit to date.

Knowledge base

Some of CyberGhost's knowledge base was out of date.

Security

CyberGhost only provides AES-256 encryption and doesn't use obfuscation. This is just the tip of the iceberg compared to the encryption and security that Surfshark offers.

Extra features

Simply put, Surfshark offers more extra features. However, both companies have a decent selection of paid add-on features that might be worth checking out if you want to customize your VPN experience.

Price

The most approachable prices for a 2-year plan are: Surfshark

$1.99

/mo; Cyberghost $2.11/mo.
Surfshark provides its users with increased security with features like obfuscation and Double VPN, while CyberGhost has some affordable pricing plans and a wide network of servers. At the end of the day, it's for you to decide who your favorite is.
An affordable VPN that works. Get Surfshark protection today
Get Surfshark
More Surfshark reviews and comparisons
Trying to figure out if Surfshark is for you? To help you make a better decision, here's a Surfshark review! Maybe you want to know how Surfshark compares to other VPNs. Look no further — we've got you covered!
FAQ
Which is best, Surfshark or CyberGhost?
Despite what you might hear on the web, Surfshark is better in many regards.The number of features, lower pricing, and unlimited simultaneous connections are some of the reasons. At the end of the day, it all boils down to personal user experience and preference.
Is Surfshark good in the USA?
You won't be disappointed with Surfshark because it offers AES-256-bit encryption, split tunneling, unlimited connections, and over 700 servers in the US alone. Enjoy a monitoring-free experience since Surfshark's HQ is outside of the Five Eyes alliance.