Love your iPhone and iPad? I do too. That's why we're here to help you protect them! If you're tired of being tracked and feeling unsafe online, a VPN (Virtual Private Network) is a great tool to improve your digital life. It will protect your internet traffic and mask the IP (Internet Protocol) address on your iOS devices. 
Setting up a VPN on iOS is simple – you can install a VPN app like Surfshark or configure your VPN settings manually. 
How? Apple has built-in IKEv2 and L2TP/IPSec VPN configurations. Still, you can connect to any VPN (e.g., OpenVPN) via a third-party app. In a nutshell, here are the two ways to set up a VPN on your iPhone or iPad:
Manually

. You can set up an IKEv2 or L2TP/IPSec configuration by downloading one from your provider and going to your

Settings > General > VPN > Add VPN configuration > Type.
Download a VPN client. This way, a VPN will configure everything automatically.
Why use a VPN on an iPhone in the first place?
To retain internet privacy and maximize security on the internet, of course. When browsing on your device, many inconveniences lurk for you on the interwebz – like the government monitoring your activity, trackers, or the looming threat of an evil twin. A VPN is built to combat such troubles.
A VPN is also a security measure based on convenience – workplaces use VPNs to allow you remote access to their server from your phone. By the way, if you're an ex-pat that's feeling homesick and wants to watch home-grown shows – a VPN gives you a local IP, letting you catch the show. FROM. YOUR. PHONE.
How to set up a VPN on iOS
The configuration may vary slightly depending on your chosen VPN provider, but the principle remains the same. So let me walk you through how to set up IKEv2 and OpenVPN on iOS step by step.
Manual setup (IKEv2)
As I already mentioned, iPhones and iPads come with built-in IKEv2 configurations. Thus, you won't need any third-party apps. What you'll need, though, is an IKEv2 certificate and connection credentials. You can get them from your VPN provider's website.
To manually set up a VPN on your iPhone or iPad with an IKEv2 connection, follow these steps: 
Download the IKEv2 certificate to your device.

You'll need

to purchase a

Surfshark

VPN and follow the VPN guides. If you have Surfshark,

log in here

and go to

the VPN tab > Manual Setup > Manual, and go to the locations tab

. Then scroll down to Other configuration files, and click on the IKEv2 certificate.
Find your

manual connection credentials

in the

Credential tab

under

Manual setup (you'll need them later)

. 
Note: The username and password given here are separate from those used to log into your account.
Go to Settings on your iPhone or iPad

. At the very top, you'll see

Profile Downloaded. Click on it.
You'll get a Warning screen about adding the certificate on your iPhone/iPad.

Click Install once again.
When the profile is installed, and you see the green

Verified

checkmark,

click Done to finish.


Note: If you don't get a pop-up for the IKEv2 certificate installation, refer to the solution below these steps.
To connect to a server, choose one from the list of your VPN provider's server hostnames under the Locations tab. For the best connection speed and performance, choose the Recommended server. For example, if you pick a server in Belgium, you'll have to enter "be-bru.prod.surfshark.com."
Go to Settings > General > VPN & Device Management > Click on the VPN tab.
Click on

Add VPN Configuration…

Fill in the following information:
Type: IKEv2
Description: Your preferred name of the connection
Server: The hostname of the server, as mentioned in step 7
Remote ID: Copy the hostname you put in the Server line
Local ID: Leave it empty
User Authentication: Username
Username: Put in the service credentials, as mentioned in step 2
Password: Put in the service credentials, as mentioned in step 2
Proxy: Off
Click Done

to finish.

Go to Settings > General > VPN

; the IKEv2 configuration you just created will be here.

Toggle the Status switch on.

You're now connected.
In case you didn't get a pop-up for the IKEv2 certificate installation:
Go to Settings > General > Profile.

You should see the downloaded profile, e.g., "

Surfshark Root CA

."



Click on it

and select

Install.
Automatic
Download a VPN client on your iPhone or iPad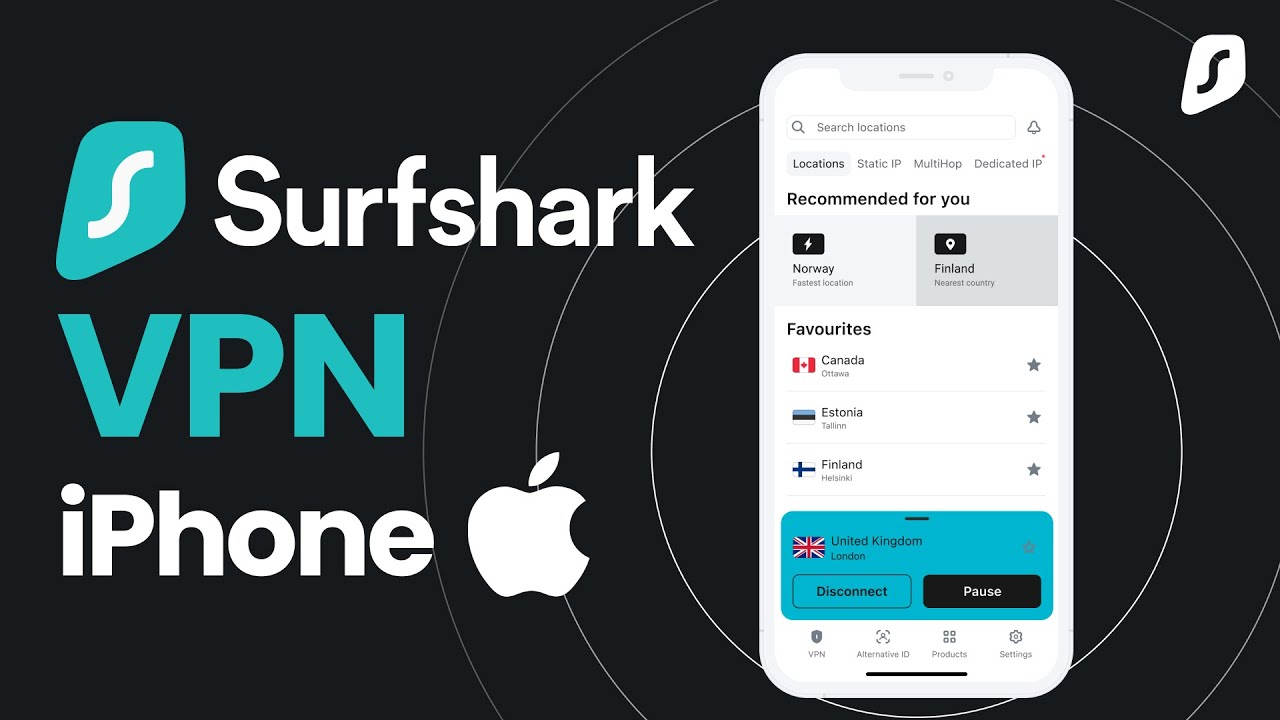 Downloading a VPN app straight to your iOS device is as simple as installing any other app. The process with a VPN app is as follows:
Step 1: Go to the App Store or straight to the site's download iOS VPN and skip to Step 3;
Step 2: Search for a VPN of your choice, e.g., Surfshark (start with our VPN free trial);
Step 3: Install the app. The app will ask you to give permission to add a VPN configuration. Allow it;
Step 4: Create an account, or log in if you already have one;
Step 5: Connect to your preferred server.
Congratulations! You've just installed the app with all of its features. If you're satisfied, you can leave it at that, but even the complete VPNs leave enough space for individual configuration.
Ways to personalize the VPN app you have on your iOS device:
(Side note: Some of the features below are exclusive to Surfshark. I'm using them as an example of feature variety.)
As you can see, users can tinker with the VPN settings quite a lot. This is one of the biggest benefits of using a VPN app rather than a manual setup.
Why configure the VPN manually at all?
A manual VPN setup is like your last option when nothing else works. Having a pre-set VPN is convenient, but there are a couple of reasons you'd want to opt for the manual setup instead:
In countries like Russia or China, you'll most likely run into trouble trying to use a VPN app. Governments there use censorship to control as much of their citizens' lives as possible. That includes VPN usage.

Manually setting up a VPN on your iOS device might help you bypass such VPN bans

. It's not a guarantee, but it's worth a try.

In any other case, when your VPN app stops working, a manually configured VPN could "substitute" it.
How to manually set up different VPN protocols on iOS
Some protocols are faster, and some aren't supported by iOS at all. All VPN protocols are built differently, and their use depends on the need – ample reasons to go for a different protocol setup.
How to set up WireGuard on Apple
Right now, this is the fastest protocol in the VPN industry. To set up WireGuard manually, you will need the WireGuard app and a VPN. Since we're using Surfshark (shocker, I know), we'll show you how to set it up with us.
Once you have WireGuard and Surfshark, you'll need a key pair and a location to which you'd like to connect.
Remember, if you don't generate a key pair before downloading the configuration file, the file will be missing your key pair.
What to do when you don't have a key pair
Open

Safari

, type

surfshark.com

, and log in. Then click on the

VPN

>

Manual Setup

>

Desktop or Mobile

>

WireGuard

;

I don't have a key pair

>

Generate a new key pair

;

When the key pair has been generated, save them someplace and select

Choose a Location

;

Select and

Download

the location's configuration files (it's the arrow pointing down on the right of the server name).
What to do when you have a key pair
Once you're visiting

surfshark.com

, click on the

VPN

>

Manual Setup

>

Desktop or Mobile

>

WireGuard

;

Click

I have a key pair

and name it the pair;

 

Enter your public key and hit

Save

;

Hit

Choose a Location

and select a server to which you'd like to connect.
Connect to the VPN using WireGuard
Open the app, and select

Add a tunnel

;

Find the configuration file you downloaded earlier and import it;

A text will pop up saying

''WireGuard' Would Like to Add VPN Configurations''

– click

Allow

;

To connect to (or disconnect from) the VPN,

toggle the button next to the location

;

Voila! It only took us fifty-two years to get here, but we made it.
How to set up OpenVPN on iOS
Since the OpenVPN connection isn't built into Apple mobile devices, you'll need to download a third-party app from the App Store. Follow the steps to set up an OpenVPN connection on your iOS device:
Purchase a

Surfshark

VPN subscription and

get your VPN service credentials

. If you have Surfshark,

log in here

, go to

Devices

, scroll down to

Manual

, and then scroll down to the bottom of the page;

You'll see the service credentials.

 
Note: The given username and password are separate from the ones you use to log into your account;
Open the App Store and

search for "OpenVPN Connect;"
Download the app

;

When you install the app,

download one or several OpenVPN configuration files

from the

manual connection page

.

Choose the Recommended server

for the best performance and speed.

Download the file by clicking on the gray arrow icon

;
Unzip

the downloaded compressed configuration files.
Open the OpenVPN Connect app.

Click on OVPN Profile

.
Click

Add

to

import the .ovpn file

.

Fill in the information:


Username:

Put in the service credentials, as mentioned in step 1


Password:

Put in the service credentials, as mentioned in step 1




Optional: Mark the password to be saved, so you don't have to worry.
Click Add.

Once you've added the profile,

toggle the connection switch on.
You're now connected.
Keep in mind that our fantastic customer support team works 24/7. Contact them in case of any problems regarding configuration.
How to choose a VPN provider?
If you would look into the VPN market, you'd notice it bursting with the same shade colors of encryption – all VPNs seem to do the same thing. So here's the fine print that you should look out for in the sea of sameness:
the

encryption

and

protocols

used;

the

features

a VPN provides;

the

number of servers

a provider has;

the

speed

and

quality

of the service;

the

policies

a VPN provider adheres to;

the

track record

of the company.
A VPN setup on iOS that's easy
The manual VPN configuration requires extra steps, but it can be useful for people in restrictive regions. It can also be used as the last option when a VPN app suddenly stops working.
However, pre-configured VPN apps offer a simple user interface – notice that the next time you open the Surfshark app on your iPhone or iPad. When you install a VPN client straight to your device, you have quick access to all server locations and features. It takes a couple of clicks to switch from one server to another.
Meanwhile, when you set up a VPN connection in a specific protocol, you can only connect to one server at a time. That's why I suggest you always opt for a VPN app rather than a manual configuration (unless you need to, of course).
Let tech experts do the work for you
Enjoy the ease of our VPN
Get Surfshark
FAQ
Should I keep the VPN enabled on iPhone?
It would help if you kept a VPN running to keep your business private, yourself secure, and your searches anonymous.
But if you're more interested in the entertainment side of a VPN, we advise you to keep it on only when catching that game or watching a show and kicking back. It will help maintain your internet speed.
Does the iPhone have a built-in VPN?
No, Apple doesn't provide its users with a built-in VPN app. However, iCloud+ subscribers have a security alternative called Private Relay.
Is VPN free on iPhone?
No. There is no such thing as free VPNs for iPhones. And if you find one that is free, you're still paying them with your data – they sell it to third parties.