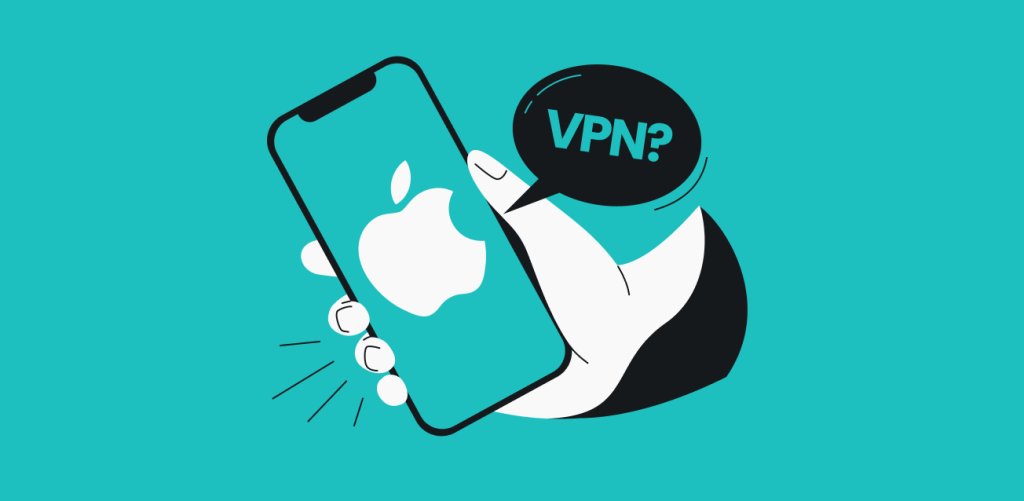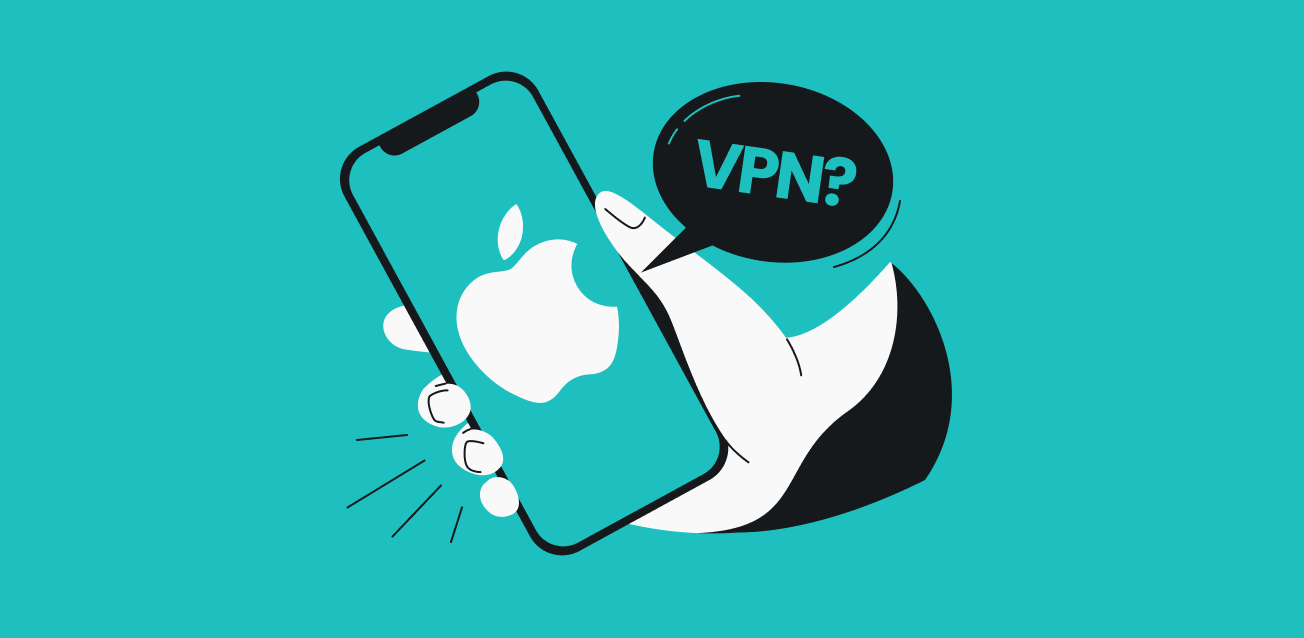 Experts and users often praise Apple devices for their security features. And it may be true that your iPhone is much more secure than an Android device. But it's not bulletproof, especially when you are online. You need extra protection to stay away from the dangers of the internet. That's where a VPN (Virtual Private Network) comes into play.
In other words, you should use a VPN on your iPhone to make sure you're safe online. It's simply the best tool to keep hackers, snoopers, and other bad actors from messing with your device or data.
What is a VPN on my iPhone?
A VPN is an online privacy tool that hides your IP address and encrypts your internet traffic. A VPN on your iPhone uses an encrypted tunnel to route your traffic to a remote VPN server. As a result, your virtual location changes to that of the server, and a secure code hides your sensitive information.
Do you remember the game children play — two cans and a string? A VPN is similar. In the same way that two children can share a secret conversation in public over two cans and a string, a VPN lets two devices have a private connection over the open internet, all thanks to VPN encryption.
VPN — let's break it down:
It's

virtual

because privacy is achieved by digital means instead of establishing a physical connection;

It's

private

because nobody can monitor your activity on the internet;

It's a

network

because there is more than one device interacting.
When it comes to a VPN on an iPhone, there are two things we may be talking about. One is a VPN app — something you download and use to connect to a VPN server without any hassle. The other is a native VPN capability available on all iPhone devices. Unlike an app, it requires a manual setup and a server to connect to.
For most people, using a VPN app is the best option. It's easy to use and accessible to everyone. The manual VPN setup is a great option for a small niche of tech-savvy individuals who happen to have a VPN server lying around somewhere.
Still confused? We wrote a whole article on what a VPN is.
Why you should use a VPN on your iPhone
You should use a VPN on your iPhone to stay secure online and access public Wi-Fi safely, above other things. According to Forbes research, 40% of respondents had their information compromised while using public Wi-Fi.
Despite appearing harder to hack, iPhones are as prone to malicious attacks as any other device. In his 2021 interview with Forbes, Gil Shwed, often regarded as the inventor of the modern computer firewall, stated that iPhones aren't more secure than Androids.
Shwed also said that 95% of smartphones accessing core enterprise systems don't carry security software. A VPN could reduce that number. Also, regardless of Apple's fight against the rising threats to privacy, a VPN will provide you with peace and quiet anywhere.
A good VPN does more than encrypt your traffic and change your IP address. It can help you overcome oppressive censorship, ISP (Internet Service Provider) throttling, or allow you to access your favorite content from your home country whenever you're traveling abroad.
Let's look at some of the main reasons you should use a VPN on your iPhone.
Stay safe and secure on public Wi-Fi networks
Do you want to wire the money to your friend for the coffee while waiting for the barista to prepare it? Using a VPN on an iPhone ensures you won't risk exposing your banking app's info on public Wi-Fi.
Hackers are always on the lookout for vulnerable people online. Unsafe public Wi-Fi is one of their easiest entry points. The private data shared over public Wi-Fi is often not encrypted, making it easy for bad actors to intercept it.
VPN services help you establish a safe and secure connection on public Wi-Fi. They encrypt your traffic and hide your IP address, which makes it extremely hard for hackers to get any information from you. 
Overcome network restrictions at work and school
Can't play a track on SoundCloud during recess at school or share a video on YouTube in the office break room? Turn on the VPN on your iPhone and share the vibe.
Schools and workplaces block access to certain websites or online content for reasons such as "productivity" and "to lessen the network load". Nevertheless, you can overcome such blocks — all thanks to VPN apps!
Just connect to a VPN server in a location of your choice and enjoy the wonders of the internet freely once again.
Avoid censorship wherever you go
You left your home in the UK for a week and went to China. The newest episode of The Graham Norton Show is about to drop, but you can't watch it because the service is no longer available. Turn on the Surfshark app on your iPhone and tune in to your favorite home shows.
To avoid censorship, change your location with a VPN. For example, if you want to access BBC or the New York Times in a country that blocks them, simply connect to a US location.
Stream privately and throttle-free
Is Netflix buffering for too long? Or maybe Raid: Shadow Legends is lagging? Experiencing random speed drops? Your ISP might be capping your bandwidth because they see you streaming. Yes, ISPs do that, and it's called throttling.
A VPN hides your traffic from your ISP, so they don't know what you're doing. This way, you can avoid throttling and stream privately with a VPN.
Disclaimer: we prohibit using Surfshark services for any unlawful purposes as it is against our Terms of Service. Please be sure to act in compliance with all applicable laws and regulations of other service providers.
Defeat price discrimination
It's not a secret that most shopping is done using smartphones. With that in mind, are you looking to order a present online but the budget is tight?
Location plays a vital role when it comes to purchasing things online. Here's the thing: companies set prices based on your zip code, IP address, purchase history, and even the Wi-Fi you're using. This is price discrimination. And often, you pay more for an item if you're from a higher-income country. 
However, using a VPN allows you to switch locations to get the best deals. This way, you can defeat price discrimination and save significant amounts of money when shopping online. 
How to use use a VPN on an iPhone or iPad
You can set up and use a VPN automatically (a bit easier option) or manually (takes more time). The quickest way to start enjoying an encrypted connection is by choosing a VPN provider — we'll talk about that later on — and downloading their app.
The easiest way — get an app and use it straight off the bat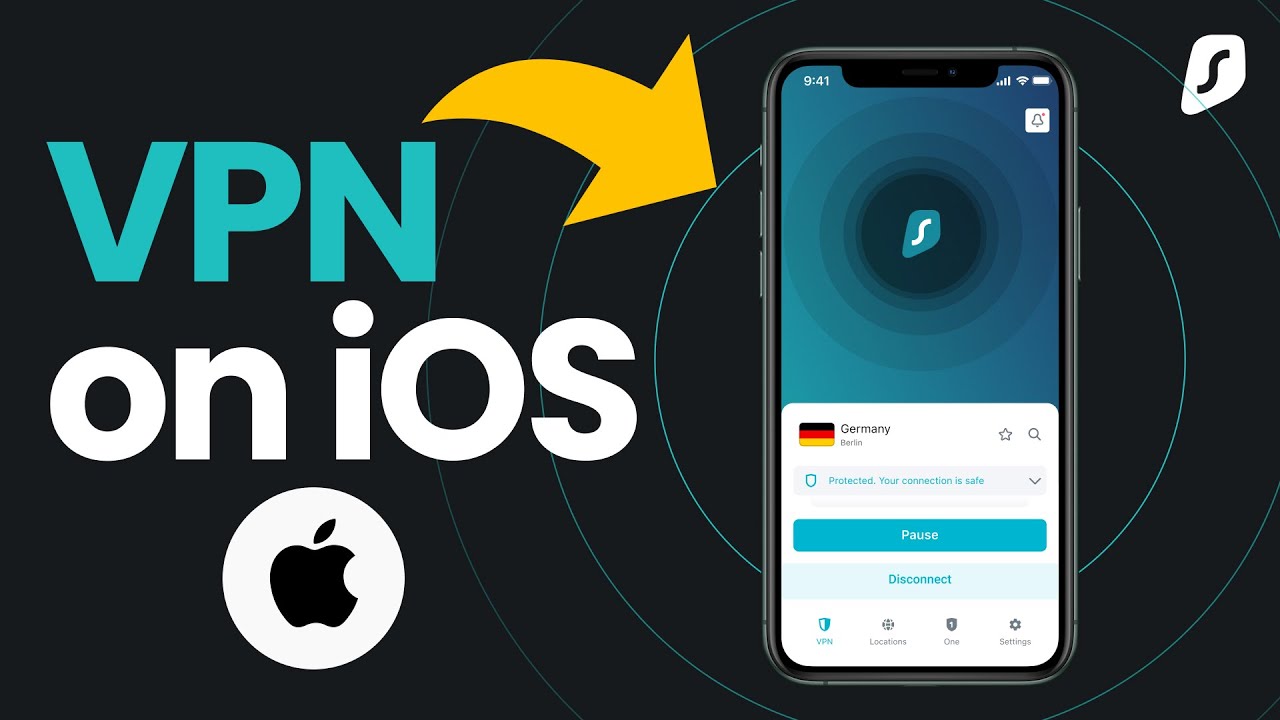 The advantage of an app is that the setup and most settings are automated — you'll save time and won't need to fiddle with the different settings of various protocols. A VPN service also has additional functions, like a dedicated IP or an IP rotator and randomizer.
By the way, setting up a VPN on an iPad is roughly the same, so here's the process for most VPN apps:
Sign up

for a VPN;

Download an iOS VPN

or get it from the

App Store

;

Install

the app;

Open the app, choose a location, and tap

Connect

.
Now you're set to enjoy the benefits of a VPN.
Manually set up a VPN on an iPhone or iPad
If you want to set up a VPN on an iOS device manually, you can do that. The major upside of a manual setup is that it may give you additional setting control and insight into what's under the figurative hood.
iPhone 11, iPhone 12, iPhone 13, iPhone 14, and a lot of older iOS devices natively support several VPN protocols. For this example, we'll be using IKEv2, as it's currently the best available option, but bear in mind that we have more extensive guides on how to use a VPN on iPhone.
Open

Settings

;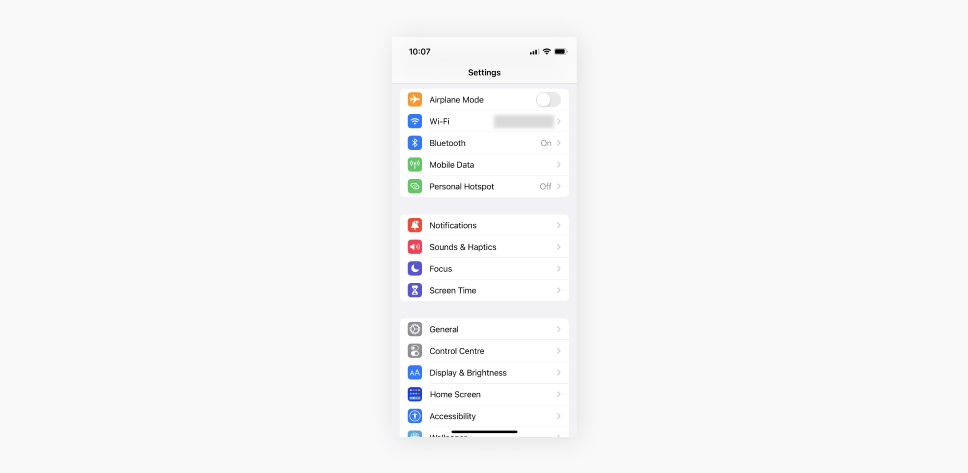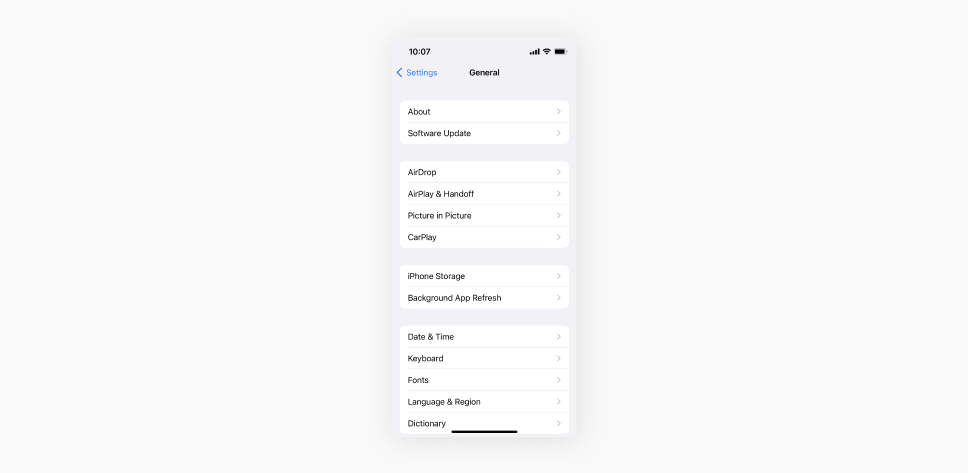 Click on

VPN and Device Management

;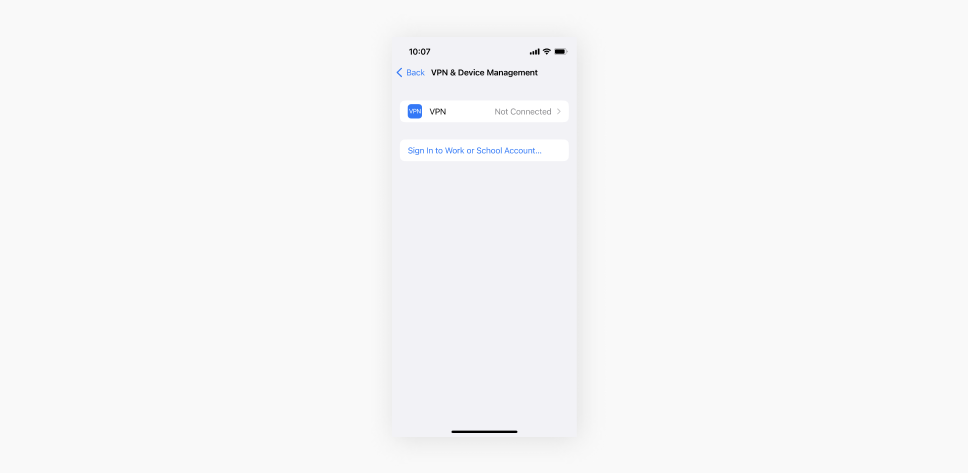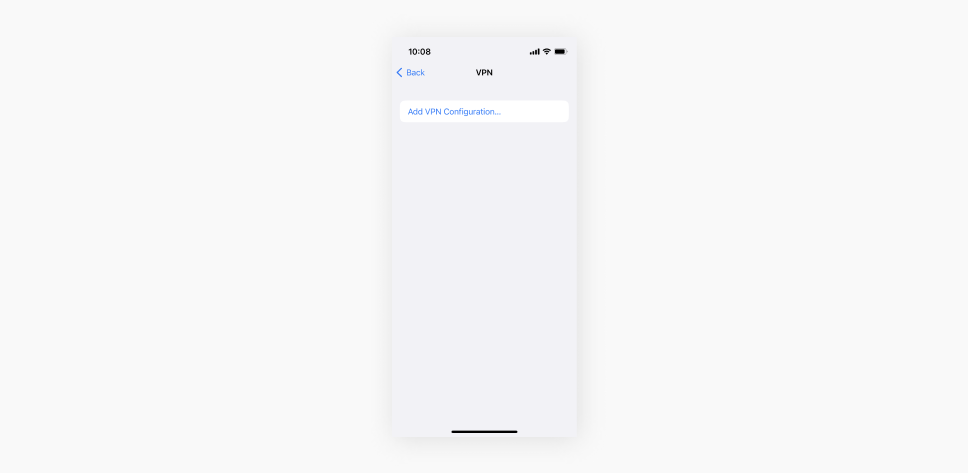 Click

Add VPN Configuration

;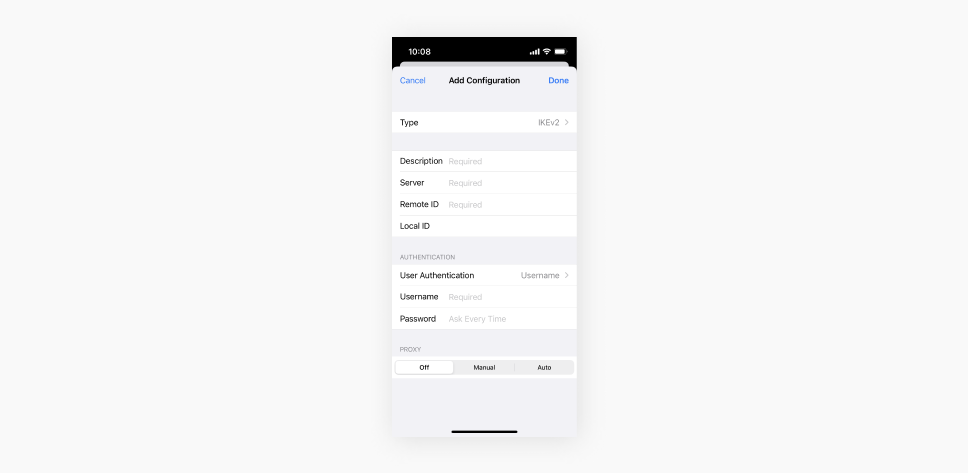 Choose

IKEv2

as your

VPN type

;

Enter your VPN configuration data; 

Enter your authentication data; 

Voilà

, setup complete.
It's also worth mentioning that with the change to iOS15, Apple introduced a VPN-like feature called Private Relay. It's only available for iCloud+ subscribers. There's no way to access this feature without an active subscription.
A VPN connection protects your traffic by sending your data through an encrypted tunnel. Private Relay tries to achieve the same by using two different proxies to hide your IP address and online activity. If you have an iCloud+ subscription already, it may be a good tool for internet privacy, but I wouldn't stop using a VPN with the iOS 15 update just yet.
What to consider when securing your iPhone and choosing a VPN provider
You shouldn't take the task of choosing a VPN provider lightly. After all, you'll be putting your privacy in their hands.
First, you should rule out free VPNs if you care about online privacy. There are too many cases of free VPN providers selling your data to ad agencies or otherwise mishandling information. We nudge you to try Surfshark when securing iOS devices. Here's a list of things we cover: 
Encryption and protocols

— security is the

most important aspect of any VPN

. AES-256 is the industry-leading encryption at the moment, and you

shouldn't

settle for anything else.





The same goes for protocols. A good VPN should offer fast and secure protocols such as WireGuard, OpenVPN, and IKEv2, all of which are available with Surfshark

;

The number of servers and locations

— you want a VPN with the most servers in the most locations. If a VPN has a lot of servers, they don't get too crowded, and your

connection stays fast

. Surfshark has you covered with 3200+ servers in 100 countries.
The more locations a VPN has, the more likely you are to find one close to you, no matter where you are. Being able to connect to a server nearby is also crucial for good connection speeds with a VPN;
No online tracking

— any reliable VPN provider should have a strict no-logs policy. Lucky for you, Surfshark has been

verified by an independent auditor

.





This means we

don

'

t keep any information about your activity while using the app

.

Additional features

— most premium VPN providers offer unique features with their services. Surfshark offers unlimited connections, a

pop-up and an ad blocker

, an

IP randomizer

, and a

MultiHop

option (above all else). If you pay for a service, make sure you get the most out of it.

 
Should I turn a VPN on or off?
If you're using the internet on your iPhone, you should always keep your VPN turned on. There aren't many cases where having it off is beneficial, but we'll try and list them anyway.
When to turn a VPN on

When to turn a VPN off

When using public Wi-Fi
When carrying out operations that involve sensitive data
When you need to overcome blocks and censorship
When shopping online

When banking (banking apps can be very fussy about VPN use)
When mobile data usage is of critical importance
When your connection is slow and you want to stream video or just access rich websites
Our advice is to always use a VPN to be on the safe side.
Can you use a VPN for free on your iPhone?
There are two ways a VPN can be free on an iPhone:
By using inbuilt VPN functionality

: this means setting up a connection manually and finding your own VPN server to connect to. If you're asking this question, I assume you don't have one handy, and getting one isn't free;

By downloading a free VPN

: not all VPN providers are safe, and using

free VPN services is such a risky proposition

that we wrote a

full article comparing free VPNs with paid ones

. 
But hey, thanks to free trials and money-back guarantees, trying out a premium VPN to see if it fits is a risk-free proposition. 
Conclusion: iPhones have built-in VPN protocols for a reason
iPhones are generally secure, but they aren't immune to privacy issues. Your sensitive data may still be at risk, especially on public Wi-Fi. That's why you should add an extra layer of security to your iPhone.
Use Surfshark and wonder "what is VPN on iphone?" no more! Surfshark VPN has everything you'll ever need in a VPN — and for an affordable price!
Secure your iPhone with a VPN you can trust

and surf the web iSafely
FAQ
Is a VPN safe for iPhones?
A VPN is safe to use on an iPhone if you get an app from a trusted developer. Free VPNs are often compromised. 
What does a VPN on an iPhone do?
A VPN on an iPhone encrypts the data and routes it via a VPN server, making your data more secure and helping you overcome censorship and firewall blocking.
Is there a VPN already implemented on an iPhone?
Yes, all iPhones have native VPN support, just like all OS X devices, Windows PC, Android phones, and so on. But that just means that your device is capable of connecting to a VPN server. To make a VPN work, you would need to complete a manual setup and find a server to connect to, which is not an option for most users.
Should a VPN be on or off on an iPhone?
You should always keep your VPN on, regardless if you're using an iPhone or any other device connected to the internet. There are only a few exceptions, mainly related to banking apps and other services that may not work well with a VPN.
How do I use a VPN on iOS 15?
The easiest way to use a VPN on iOS 15 is to get a premium VPN app, start a subscription, and use the app to connect to a VPN server. You can complete a manual setup without the app, but that requires some tech knowledge and a VPN server you can connect to.
Starting with iOS 15, Apple introduced Private Relay, a VPN-like feature that is only available for iCloud+ subscribers. While it isn't a full replacement for a VPN, it does help with securing privacy online.
What is the difference between Private Relay and a VPN on iOS15?
Private Relay and a VPN are privacy tools that encrypt your internet traffic and protect your privacy online. Private Relay only protects you when you're using Safari and does not protect traffic outside of that browser. A VPN encrypts all your traffic, which includes all browsers and apps.