4.5 out of 5
Best Mobile VPN for Privacy & Security
Trying to find a secure and reliable VPN for your mobile device? Look no further – Surfshark's got you covered.
Apps for all major OS platforms - Android & iOS
Intuitive and hassle-free user interface
Security protocols - OpenVPN, IKEv2 & Shadowsocks
Saves battery and mobile data by blocking ads
Take mobile security into your own hands
Google searches on mobile devices account for more than half of all Google queries in the US, and the trend persists around every country of the world. It makes sense – surfing the web on the phone is incredibly convenient. Take the phone out of the pocket, and now you have the whole digital world in your hands.
Our smartphones are connected to the internet most of the time, be it a home network or public Wi-Fi hotspot. Thus online security of mobile devices is gaining relevance now more than ever.
If you don't use a VPN app on your iPhone or Android device, you automatically become an attractive target for cybercriminals. A lot of your personal information becomes easily accessible for data thieves: Facebook messages, confidential emails, bank account credentials, among other data.
What is a mobile VPN & does it differ from a regular VPN?
Mobile VPN is just like any other type of VPN service. It just offers protection to your Android or iOS device via an app, which you can get on Google Play Store and App Store.
A VPN on your phone ensures that you stay private and secure on the go. It also makes sure that your data is protected when you're switching between different Wi-Fi networks.
The simplicity of our mobile VPN app design
Surfshark aims to make your VPN experience pleasant and straightforward. Our VPN apps on Android and iOS are easy-to-navigate. Whatever action you want to take, it won't take you more than three clicks to get there. And the connection is even better – just click Connect, and you're protected. Simplicity is key.
Don't worry if you're new to VPN, we all start somewhere. Set up a VPN on your phone by following these short and quick guidelines for iOS and Android.
Up-to-date VPN security protocols for mobile devices
We guard your Android and iOS devices with the best security protocols in the game.
IKEv2:
Best known for its excellent connection speed. This protocol showcases outstanding performance when you're connected to nearby servers.
OpenVPN:
Works best with long-distance connections. Since it's open-source, it's constantly being improved by security professionals.
Shadowsocks:
When the protocols mentioned above are unavailable due to school or country network restrictions, Shadowsocks is your best bet (only on Android).
Here's how we improve your online experience on mobile devices:
Strong AES 256 GCM data encryption ensures the security of any information you send and receive;
The VPN protects you from hackers, governments, and ISPs snooping;
The VPN gives you secure access to geo-blocked and restricted content;
Your VPN connection remains stable while switching to different networks;
Surfshark keeps no logs of your activity; thus, your digital life belongs only to you.
How Surfshark makes your mobile experience better
Hide your real IP address
A VPN allows you to virtually travel anywhere, as long as that VPN provider has servers in your desired location.
Surfshark offers 1100+ servers all around the globe, so switching to a different IP address is as easy as 1, 2, 3. Choose a location and become undetectable.
Pick the speediest server with a single click
As you open the app, it instantly offers you to use the Quick connect feature. It means that the VPN picks the fastest server available for you. Usually, it's the one that's closest to your real location. As you're given a close server, the VPN doesn't negatively affect the internet speed.
Retain unshakeable security with a Kill Switch
It's one of those great features that you only have to enable once. You don't have to worry about it ever again. Kill Switch makes sure your real IP address doesn't get exposed by disconnecting you from the internet once your VPN connection drops.
Clean up the cyberspace
You've heard about ad blockers – CleanWeb is one of them. Use it on your Android and iOS devices to stop annoying pop-ups, ads, and phishing attempts.
CleanWeb also works as malware and phishing protection, filtering out suspicious links, so you don't get hacked.
Take control of your apps with split tunneling
When your VPN is on, every app and website is sent through an encrypted VPN tunnel. However, sometimes you need your real IP address to be visible.
Whitelister is useful when done right. As long as you're connected to a password-protected private network, you can use this feature to make certain tasks easier when a VPN is on. Exclude food delivery apps, workplace printers, or even banking apps for maximum convenience.
Double your mobile VPN security with MultiHop
Connect to two server locations at once if you want to make your VPN stronger. There are several ways to use this feature; for example, you can pick a country that's far away from your real location and then also connect to a nearby server for excellent connection speed.
Spoof your GPS location on Android
Sometimes you don't even know that an app is tracking your location. The free GPS spoofing feature changes your mobile phone's location, so your location data doesn't get exploited. For now, this feature is only available on Android, though!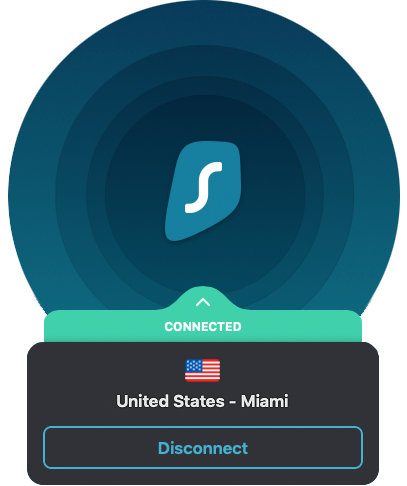 You don't have to be tech-savvy to use Surfshark VPN
Start fresh by creating an account