Amazon Prime Video has drawn in more than 150 million paying subscribers, all thanks to its wide array of beloved content, exclusive deals, and quality originals. Naturally, if you're one of those subscribers, you want to stream Amazon Prime Video without worrying about security and data collection. For that, you need an Amazon Prime Video VPN. 
Identity protection
with Surfshark Alert
Get real-time email, credit card, & ID breach alerts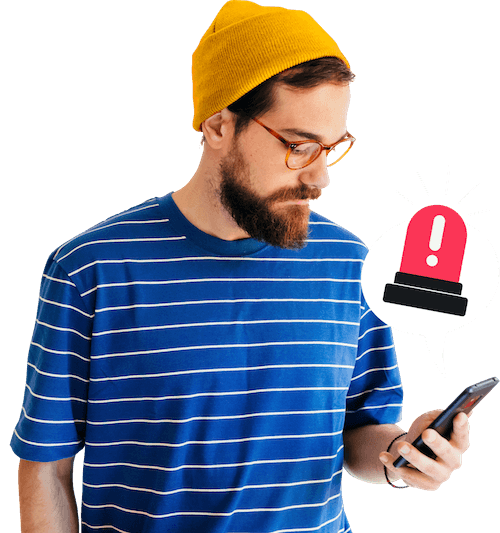 Does Amazon Prime Video work with VPNs?
Yes! Watching Amazon Prime Video with VPNs works. If you want online privacy, you need protection when doing simple things like streaming. And with a few steps, you can make sure a quality service like Surfshark has you covered. 
A good VPN for Amazon Prime Video, or any service for that matter, will encrypt your traffic, allowing you to keep your personal data to yourself. Once that is done, you can watch Amazon Prime Video with no worries.  
Why use a VPN with Amazon Prime Video?
There are many good reasons to watch Amazon Prime Video with a VPN:
Privacy: don't worry about your ISP, snoopers, or VPN provider seeing everything you do online.
Anonymity: when connecting to a VPN server, you replace your device's IP address – your address online – with the server's, so everyone thinks you're connecting from the server's location. 
Security: prevent hacking attempts by securing internet connections and staying safe on unprotected public networks.
Why is Surfshark the best VPN for Amazon Prime Video?
| | | |
| --- | --- | --- |
| No one wants to deal with buffering when trying to stream. That's why you need a VPN that offers good speeds. | A VPNs main job is to protect you. So invest in a service with the strongest encryption in the industry. | The number of servers directly correlates to speeds and how easy it will be for you to access certain sites. |
| | | |
| You don't want to share your personal information, and we have no use for it. Get a VPN that won't log your data. | Anything can be hacked - even your TV. So get a VPN that can cover most or all your devices to stay safe. | |
How to use an Amazon Prime VPN
Step 1: Download a VPN
Downloading a VPN is straightforward: go to Surfshark's website and choose the platform you want to download it on. Alternatively, you can download it straight to the device.
For example: For an Amazon Fire TV stick, you simply need to search for "Surfshark" on your Fire TV. 
Step 2: Create an account
Type in your credentials, sign up, and you're good to go.
Step 3: Connect to a server location
Connect to a VPN server matching your account's country.
Note: You can also download titles before you travel to watch them offline from anywhere in the world. The titles available to download are marked "Watch While Abroad."
What to do if Amazon Prime Video blocks your VPN
If Amazon Prime Video blocks your VPN, it means it's blocking an IP (Internet Protocol) address that your VPN dedicated to you. Since you're not the only one using that IP address, streaming services see it and assume the traffic is coming from a VPN.
To unblock Amazon Prime Video with a VPN, try the following tips:
Clear your

browser's cache;

Enable

incognito/private mode;

Restart the device you're using.
As a bonus tip, you can try connecting to a different VPN server in the same region.
If you're still experiencing issues, feel free to contact our support team. Our customer success sharks work 24/7. If you need a quick response, drop a message via live chat; otherwise, submit a request, and they'll contact you via email.
We prohibit using Surfshark services for any unlawful purposes as it is against our Terms of Service. Please be sure to act in compliance with all applicable laws and regulations of streaming service providers.
How can I get the best streaming quality and speed with a VPN?
A VPN can impact your connection in two ways. Some speed is always lost when routing via a server, and the longer the distance, the bigger the fall. A smaller bit of traffic is taken up by  "encryption overhead" – the sending and receiving of data needed to maintain your connection secure.  However, good modern VPNs make those drops barely noticeable. 
If your VPN is slowing down the internet connection, you can try some tips and tricks to resolve it. Start with the following:
Check if it's the VPN causing connection issues by running a

VPN speed test

.

Switch to a different server location — usually, the closer the location, the better the speed.
The next couple of tips are for those who like to get into the more advanced features:
Change your VPN protocol settings.

Currently, WireGuard®* is considered one of the fastest VPN protocols.

Switch between TCP/UDP with OpenVPN.

UDP is faster and better for streaming, while TCP is more reliable but slower.
*"WireGuard" is a registered trademark of Jason A. Donenfeld
Improve your Amazon Prime experience with a VPN
A VPN is your key to watching Amazon Prime content and keeping your internet presence private and secure while you do it. And with Surfshark, you can enjoy great speeds as well.
Watch Amazon Prime in complete privacy with a VPN
And claim our 30-day money-back guarantee
Get Surfshark
FAQ
Why can't I watch Amazon Prime abroad?
Amazon Prime, much like other streaming services, offers different content depending on where you are. So if you're traveling, the shows you know and love might not be available. 
Can I use my Amazon Prime membership in another country? 
Yes and no. Your membership will still be there, but the only content available to you will be Amazon originals. So streaming Amazon Prime Video won't be a problem, but your selection will be extremely limited.