Costa Rica VPN for privacy & security
Get a Costa Rica IP address
Watch content buffer-free
Protect yourself on public Wi-Fi
Try it with a 30-day money-back guarantee
Get Started
Why use a VPN in Costa Rica?
Stream privately without buffering
No matter whether you're surfing the web or watching your favorite TV show or movie, using a VPN is always the best option. Stay safe online and forget waiting for content to load.
Keep your net neutrality with a Costa Rica VPN
The Costa Rican law guarantees a minimum internet speed to every user. But do you know whether your Internet Service Provider (ISP) is giving you full bandwidth? With a VPN, you can overcome any sort of internet throttling and reclaim net neutrality.
Stay private while at home or traveling
Costa Rica rates highly on freedom of the internet. However, a VPN can protect your privacy while traveling or simply using public Wi-Fi hotspots. With an encrypted connection, hackers can't intercept your data.
Surfshark does not encourage using a VPN in any way that would potentially violate the Terms of Service of other service providers.
Costa Rica VPN questions and answers
Can you be tracked even if you use a VPN?
A good question for those who chose Costa Rica as digital nomads or as fans of off-the-grid living! Rest assured: a VPN helps a whole lot if you want to leave the smallest possible online footprint. If you don't leave any personally identifiable information (your name, address, photos) yourself, it will cover up all the digital trails. 
At the most basic level, a VPN protects you from a DNS lookup. This technique helps identify your ISP and country, as is often used for geo-blocking. VPNs also hide your IP address – probably the most identifiable digital footprint you leave behind. Moreover, since VPNs encrypt your data, it makes it safe from Deep Package Inspection. This kind of process checks what type of data you're transmitting. It is foiled by encrypting the contents. 
As a bonus, the "Camouflage" feature of Surfshark VPN even hides the fact that you're using a VPN. This is less of a concern in a country that values internet freedom as much as Costa Rica does, but it can become useful when you travel somewhere where VPNs are banned.
Why should I pay for a VPN?
As the middle 20% of households in Costa Rica earn ₡743,324 (about $1,250) a month while the lowest 20% get by on less than ₡207,870 (about $350), a free VPN may seem tempting. But Surfshark is very much affordable, with a 24-month plan costing only $1,99 a month. Yet there are reasons other than price to go with paid VPNs instead of free ones. 
Paying a subscription fee helps with the maintenance of physical servers that VPNs need to work. Unlike most free software, VPNs are very dependent on infrastructure. Free VPNs have to find those funds somehow – this may lead to them selling your metadata to third parties and so on. 
The funding a paid VPN gets from subscriptions helps it keep up with the research and technological developments in the field. Thus, you can hope to always enjoy the best encryption on the market as well as many other convenient features (like Surfshark's GPS spoofing capability available on Android). 
The subscription fee also enables such things as 24/7 live customer support.
Will my internet slow down while using a VPN?
There might be some internet slowdown while you're using a VPN. The encryption process demands some of the bandwidth to work. However, the drop shouldn't be noticeable with a fast, modern connection. With the average broadband download speed in Costa Rica being 34.41 Mbps (that's a bit over 4 megabytes per second), you shouldn't really notice the drop. 
You may even see a speed increase in some situations. Some ISPs slow down the internet when you're engaged in online gaming, video streaming, and peer-to-peer file sharing. This is accomplished via Deep Packet Inspection. It relies on scanning the content of the data traveling through the network. This technology is defeated by encryption that most VPNs use.
A Costa Rica VPN you can rely on
Costa Rica doesn't have the fastest mobile connections. Want to make the most of it and save mobile data? Surfshark blocks ads, saving precious bandwidth on their downloads!
Isn't it lovely that Costa Rica respects your online privacy so much? So why not choose the VPN that is also dedicated to it? Surfshark doesn't track your online activities, meaning only you know what you do online.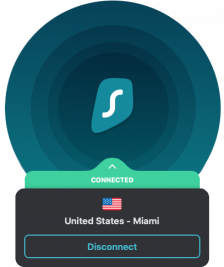 Uncensor the internet
Get Surfshark for Costa Rica!