UK VPN for privacy and security
Get a UK IP address
Protect your privacy with solid encryption
Fast local servers for streaming and P2P
Get Started
Why use a VPN in the UK?
Protect your data
Surfshark provides state-of-the-art encryption of your internet connection. Whether you're shopping online from home or are at the airport using a public wifi connection, Surfshark keeps your devices safe from snoopers and hackers.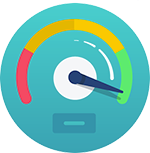 Bypass ISP restrictions
Your Internet service provider (ISP) can cause you trouble by throttling your bandwidth, blocking file-sharing websites, or even cut your line when they catch you using P2P services. Surfshark makes sure your ISP cannot monitor the things you do online.
Avoid government interference
The UK porn ban was a sad low in internet censorship, normally reserved for restrictive governments. Surfshark opens up your internet and allows you to avoid restrictions and stay anonymous online.
UK VPN questions and answers
Is using a VPN legal in the UK?
Yes. There are no laws that restrict the use of VPNs in the UK. However, you should never have the intention of committing a malicious act when using a VPN. All international laws still apply.
Does the UK government allow VPN services?
VPNs are not banned in the United Kingdom, and that's a good thing, especially so in the UK.
Reporters Without Borders even listed the UK as one of the "Enemies of the Internet" in 2014 because of excessive site blocking and government snooping. This translates to actual censorship due to how systematic it is.
A lot of legitimate websites are blocked by ISPs. That can include libraries, educational sites, and others that have zero inappropriate content. Plus, torrent sharing sites and pornography also fall into the blocked category.
With a VPN, you can access all of these sites in privacy, without your ISP or the UK government knowing that you are. Plus, it also unlocks global streaming content and can even help you save money!
Can you be tracked if you use a VPN in the UK?
Surfshark uses industry-leading technologies that protect your data very well. Without getting into technical details, it basically makes snooping on you near impossible. Plus, it doesn't look like you're using a VPN from the outside.
However, you do have to be mindful about what you post online. If you willingly share seemingly innocuous details, it can actually make tracking you very easy. Therefore always think before you post.
A UK VPN you can rely on
Watch streaming sites like BBC iPlayer, NOW TV, HBO, Netflix and Amazon Prime Video with a private internet connection. All of your data is encrypted and secure when you are using a UK VPN.
Our strict no-logs policy means that we don't monitor, track, or log anything you do when you connect to VPN. Since this information is literally never stored, it remains known to you, and to you only.
Server locations across the United Kingdom
All UK servers feature P2P support, OpenVPN/IKEv2, Private DNS, Camouflage Mode, and Extension Support

London

Manchester

Glasgow
Get the best VPN for the UK
30-day money-back guarantee.