A Portugal VPN for Private & Secure Online Experience
Open up the internet and keep yourself private while you do it.
Get a global or Portuguese IP address
Access US Netflix, Disney+, and others
Browse securely on public Wi-Fi
Watch RTP Play, TVI, and more
Get Started
Why you should use a VPN in Portugal
Effectively bypass geo-restrictions
If you're in Lisbon, you can't board the Disney+ train and join the fun. Unless you have a VPN, you can only enjoy the content that is available locally. Watch shows and movies on the biggest US Netflix library. While you watch, a VPN will keep your activity private and your internet connection stable.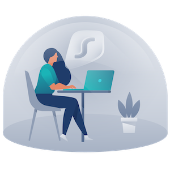 Feel secure browsing on public Wi-Fi
Public internet hotspots in Portugal are great: they save our precious mobile data and help us when we're traveling. Sometimes using open Wi-Fi hotspots is the only solution, but we rarely think about the dangers that unsecured networks pose. It's a perfect environment for hackers to sniff out your data unless you use a VPN. It doesn't matter if you're in Portugal or away, a VPN can protect you all the way.
Feel at home even when you're away
Don't want to miss out on your favorite Portuguese television while traveling or staying abroad? RTP Play, TVI, and other channels can be easily accessed once you get a Portuguese IP address. Get a VPN, choose a server in Portugal, and get watchin'!
Safely access blocked websites
Just like most Western countries, Portugal doesn't experience much internet censorship or surveillance. In 2015, however, Portuguese ISPs were ordered to block The Pirate Bay, alongside many proxy servers, by a court order. You can get around those restrictions and access blocked content privately if you're using a VPN.
Questions & answers about a Portuguese VPN
Is using a VPN in Portugal legal?
Yes. There are no laws restricting VPN use in any way.
How does a VPN protect my privacy in Portugal?
A VPN encrypts your data; thus, no one who wants to monitor it can decode it. That goes for ISPs, cybercriminals, governments, digital advertisers, and anyone else.
Whether you're on public Wi-Fi in Porto or sending vacation pictures to your family while you're abroad, a VPN significantly decreases the chances of hacking and snooping at your activity.
Will using a Portugal VPN slow down my connection?
It might, but it depends on multiple factors.
Your internet speed can be determined by how far is the VPN server that you're connected to. It's normal for the connection to slow down if the server is far away from your real location. So, unless you want to access specific geo-blocked content, I suggest choosing neighboring countries or even other cities/states in your own country.
If you experience unpleasant changes in the internet speed, it could also be due to VPN protocol settings or the type of data encryption.
To learn more about how to avoid a slower internet connection with a VPN, check out this helpful how-to article.
A Portugal VPN that transforms your internet experience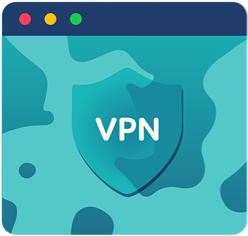 Easily hide your IP address
Choose any global server from the selection of 1100+ and switch to a different IP address in one click. When your real Portuguese IP address is hidden, you're safe from any prying eyes, ISP interference, and data theft.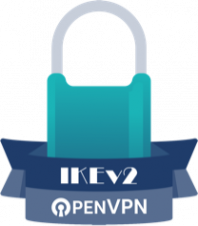 Connect to unlimited devices
Use your VPN account on iOS, Android, Windows, macOS, Linux, fireTV, and more. If you download Surfshark, you can use one account on an unlimited amount of devices simultaneously. Give it to your mum, dad, and siblings!
The Portugal VPN is waiting for you
Improve your online privacy