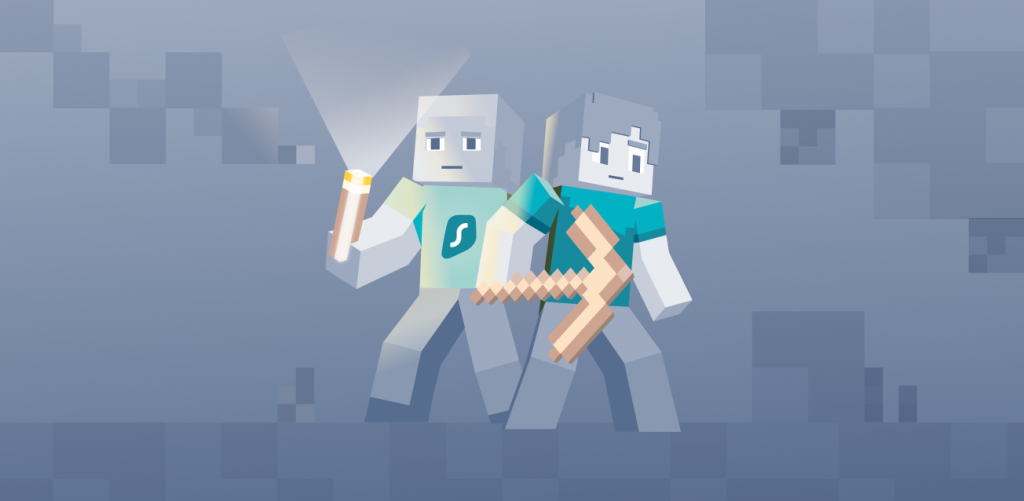 Everyone deserves a break. That's why you should be able to have some fun at school. But if "fun" means "games" and "games" mean "Minecraft," it's more than likely that you've come across connection issues, site accessibility issues, or couldn't download the game entirely. Getting Minecraft unblocked at a specific place isn't complicated. All you need is some tricks up your sleeve. And I am more than happy to provide them to you.
How to unblock Minecraft at school
If you have trouble connecting to Minecraft servers or can't even download the game, try out a VPN.
Despite sounding technical, VPN software is an extremely easy solution to most of today's block-related issues. In this case, inaccessible Minecraft. Read the three steps below, and you'll quickly understand that it's possibly the easiest way to play.
Here's how you remove the final blocks between you and completely unblocked Minecraft:
STEP 1: Download a VPN. Most VPNs can be installed as a browser extension, laptop app, or an app on Android and iOS devices.
STEP 2: Connect to any server. What server you choose might determine the speed of the game. In most cases, it's better to select a nearby city or a neighboring country to ensure the smoothest experience.
STEP 3: Simply log in to Minecraft the same way you usually would.
It couldn't be easier — have fun playing anywhere!
Note: If you're using a school or work computer, you will probably need admin privileges to install any program, including a VPN. You might get lucky, and it all goes smoothly, but make sure to keep this in mind.
Other methods that can help you play Minecraft at school
The easiest way to unlock Minecraft is to use a premium virtual private network (VPN) service. However, since this is a paid option, let's try some free ones.
There are a lot of ways to unblock Minecraft at school, but I have to point out that some of the methods below may not result in the complete experience.
Change HTTP to HTTPS.

If the ISP at your school is blocking the standard HTTP version of Minecraft's official site, try accessing it by putting an "S" at the end of "HTTP".

Download the game elsewhere.

Your school may only be blocking the official site without any restrictions to accessing other sources. Try getting the game from other websites.

Use Minecraft launchers.

There are so-called Minecraft "clones", for example, Skaia Launcher, which lets you play the game for free. I'm letting you know that this option exists, but be cautious if you decide to use it because it is a cracked version of the game.
Of course, this is not a full list of methods; you can hack and maneuver your way out of various restrictions, but these are the ones that should allow you to access gaming at school relatively quickly and easily. Simply put, these methods don't require you to be too tech-savvy.
If neither of the above options work or you simply want to get Minecraft up and running fast, just download and install a VPN.
If you've never heard of a VPN
What is it, and how does it improve your Minecraft experience? We're not here to burden you with technical terms; you can find those all over the internet. To put it simply, a VPN is your online invisibility cloak: if it's enabled, even your internet service provider doesn't know where you are or what you're browsing. In this case, nobody would know you're trying to play Minecraft at school, therefore, nobody could stop you. 
How does it work? A VPN virtually transfers you to another location by transferring your online data via a VPN server, so that it all looks like it's coming for that server, not from you. No worries — it's legal, clever, and completely safe.
Do you want to know more? Of course, the information above is not everything there is to know about what opportunities a VPN can open for you. Read this guide on what a VPN can offer to you.
Unblock Steve now!
As a player, you have complete, unrestricted freedom to build, create, and basically do whatever you want in Minecraft. You deserve that freedom in real life, too. And a VPN will provide you with it!
Unblock Minecraft with Surfshark
30-day money-back guarantee with every plan
Get started