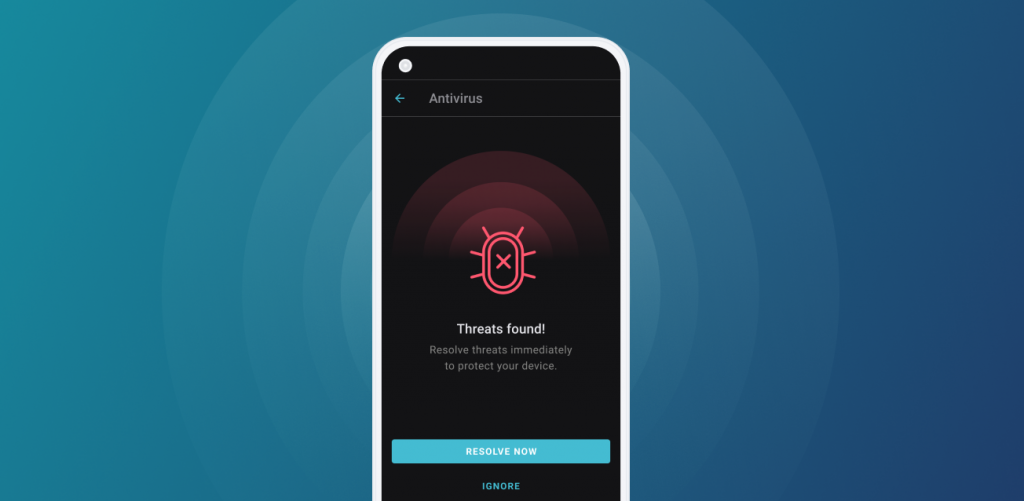 Patches can be the most humdrum of software updates. But adding entirely new features? Now that's something – and when you consider the new Surfshark Antivirus for Android, that's a lot of something! Read on to see what we have in store for you.
In short: Surfshark Antivirus for Android 
Surfshark Antivirus is a new feature available to Surfshark One subscribers on Windows and Android devices. This feature will be seamlessly accessible from the Surfshark app and protect your phones and tablets from trojans and other malware.
Protecting the Android platform 
Android devices do not get infected with the traditional self-replicating viruses like PCs, but they are susceptible to other malware types. This is a cause for concern, for such malware is designed to access and control your device without your permission.
Therefore, the main task for Surfshark Antivirus for Android is to scan both installed apps and installation files (APKs) for any threats.
Defending against a variety of threats
Surfshark Antivirus uses a proven detection engine. It works really fast, using a tiny piece of system resources. Despite being so sleek and speedy, it can detect malware types like – but not limited to – these:
Adware/Spyware – meant to display disruptive advertising or to transmit user-specific data to third parties without the user's consent.

Possible Fake Software (PFS) – also known as "scareware," it lies about your device being infected by viruses to get you to install it but offers no useful functionality. In fact, PFS may be a vector for malware!

Potentially Unwanted Applications (PUA) – they clutter your device with ads, hijack your browser, slow down your device, or collect data on what you click.

Security/Privacy Risks (SPR) – this type of malware may affect the security of your system by triggering activities you do not want or violating your privacy.

Applications from uncertain origin – apps from unknown developers, may be – either intentionally or unintentionally – hazardous to your digital wellbeing. 
What's more, Surfshark Antivirus works together with Surfshark VPN Clean Web feature to block some malware downloads from happening in the first place.
How to use Antivirus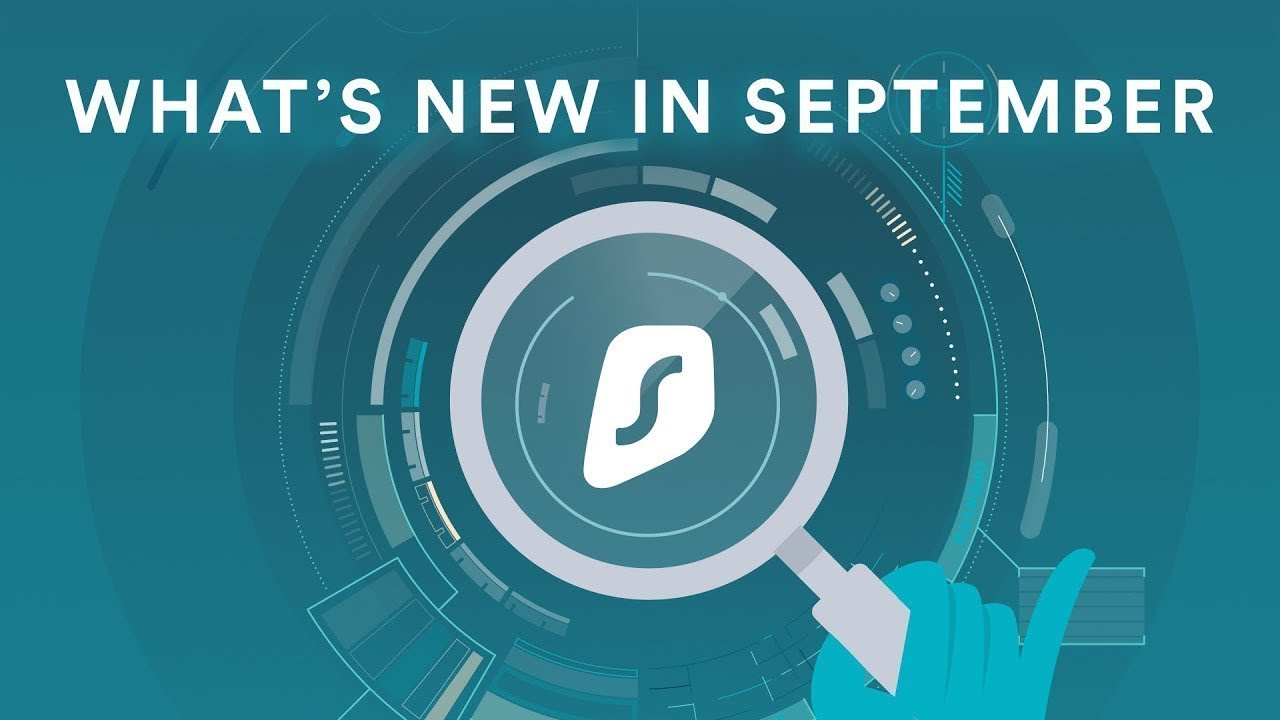 All Surfshark products are created with an eye for usability. That's why Antivirus is so easy to use!
Navigate to the Antivirus tab on your Surfshark app.

Click the

Scan

button to scan your device now.

Use

Scheduled scan

to ensure constant and daily scans for viruses. 

Make sure that

Real-time protection

is toggled on as it will check all newly installed apps.

Use

Storage scan

to scan the APKs that have been downloaded but not yet scanned, even if they're on the SD card.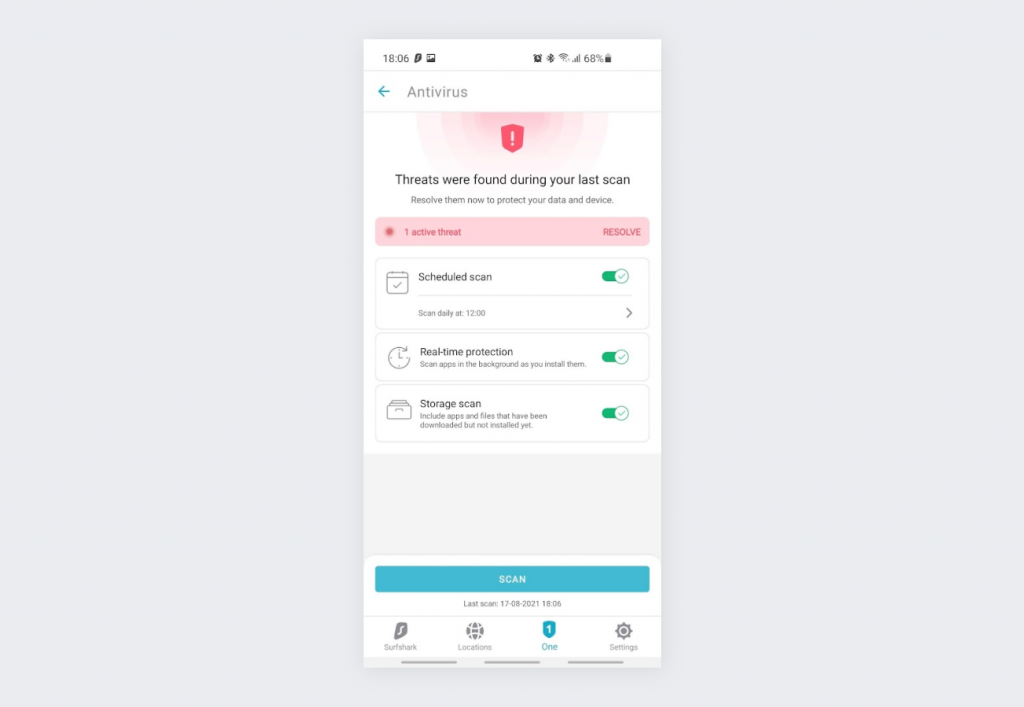 In case a scan detects malware, you will be prompted to resolve the issue by uninstalling the malware app or deleting its installation file.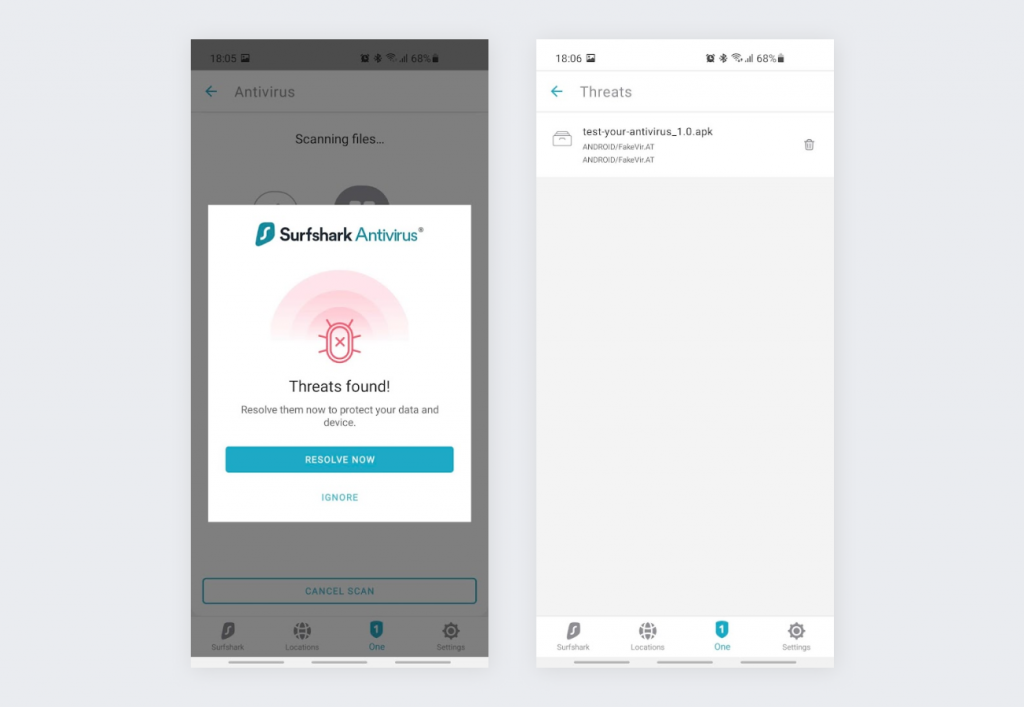 Now, a word about Scheduled scans. Software and malware are fields that are constantly evolving. So a piece of software that passed the real-time scan yesterday may have been found out to actually be malware today as new tests are conducted and evidence is gathered. A real-time scan can't pick up on malicious apps that have already been installed, but a scheduled scan can do that. 
Protect a (nuclear) family of devices
Surfshark Antivirus will provide protection on up to 5 devices on a single Surfshark account. You can always check which devices are currently protected by accessing your Surfshark profile.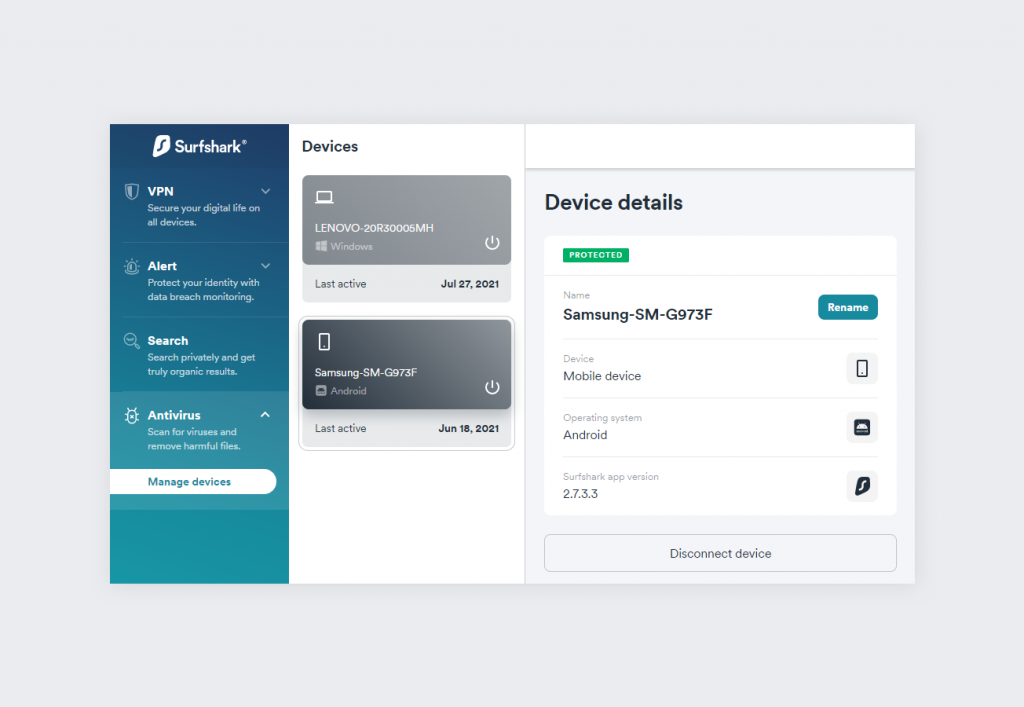 Mobile protection for mobile devices
Surfshark Antivirus is an excellent tool for those seeking protection that works in the background. While you can't relax completely, having Antivirus keep watch on your device will make you feel much safer. So do it now and get Surfshark Antivirus as part of the Surfshark One package!