Browse worry-free in the UAE with a VPN
Bypass censorship & site blocks
Encrypt all your traffic with modern protocols
Browse with high connection speed
Get a 30-day money-back guarantee
Try it for free
Disclaimer: using a VPN in the UAE can be risky as the government can impose fines for misusing VPN services, so if you decide to use one, make sure you're being careful.
Download Surfshark VPN for free
Why use a VPN in Dubai, Abu Dhabi & the Emirates?
Strict censorship limits people's freedom of speech. Take a step towards a more open internet with a VPN.

Unblock popular VoIP apps
Several VoIP apps, which are popular worldwide, are unavailable in the UAE. With a VPN, you can gain access to these apps securely and privately.

Stream Netflix, Amazon Prime Video, or any other service that you want buffer-free and in complete privacy.
FAQ
Can I be tracked if I use a VPN?
With a VPN, your internet traffic is encrypted, so it cannot be tracked. Your Internet Service Provider might be able to see that you're using a VPN (unless you use a feature called obfuscation), but they can't see what websites you visit or what online services you're using. You can read more about it in our blog post about VPN tracking.
Are VPNs legal in the UAE?
While VPNs as a technology are not illegal in the United Arab Emirates, there exist laws that ban specific activities while using a VPN. Specifically, it's prohibited to use banned VOIP services such as Skype, or to commit crimes, cybercrimes, or violate telecommunications regulatory laws. Therefore, you should be well acquainted with the local laws before you opt to use a VPN. 
Surfshark does not encourage using a VPN in any way that would potentially violate the law or Terms of Service of other service providers.
Which is the best free VPN?
It's a tough question because most of the free VPNs are very unreliable. There are some free VPN plans offered by legitimate companies, but they are very limited. In general, it's best to stay away from free VPNs because they might be using your data to support their expensive infrastructure. It's unlikely that such a service could offer you privacy and a reliable connection.
Internet freedom in the United Arab Emirates
Internet freedom score: 29/100
UAE citizens face a lot of internet restrictions, including online censorship and government surveillance. Despite the lack of digital freedom, the Emiratis are very well-connected, with around 98% of the population using the internet.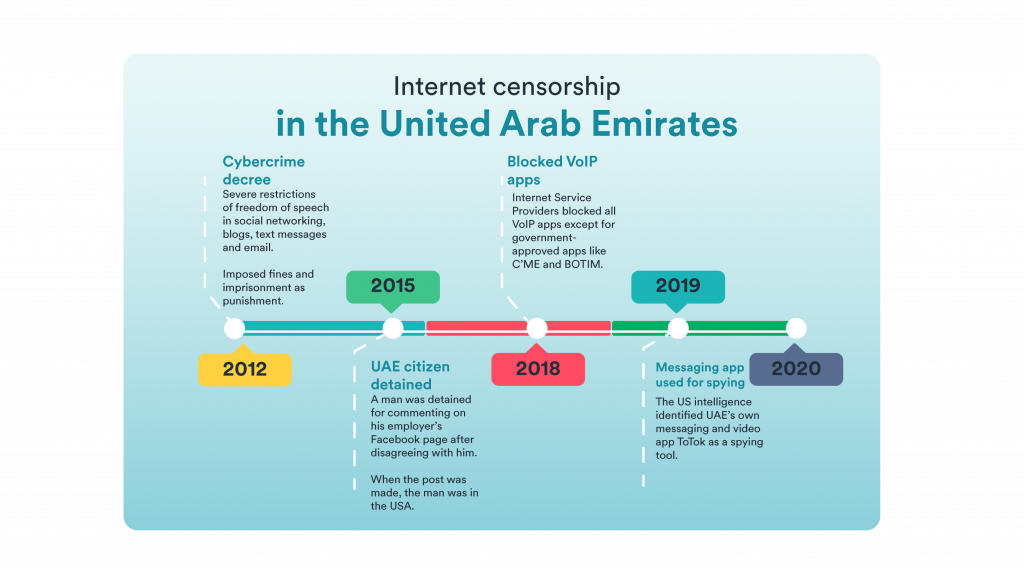 Your privacy is a right, not a privilege
Get a UAE VPN to protect it