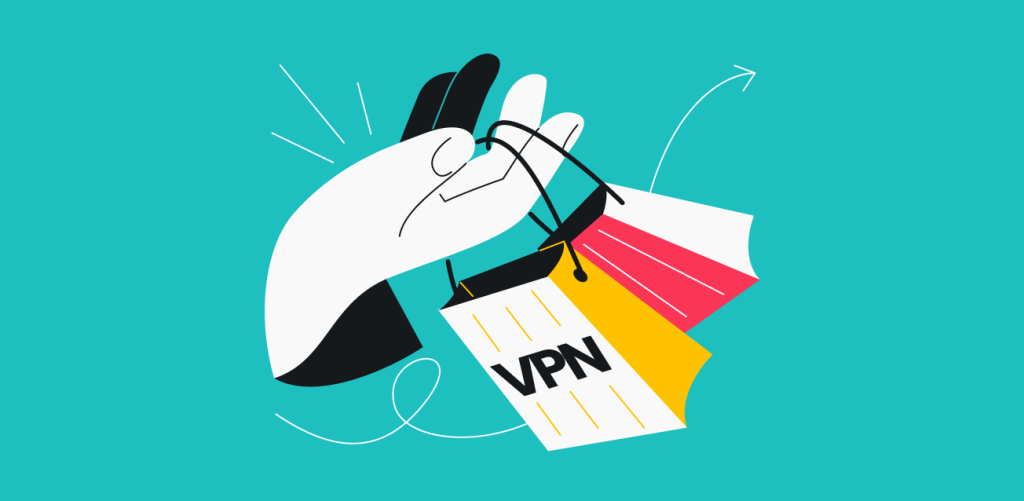 How many times have you been online shopping with a VPN (Virtual Private Network) versus without it? And have you ever noticed that the experience could be quite different — and better? — with a VPN? As Shopify researched:
The majority (84%) of consumers* "planned to compare prices for the best discounts before making a purchase during Black Friday Cyber Monday weekend."
*of 24,000 surveyed participants
So, it's logical that you will most probably be tracked over websites based on how much time you spend on them or other factors. This might reflect in the different prices you see before and after spending time on a website.
Can a VPN help here? Yes indeed! Your immunity to price discrimination should increase and save you extra cash, keep you from being hacked, and even save you from getting ripped off!

You should know that the FBI reported that cybercrime losses exceeded $10 Billion in 2022. From cosmetic companies like Estee Lauder to hotel resorts like MGM — hackers will steal data from anyone, no matter what. 
To avoid getting your information stolen, use a VPN when shopping online. 
Improve your online shopping with a VPN in 5 ways 
Shop online safely while on public Wi-Fi
Did you know that public Wi-Fi hotspots are one of the easiest to get information from? Since it's free, that means the information passing through it isn't encrypted, so any hacker could steal data you transmit, hijack your cookies to gain access to your account, and steal information like: 
Credit card and bank account details;

Social media passwords;

Email login credentials;

Any other personal information that you input.
My advice: turn on your VPN, then connect to a Wi-Fi hotspot. Even if a hacker has set up a fake hotspot, they won't be able to see your info because your VPN acts as a shield and hides everything from them.

*If you're using PayPal to pay for something, wait until you get home or use a protected Wi-Fi network with a password. According to PayPal's User Agreement, using a proxy or other anonymizing service is not allowed. This is done in order to mitigate online fraud like money laundering.

Get the price you deserve
Did you know that some websites charge Apple users more than Windows or Android users? And depending on the country you're from, you can also be charged more. Your IP address is monitored every time you visit a website in order to provide you with information tailored to your location.

Also known as Price Discrimination, people can get charged different prices based on the information collected about them. That includes your shopping habits/frequency, your country, your age, and more.

My advice: use a VPN for airlines, hotels, car rentals, etc. That way, no matter how many times you look at the prices, they won't change (unless you change the country of the VPN server). There are also more ways to save money with a VPN.  
Access fashion websites from abroad
Imagine going on vacation and discovering that your favorite online store is running a sale. You can practically smell your credit card burning, but when you find out that your favorite store is blocked because of your location, you're devastated.

Due to censorship regulations, certain websites are prohibited in specific countries. This can include online lingerie stores and even big marketplaces like Amazon and AliExpress.

My advice: Despite the country you're in or traveling in, choose a VPN server where you can access your favorite stores. For example, connecting to any of the US servers will have websites up and running in no time. 
Access deals & coupons from social networks
Tons of brands use social media channels to promote special discounts and other sales. If their target audience uses the platform, that's fantastic. They use the opportunity to make exceptional announcements.

Seasonal sales like Black Friday or Cyber Monday, as well as new goods, may be announced. What if you love the brand and are excited about their new product, but the platform where their offer is, isn't available in your country or region?

My advice: if you want the perks but the social media platform is not available in your country, Surfshark VPN service can help you bypass geoblocking and get you access to the deal you want.
Buy on multiple devices (at the same time)
Do you dread big sales like Black Friday when people mob up the store entrance? Same. That's why a VPN like Surfshark lets you shop from the comfort of your home while spending quality time with your family. Everyone can save money and time as they shop online on their device and stay protected with Surfshark. The key advantage is convenience, but there are many more benefits of a VPN.

According to NRF reports, roughly 87.2 of American consumers shopped online during Black Friday in 2022. This trend has continued since 2019 when the global pandemic happened.
My advice: save yourself a trip and buy online instead. In your comfy clothes, on your comfy couch, with the entire family, you can all improve your shopping online with a VPN. All it takes is one Surfshark VPN account, and you'll all be ready! 
How to use a VPN when shopping
Learning how to use a VPN is simple. A VPN server can help you stay secure and save money whenever you shop online using your laptop, phone, or tablet.
You may also save up on the VPN itself by checking our best VPN deals.
Follow the steps below to get started:
Step 1: Download and install a VPN app

on your chosen device. Surfshark is available on iOS, Android, Windows, macOS, and more!

Step 2: Run the VPN app

. Enter the login credentials, and you'll be a click away from a VPN connection.

Step 3:

Click

Connect.

Clicking the Connect button will connect you to the nearest or fastest server.
How to stay safe when shopping online
While you may now want to use a VPN in all your online shopping, you should also keep in mind some safe online shopping tips:
Tip #1: Avoid fishy-looking URLs and sketchy websites. If you see a weird-looking site address or the website's design, copy, or structure seems odd, just close it. Look for another website. It's quite common for hackers to make fakes that look almost the same as the original brands' websites. 
Tip #2: Never use public Wi-Fi. Such networks usually don't have proper encryption. It's easy for hackers to get into the network and sneak onto unaware users whose cookies and accounts get hijacked. Instead, use a VPN to encrypt your connection anywhere, anytime.
Tip #3: Try using virtual or temporary credit cards. This is an often recommended technique for safe shopping online by credit card retailers and fintechs. That's because even if a virtual credit card number is stolen, your money can remain safe. That's because hackers don't gain control over your main credit card details. What a smart approach, right?
FAQ
Can I shop online with a VPN?
Yes. Online shopping with a VPN is legal in most countries. Only Russia, China, the UAE, and some other countries prohibit its use for both local and visiting shoppers.

Most online stores allow a VPN for online shopping when it doesn't conflict with the online retailer's terms of service. So be mindful of the individual ones.
When to use a VPN for online shopping?
It's wise to use a VPN for online shopping at all times to ensure the security of your connection. That's because a VPN encrypts your data and protects you against the dangers of malicious identity theft. Moreover, a VPN can help you avoid the excessive tracking of some shopping websites. These online stores may discriminate against you on the prices of certain products or services. That's why you should always use a VPN when shopping.
Can I use a VPN on Amazon shopping?
Amazon has different and changing service policies in different countries. It's difficult to predict whether you can use a VPN for Amazon shopping in your country. 
However, it's a known fact that Amazon blocks the IP (Internet Protocol) addresses of many VPN servers. Therefore, only the best VPN servers manage to bypass some existing restrictions. 
How does a VPN help protect credit cards?
A VPN creates a safe tunnel in which all your browsing data becomes encrypted. It becomes unreadable to anyone who tries to access and view it — including whatever credit card data you type in or use while on any Wi-Fi network. 
A VPN also adds an additional security layer by using a VPN IP address instead of your original IP address. So it becomes impossible to gain control over your original IP, which could be used for malicious purposes or identity theft.
What is safe online shopping?
Your shopping online is secure when you take special care of your online security. As a full or part-time online shopper, you should use a VPN to protect your connection and shop only on SSL (Secure Sockets Layer) protocol-protected websites.

You see, some websites use the older HTTP protocol for processing the data running between you and the website, but this protocol uses only hypertext and does not encrypt the data. Meanwhile, SSL protocol-enabled websites encrypt all sensitive data (e.g., your credit card info) and ensure that it becomes impossible to read for outside lookers.