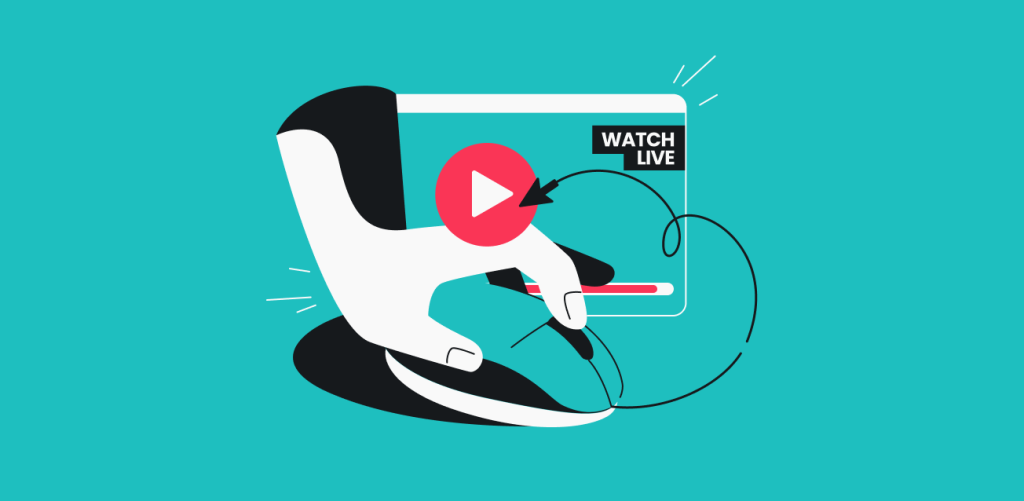 ITVX is a video-on-demand service that acts as an online library for ITV, a group of popular British TV channels. The service, previously known as ITV Hub and ITV Player, offers free and premium options for Brits to watch shows, movies, and live streams of their channels.
Watching your favorite shows should be enjoyable, and while ITV does a great job on its part, you should consider using a VPN (Virtual Private Network) to watch ITVX. Let me tell you why.
Why use a VPN to watch ITVX? 
There are several good reasons for using a VPN to watch ITVX, or any other video platform for that matter. Privacy and security are always the primary reasons for using a VPN, but it also can help you avoid buffering and allow you to follow your favorite shows while traveling.
Disclaimer: We prohibit using Surfshark services for any unlawful purposes as it is against our Terms of Service. Please be sure to act in compliance with all applicable laws and regulations of streaming service providers.
Stream
ITVX
with a VPN for security and privacy
First and foremost, a VPN is a privacy tool designed to protect you whenever you're online. It encrypts all of your data and routes it through a server of its own. This means that your internet traffic remains invisible and your real location unknown.
So when you run and connect to your VPN to watch ITV Hub, all your connection requests are encrypted before being sent to the server. This way, you can rest assured that your data and privacy are always protected, so you can watch your favorite ITV shows without worries.
Avoid ISP throttling
If your connection speed slows down whenever you start streaming video or downloading a file, you may be subject to ISP (Internet Service Provider) throttling. This happens when the ISP sees you taking part in activities that use a lot of data. In an attempt to save their precious resources, ISPs start capping connection speeds.
When you're connected to a VPN, your traffic is hidden, and your ISP can't tell what you're doing. As a result, they can't throttle your connection just because you're watching a movie. 
Stream ITVX when traveling
A VPN can help you keep up with your favorite shows when you're traveling outside of the United Kingdom. You don't want to wait until you get back home to watch the newest episode of Love Island, and neither do I.
So whenever you get back to your hotel room in Mallorca, connect to a UK VPN server, and watch the drama unfold as if you have never left.
What VPN works best with ITV Hub? 
A premium VPN, rather than a free alternative, is your best option for accessing ITVX (ITV Hub). And Surfshark is just the premium VPN for you:
200+ lightning-fast VPN servers in the UK;

3200+ servers in 100 countries worldwide;

No DNS leaks;

Great encryption;

30-day money-back guarantee.
The huge selection of servers ensures they won't get overcrowded and slow down your connection. The industry-leading encryption keeps you safe. And if, for some reason, you don't like Surfshark, there's a 30-day money-back guarantee. But there are more benefits that come from choosing Surfshark for ITVX!
VPN benefits that will make streaming a breeze
Unlimited devices
With just one subscription, the whole family can enjoy VPN security at the same time! Connect your VPN to laptops, phones, tablets, browser plug-ins, smart TVs, and gaming consoles. Also, there's no need to worry about the connection speed because Surfshark does not have any bandwidth limitations. 
Streaming without buffering
With Surfshark, you can watch all shows and movies in high definition. Its servers are optimized for speed and security, so you are guaranteed smooth streaming. Without bandwidth limitations, Surfshark will mask your IP (Internet Protocol) address yet not incur any real speed loss on ITV or any other platform like Prime Video, Hulu, Netflix, and BBC iPlayer.
3200+ servers worldwide
With an ever-expanding list of servers, you are sure to receive quality service no matter where you are. 3200+ servers in 100 countries mean that you'll always find an uncrowded nearby server to connect to and enjoy the privacy and performance offered by Surfshark.
Get a feature-packed VPN for ITV Hub
All deals come with a 30-day money-back guarantee
Get Surfshark
How to watch
ITVX with Surfshark
You will need to follow these three steps to install Surfshark and start watching content securely:
Choose a plan; 

Select your payment type; 

Create an account.
Now that your VPN is ready to go, here's how you watch ITVX (ITV Hub):
Open your Surfshark VPN

app

;

Go to the

Locations

tab; 

Choose any UK server;

Visit itv.com;

Log in

and start watching

!
What to do if I see an ITV error code? 
If you see error codes 10-07, 01-01, or 006 when you try to connect to ITVX (ITV Hub), it does not mean that Surfshark is not working with ITV Hub. It may simply be a cache or cookie issue if you visited the ITV website while connected to a non-UK VPN server before. 
To solve this issue, you should:
Clear your cookies and cache for ITVX;

Connect to a UK VPN server; 

Connect to the ITV hub again.
This should clear any issues with the aforementioned error codes.
Why does ITV Hub not work abroad? 
ITV clearly states that ITVX only works within the UK due to its broadcast and content licenses, which apply to both ITVX and ITVX Premium. In other words, they only have the right to show their shows domestically, not internationally.
When you stream ITVX (ITV Hub) channels, your IP address gives away your location. Due to the licensing restrictions, if your IP shows that you're outside of the UK, you won't be able to watch any shows, films, or series. Even if you've previously registered your ITVX account inside the UK, you will not be able to watch any shows outside of the country. 
The UK's legislation for the media industry found in the Communications Act of 2003 was set to maintain all broadcasts strictly in the UK. This regional licensing includes ITV and BBC as major outlets and is maintained by the UK's communications regulator, Ofcom.
In conclusion:
g
et a VPN for
ITVX
You can't beat a VPN when it comes to maintaining the privacy and speed of your connection when watching ITVX. So keep both hackers and pesky ISPs away by using Surfshark! And hey, if it helps with securing ITVX, it also helps with securing your other online activities as well. How's that for a universal tool?
FAQ
Can I watch ITV with VPN?
Yes, you just need a good, premium VPN to do it. Free VPNs usually have crowded servers that slow down your connection and bombard you with ads. A premium VPN like Surfshark keeps your connection fast, smooth, and ad-free.
Can you watch ITV outside the UK?
You can still watch ITVX if you live in the UK and leave the country when traveling. Simply connect to a UK VPN server and start watching.
Why won't ITV play with a VPN?
ITV can only be accessed in the UK, so if you are connected to a VPN server outside of the UK, ITVX won't work. To fix this, you may need to clear cache and cookies, then simply connect to a UK VPN server and start watching.