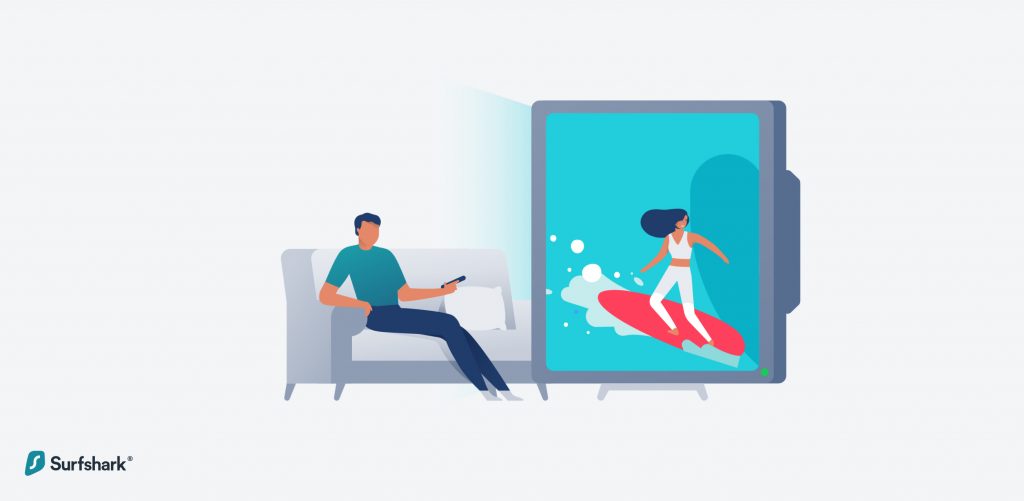 Kodi is a free media player that comes with hundreds of add-ons and personalization functions. But how to use them to get the best movie experience? In this article, I'll show you how to watch movies on Kodi and how to access geo-blocked content, stream privately, and eliminate throttling with a virtual private network (VPN).
Most Popular Kodi Add-ons
On its own, Kodi is empty – it's just a media player, after all. That's why you need add-ons to watch movies, listen to music, podcasts, or do anything else. As you'll see below, you can also play video files on Kodi straight from your device.
As mentioned in the introduction, Kodi has no shortage of add-ons. You can look through all the add-ons that are currently in the official Kodi repository on their website. Search them by category, keyword, or author.
If you don't know where to start or what to choose, here's a list of popular Kodi add-ons in no particular order.
[Note: Turn the listed add-ons into links that lead to the descriptions at the end of the article]
Step-by-step: How to Watch Movies on Kodi
1. Once Kodi is installed (get the application from the official Kodi website), you'll see that the library contains zero add-ons. Start by selecting "Add-ons" in the menu.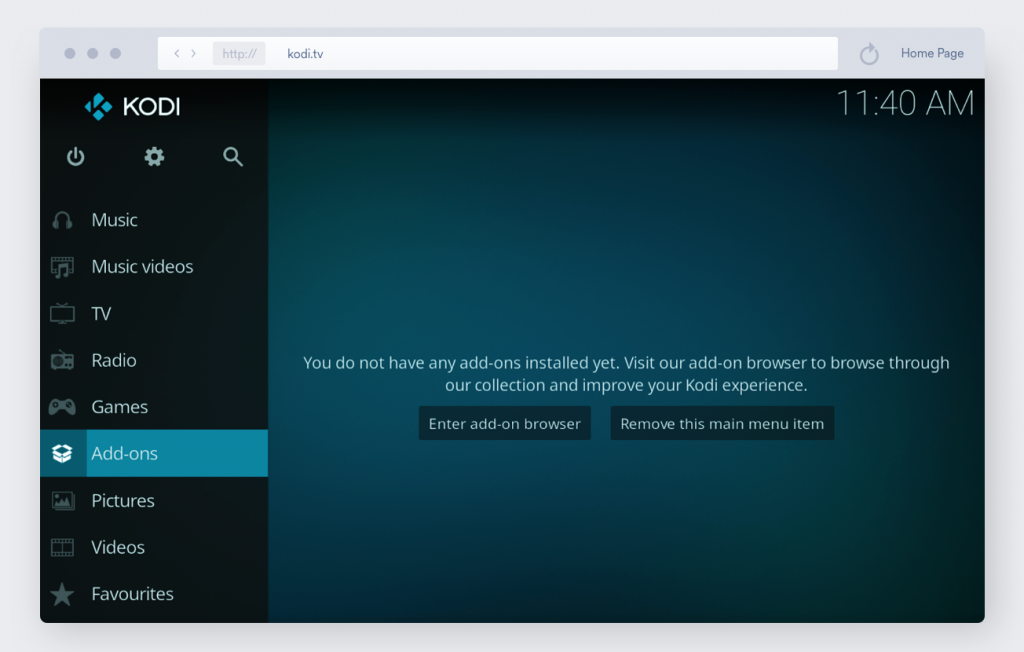 2. Click "Download" on the menu.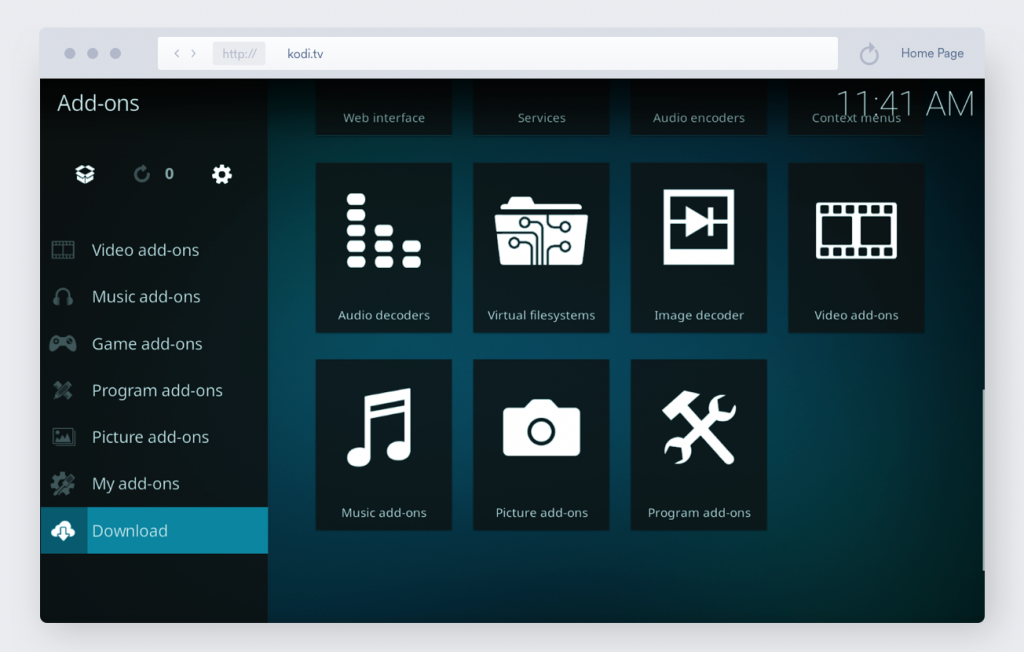 3. You'll see the list of all Kodi repositories. Scroll down to "Video add-ons" and click on it.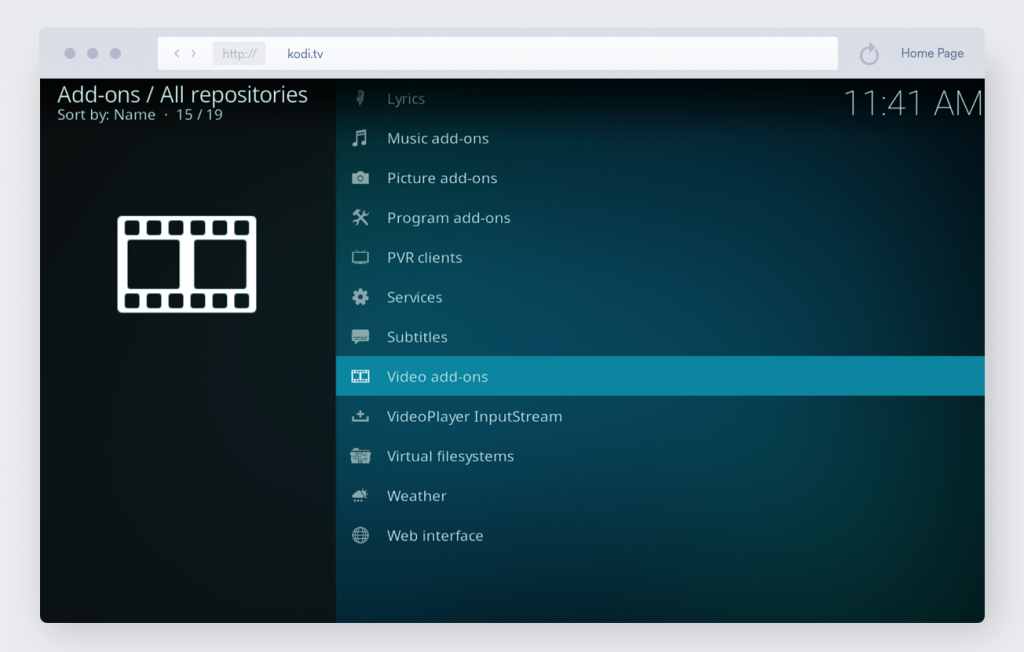 4. This is the list of all official Kodi video add-ons. I've chosen one of the most popular add-ons, Crackle. To download Crackle, click on it.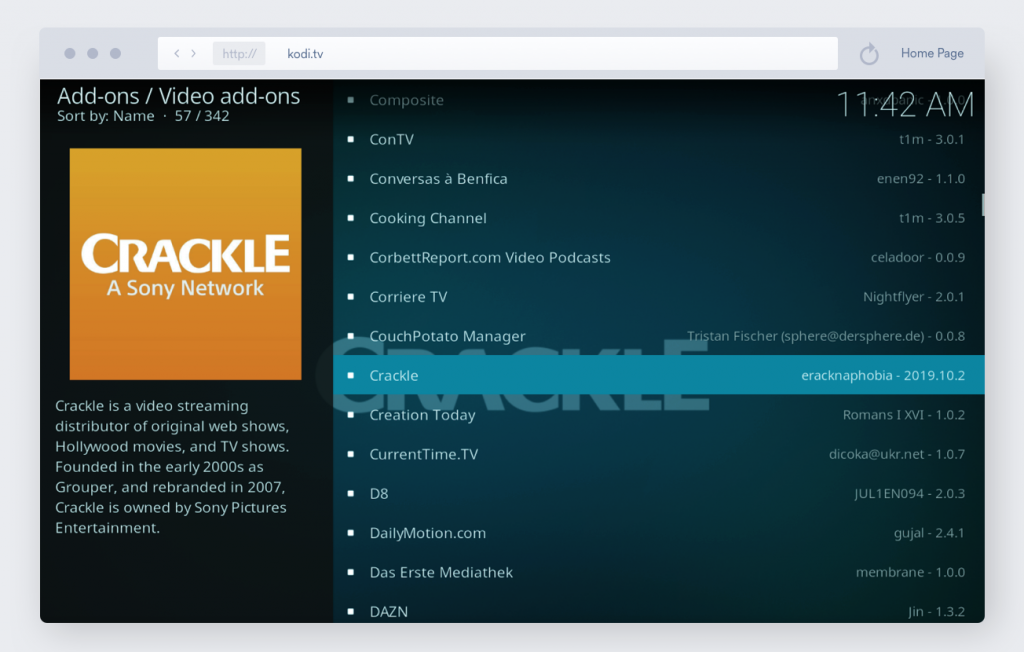 5. Click "Install."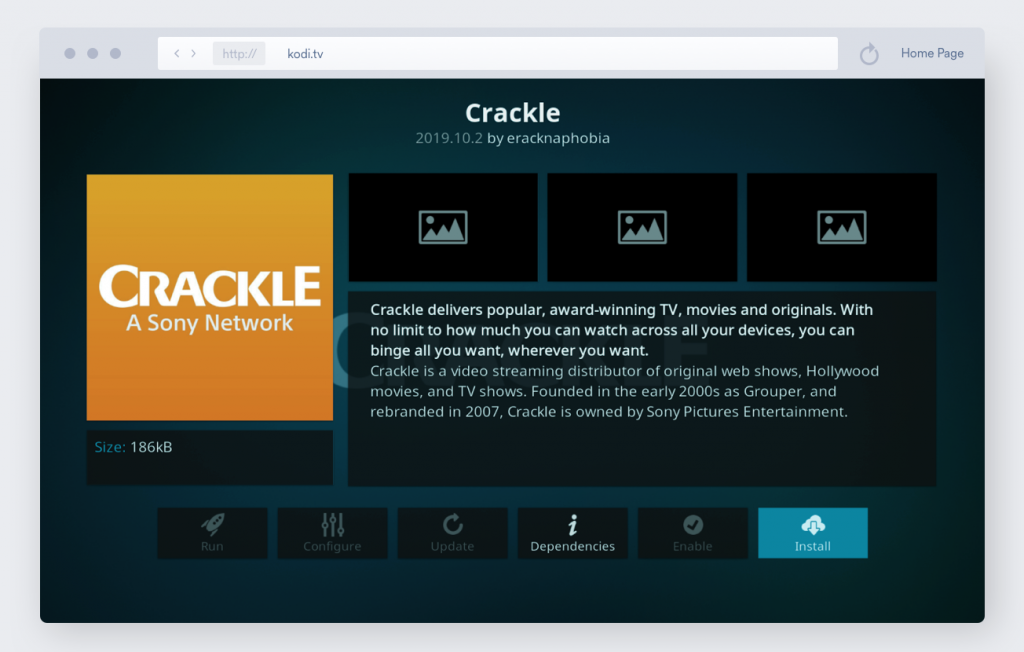 6. Click "Ok" and wait for the installation to finish.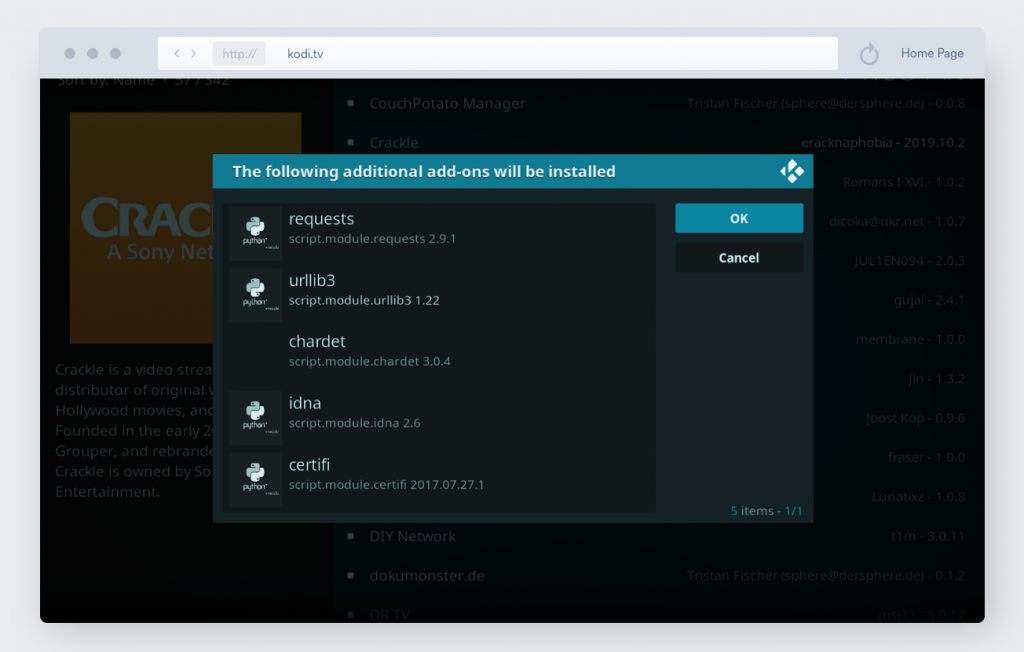 Find all your add-ons in the "Add-ons" section on the Kodi home page.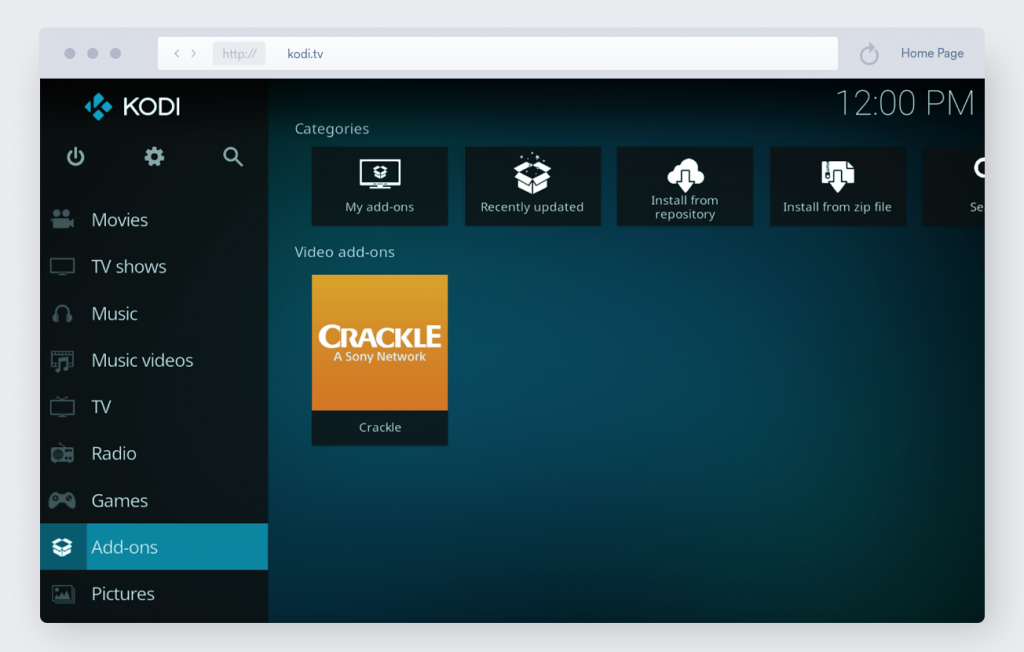 Watch movies by uploading them from the computer
Since Kodi is like any other media player, you can also watch movies by simply uploading them straight from your computer.
1. Scroll down the menu to "Videos."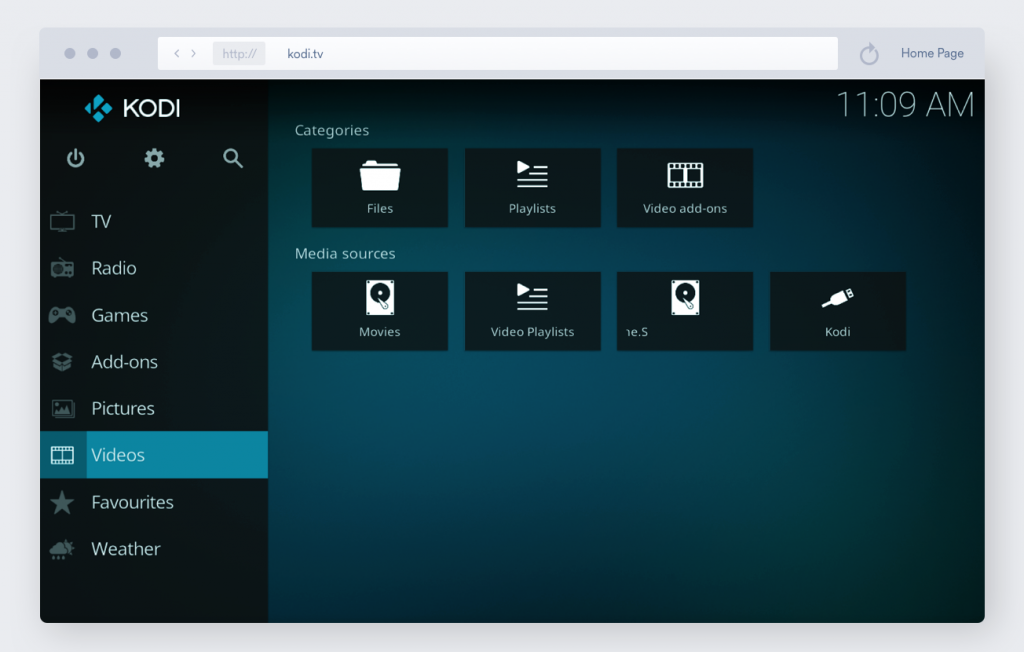 2. Select "Files."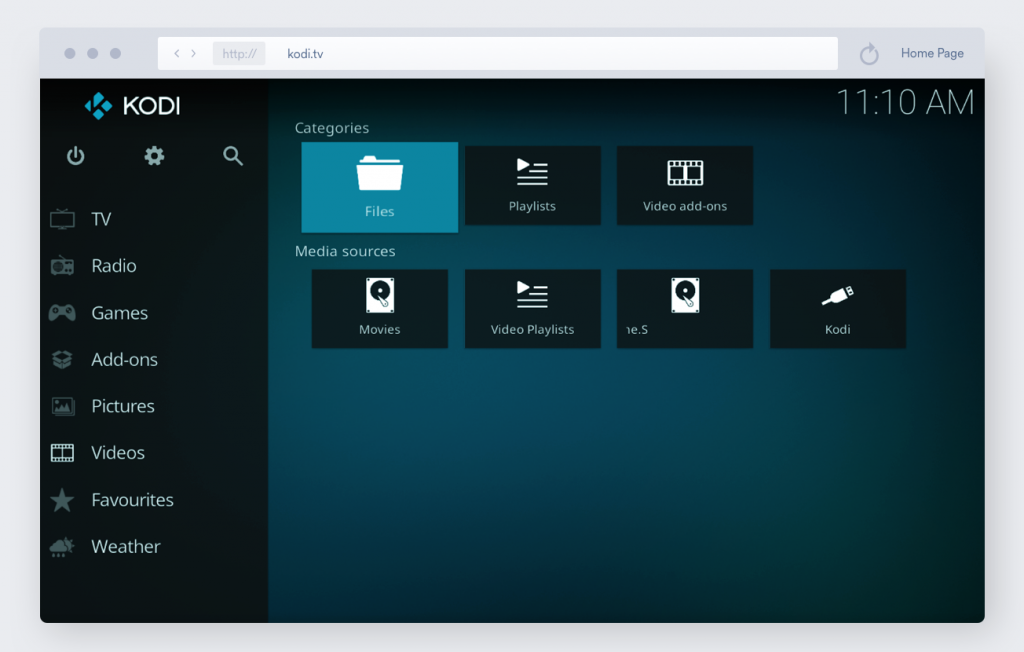 3. Click "Add videos…"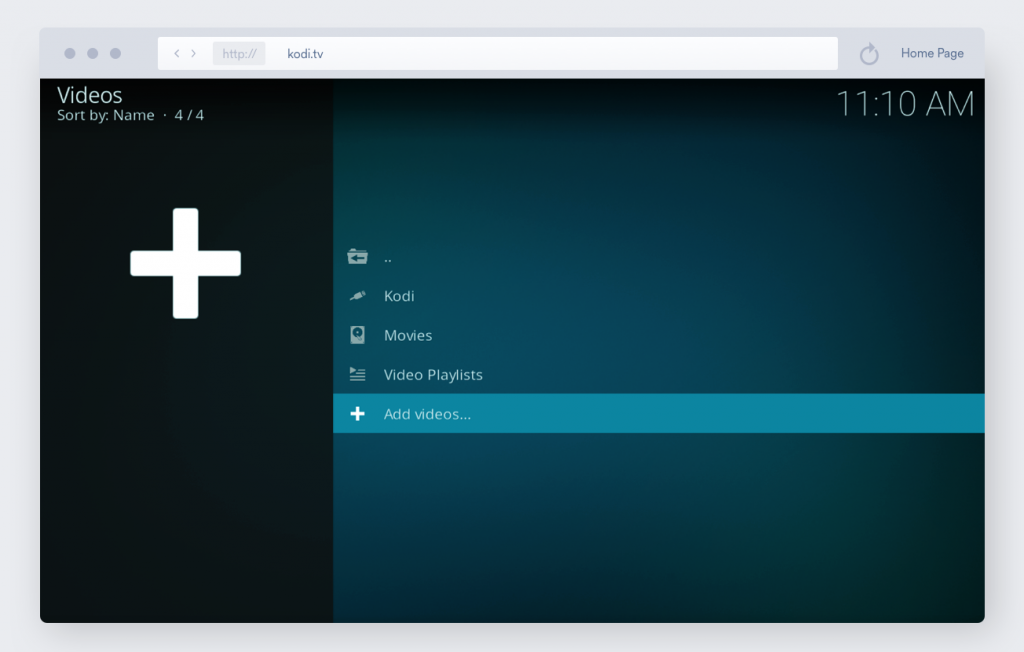 4. Click "Browse."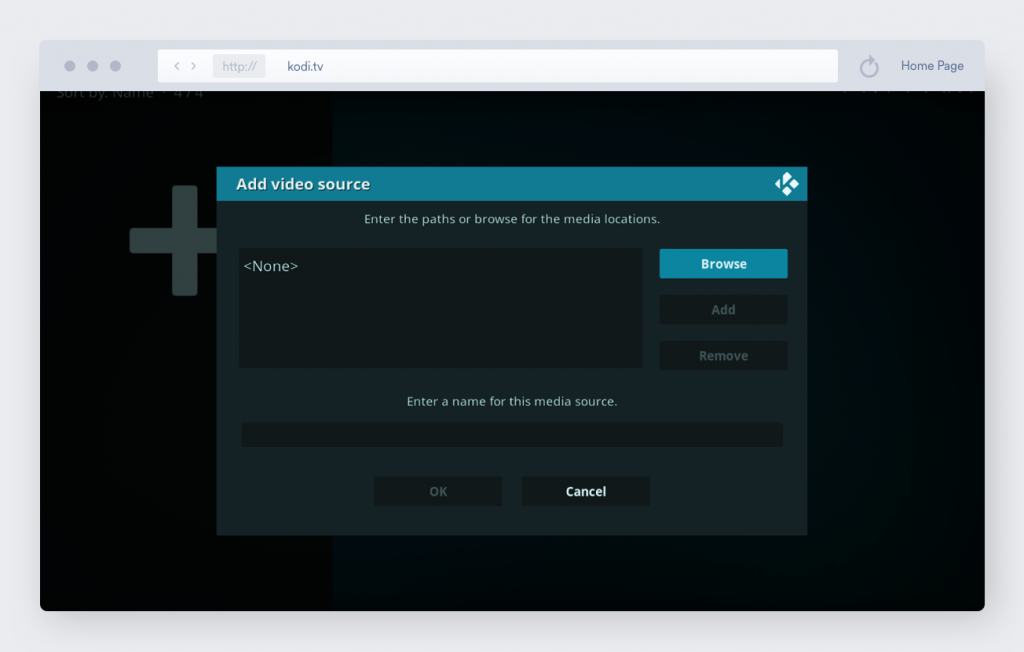 Find the video file you want to play and tap "Ok."
5. Click "Ok" again to finish.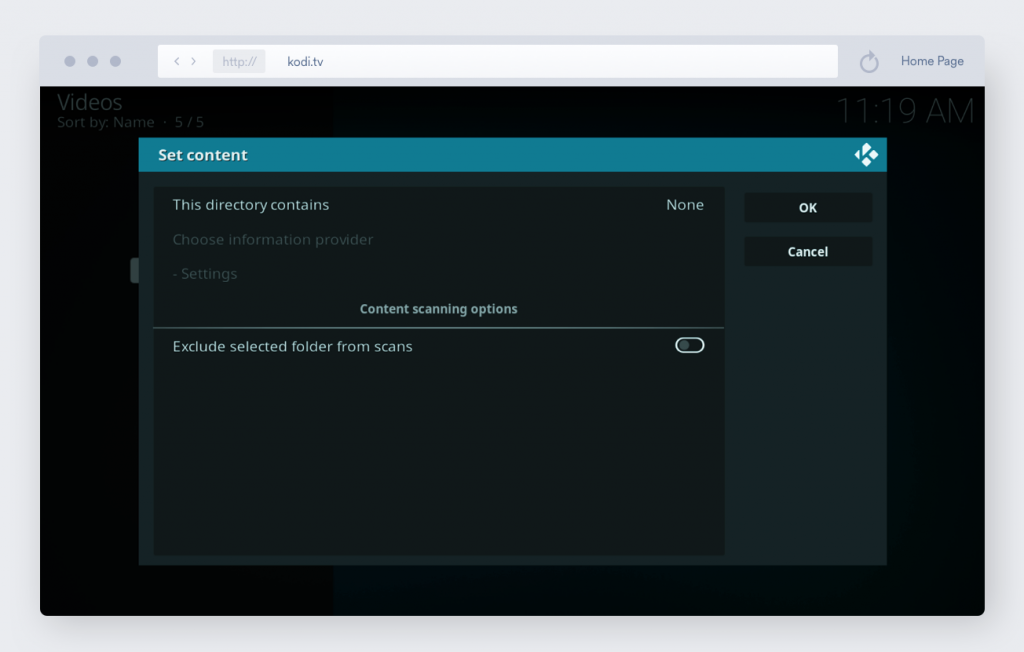 You have now successfully uploaded your file to Kodi. Personalize and organize your video library by creating playlists, renaming files, adding thumbnails, etc.
When to Use a VPN with Kodi
What does a virtual private network do, and why is it necessary? A VPN encrypts your data before it leaves your device, ensuring privacy and security. In particular, it enables you to:
Access geographically blocked movies and TV shows. A VPN allows you to bypass geo-restrictions by hiding your IP address. When a device is connected to a VPN, an internet service provider (ISP) sees that the device is in a different location than it actually is. It means that with a VPN, you'll be able to access such add-ons as iPlayer WWW (aka BBC iPlayer), Tubi TV, Adult Swim, and others.
Stream and browse privately. Your ISP has the right to collect data about your internet activity and browsing habits. As a VPN masks your IP address, you become undetectable. However, be cautious and choose a VPN that doesn't log your activity, like Surfshark. That way, your streaming and browsing habits belong to you only.
Eliminate internet throttling. In some countries (e.g., the USA), throttling is a big headache for the streaming fraternity. Due to imposed laws, ISPs have to slow down your connection to improve overall network performance. A VPN enables you to achieve better streaming speeds without having to worry about throttling.
Torrent safely. Third-party Kodi add-ons often use torrents to provide you the content you want. To not be blindsided and avoid infesting your device with malware, make sure your VPN is up and running anytime you use unofficial Kodi add-ons.
How to Install a VPN on Any Device
The VPN installation process is as simple as it gets. If you've ever installed anything on your device, a VPN falls under the same umbrella. Just download a dedicated app on a device you need.

Surfshark runs on every device you have!

If you need installation instructions, you'll find them on our website.
The most popular Kodi Add-ons for movies
It can be challenging to navigate the sea of seemingly endless choices. Here are some of the most popular add-ons for Kodi in no particular order.
Official Add-ons
As far as movies go, these add-ons are getting the most downloads (according to the official Kodi website).
iPlayer WWW (aka BBC iPlayer)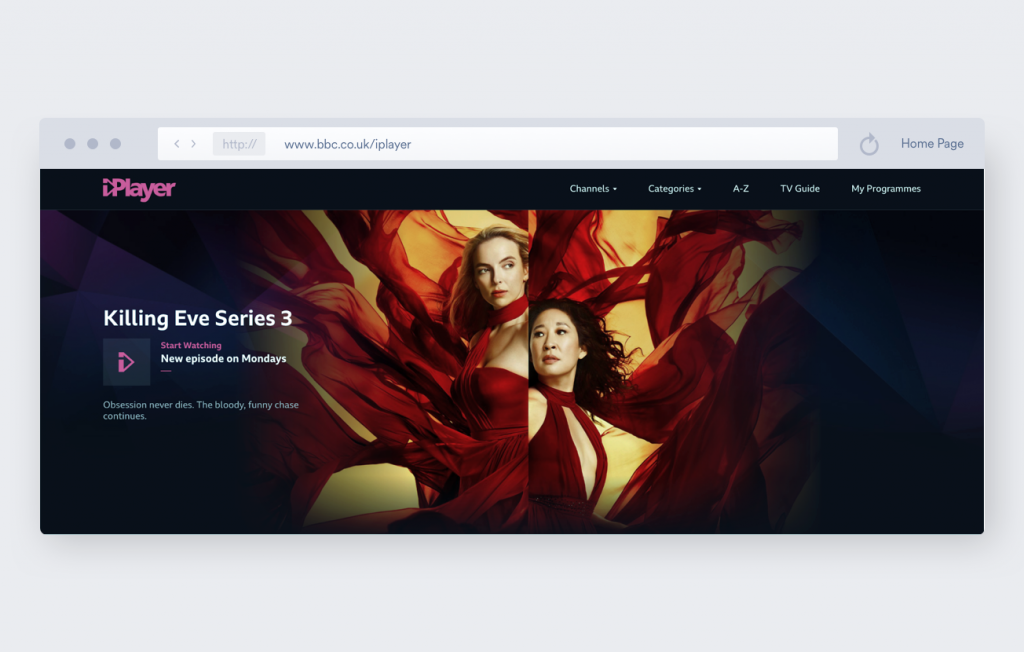 BBC iPlayer offers a variety of high-quality UK and non-UK movies and TV shows. A few limitations to BBC iPlayer is their limited content, which is also geographically locked. Outside the UK, you cannot access the content on BBC iPlayer. This is where Surfshark comes in handy, enabling you to easily watch movies on Kodi's BBC iPlayer from any place in the globe.
Tubi TV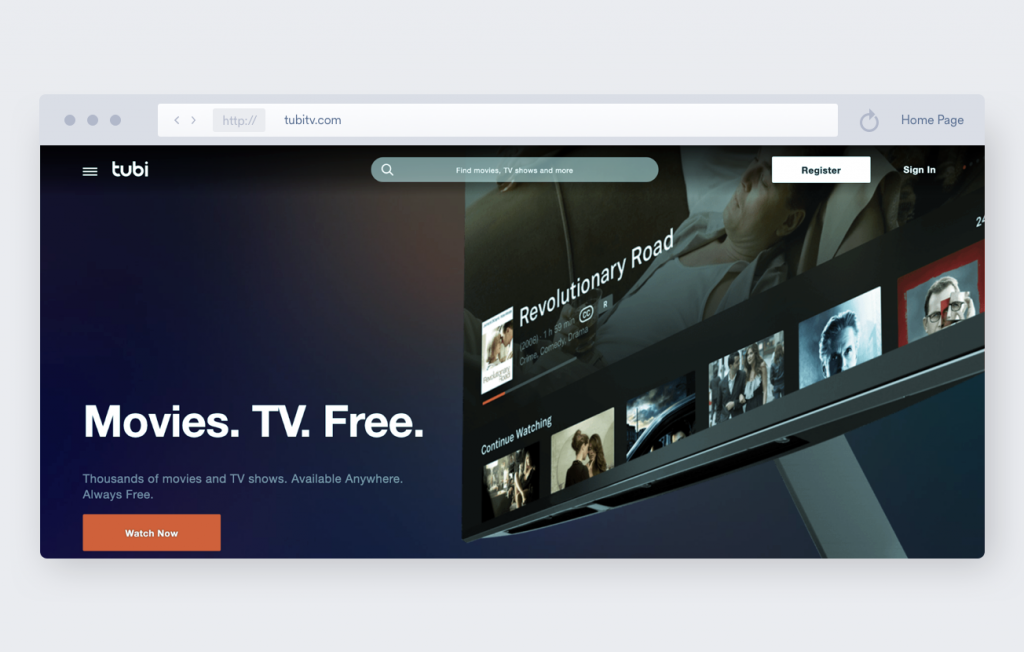 Tubi TV boasts over 50,000 different movies and TV titles of different genres. However, on the downside, Tubi TV has some of its content geographically locked (e.g., currently, it's not available in Europe). To unlock the full Tubi TV library, you'll need the services of a VPN like Surfshark.
Classic Cinema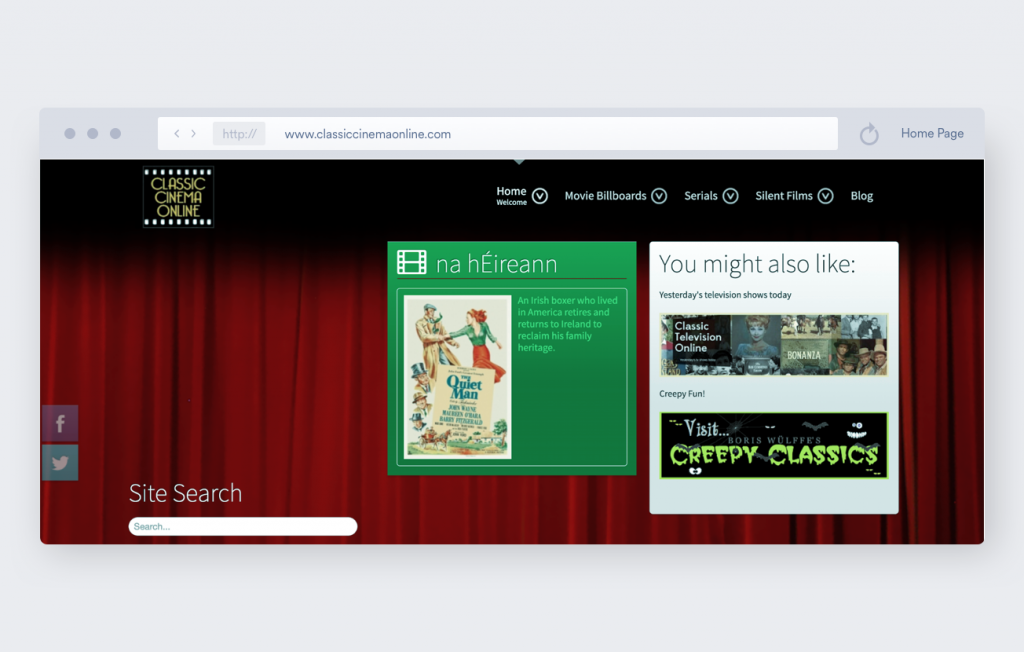 Classic Cinema is a gold mine for classic cinema lovers. This add-on offers a vast selection of movie billboards, TV shows, and silent films. It's free-to-use for all Kodi users.
Crackle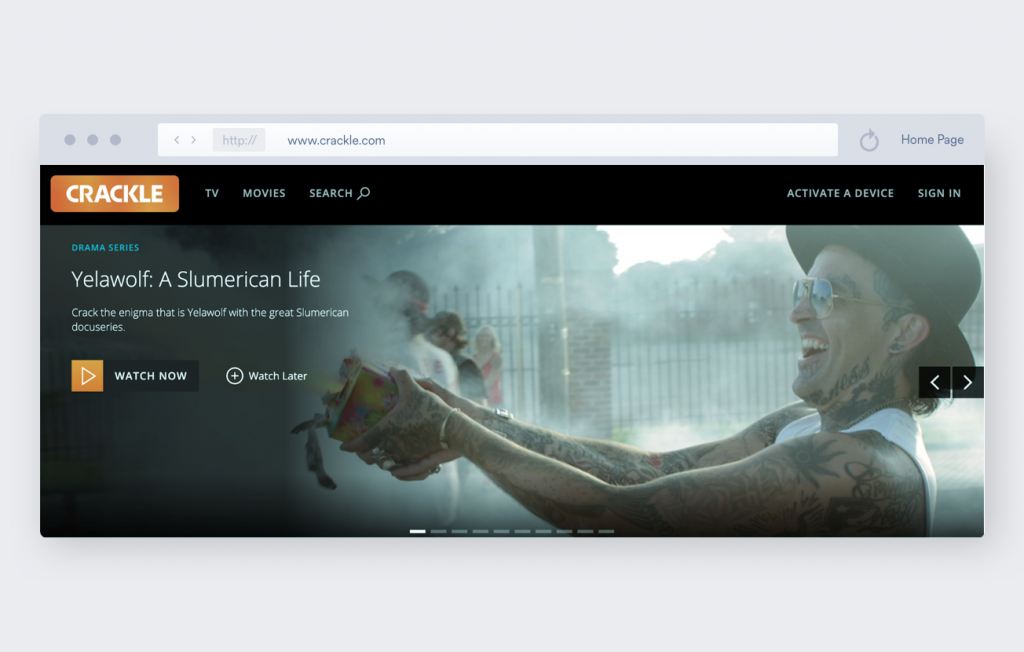 Crackle is Sony's free online video library. Sony licenses all the content on the platform. Given that Sony is a movie powerhouse, you can expect some high-quality content in this space for sure.
PopcornFlix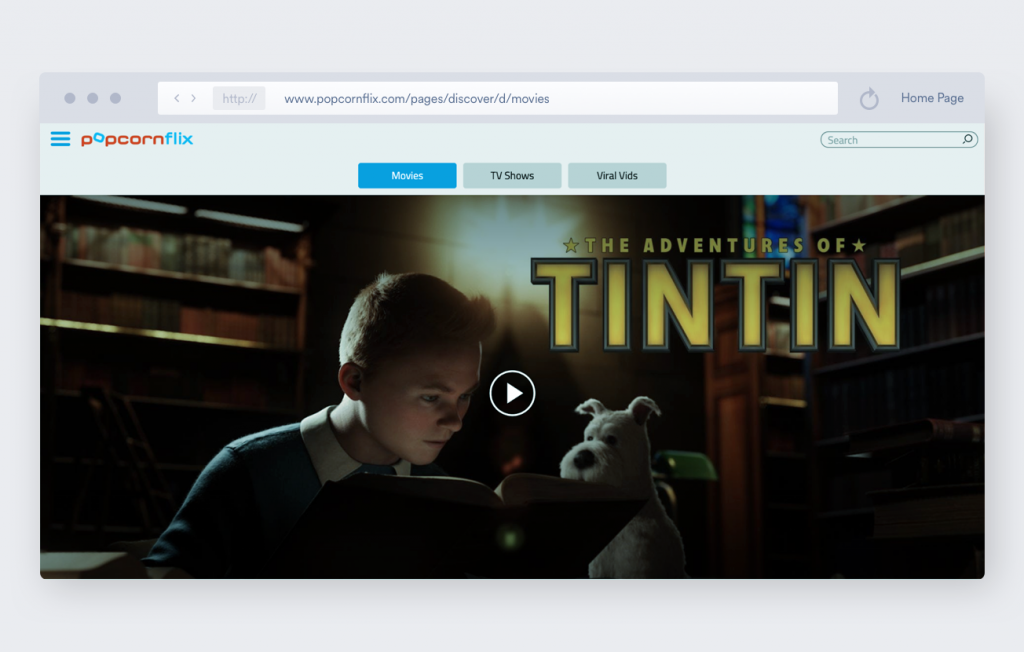 PopcornFlix is a free-to-use movie streaming service with a vast collection of TV shows and movies. This streaming service can be downloaded and installed for free on Kodi.
Unofficial Add-ons
It's fair to say that third-party add-ons are extremely popular among Kodi users. The limitless entertainment that many third-party add-ons offer comes with its own dangers. Be sure to always use a VPN when streaming movies on these types of add-ons.
But what are unofficial or third-party add-ons? They are the ones that aren't in the official Kodi repository (like the add-ons I listed above). Meaning that to get any third-party add-ons, you'll need to set up another repository on Kodi.
Exodus Redux
Find at Cypher's Locker, Smash Repo, or Kodil repositories.
This one's by far the most popular third-party add-on for Kodi. Users' devotion is not in vain, as Exodus doesn't have performance issues and offers an extensive selection of movies. If you're planning to jump on the Exodus hype train, don't forget to install a VPN to keep your streaming private.
Genesis Reborn
Find at Smash Repo and Kodil repositories.
This add-on is similar to Exodus Redux. You can watch movies in HD.
Covenant
Find at Smash Repo and Colossus repositories.
Covenant is another add-on that falls in the same category as Exodus.
Nemesis
Find at Stream Army repository.
Another great name on the list is Nemesis. This add-on can run any type of media content.
Netflix
Find at CastagnaIT repository.
Netflix needs no introduction. You can integrate this popular streaming service with Kodi, and enjoy everything it has to offer.
Summary
I've covered all you should know about watching movies on Kodi. So, let's summarize:
Kodi, in itself, has no movies.
Kodi has hundreds of add-ons that will satisfy your movie-buff heart.
The add-ons could be divided into official and unofficial (third-party) Kodi add-ons.
It's best to use Kodi with a VPN.
A VPN allows you to stream privately, access geo-blocked media, and avoid throttling.
With a number and variety of add-ons that Kodi offers, there's no doubt that you can watch any movie you want using this media player and a reputable VPN by its side.

Enjoy digital privacy & unlimited Kodi content with Surfshark
30-day money-back guarantee with every plan
I want VPN