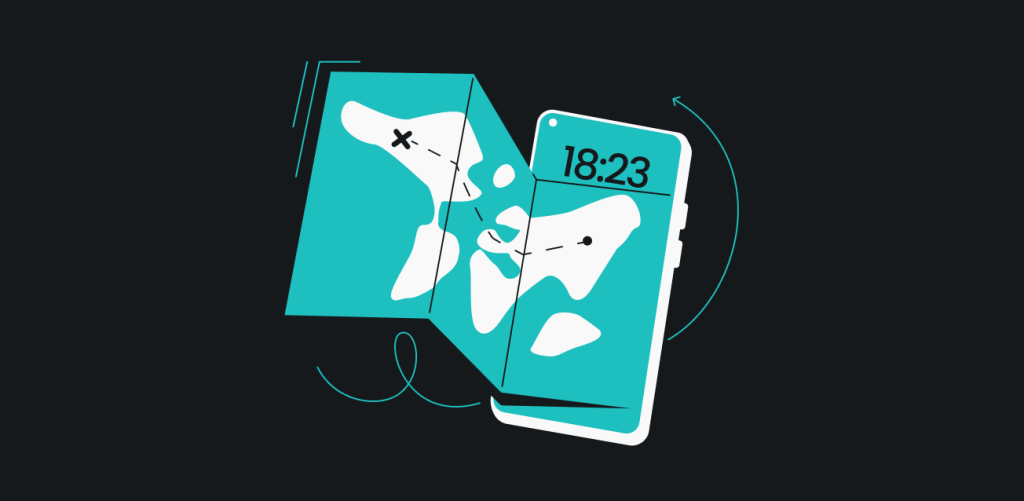 The Google Maps app is super easy for getting around, whether you are exploring your neighborhood, figuring out your commute, or getting lost in a new city. However, Google's reputation for handling data leaves a lot to be desired. If you're privacy-conscious, you should look for Google Maps alternatives ASAP.
"Navigation apps that treat your data with dignity and respect, you say?" Yes. We have curated a list of five Google Maps alternatives you can use to maintain your privacy (and four more if you simply don't like Google).
The five best Google Maps alternatives for privacy
In short, here are the five best Google Maps alternatives that respect your privacy:
Waze

OsmAnd

HERE WeGo

OpenStreetMap

Apple Maps
It's important to note that you expose some of your data anytime you use these mapping services. However, these are the most secure options available.
Get real-time updates with

Waze Maps

 
✅ Offers real-time updates
✅ Interactive and accurate data
✅ Allows you to track users
✅ Available on Google, Apple, and the web
❌ Distracting pop-up ads
Waze is a navigation and crowdsourcing app that gives you traffic and road updates in real time, curated by a community of users. It's that powerful and responsive community that makes it a worthy Google Map alternative.
Anyone can share info about accidents, traffic jams, and speed traps, which then gets shared with fellow drivers nearby. Its algorithm checks the accuracy of reported road issues and closures.
Waze provides voice navigation and a search function, just like Google Maps. You can use Waze on Android, iOS, or the web app. The only downside of Waze is that it heavily relies on community contributions. The app might not function accurately if users suddenly stop reporting.
Reach anywhere offline with

OsmAnd
✅ Free
✅ Fully offline maps
✅ Includes hiking maps
✅ Available on Google, Amazon, and Apple
❌ Tracks non-personalized data
❌ Free version lacks some important features

OsmAnd is a Google Map alternative that works without the internet. This unique feature allows you to cut down on data costs and ensures privacy.
The offline maps data also include information on biking and hiking trails. It provides data on speed and altitude, making it perfect for travelers.
They use the open source map called OpenStreetMap, which was launched in 2005 and currently has 100s of volunteers who want to make the navigation free and open for all. More on that later.
OsmAnd recognizes the importance of privacy and lets you purchase a gift card in case you do not want your credit card information stored on the app. The data it tracks is non-personalized, making it the perfect Google Maps alternative for anyone concerned with privacy.
Discover areas with

HERE WeGo
✅ Free
✅ Provides traffic data in select cities
✅ Enables you to discover places
✅ Compatible with iOS and Android
✅ Deletes timestamps after you use the mobile app
❌ Uses behavioral advertising (you can turn this off)
HERE WeGo is a Google Maps alternative that started as a revamped version of Nokia Maps. It covers 200+ countries and has 21 million vehicles providing real-time data.
Despite the real-time data claim, here's an excerpt from HERE WeGo's privacy policy:
"We do not associate your Location Data or Place Information with your other personal information, such as HERE account, unless you have asked us to do so."
This puts HERE WeGo on a weaker level than OsmAnd, enabling it to share non-personal data with third-party providers. But its focus on non-personal data makes it the perfect Google Maps alternative.
Thankfully, you can download offline maps to step around this to some degree. HERE WeGo is also just generally more robust. It offers easy drag-and-drop customization of routes and additional functionalities like road closures, traffic information, and turn-by-turn navigation.
Stay off the data radar with

OpenStreetMap
✅ Free
✅ Is an open-source map app using donated data
✅ Doesn't force you to provide data if you don't want to
✅ Does not use behavior advertising (because it's user-supported)
✅ iOS, Android, and Fire apps available through OsmAnd (see above)
❌ Accessible only on a standard web browser
OpenStreetMap, being an open-source mapping project, does not have to share data with advertisers. Unlike Google Maps, it relies on the generous data contributions provided by its user community.
Much like with torrent files, you aren't required to contribute to download. Among all the Google Maps alternatives, this is likely one of the most user-friendly options out there.
OpenStreetMap lets users choose to share GPS Trace Data (which is public) and timestamped map data. Keep in mind that, due to program limitations, your email might be visible, but they don't ask for any other extra information.
You can also request account removal when you want your data off. However, they will non-publicly retain your email address when you make contributions.
Go for the safer choice,

Apple Maps
✅ Doesn't share your data (Apple Maps doesn't rely on data-driven ads)
✅ Allows you to download map data offline
✅ Offers simple navigation
❌ Offers weak map features compared to other map tools
❌ The mobile app is exclusive to iOS
Apple Maps is a no-brainer Google Maps alternative that comes inbuilt with Apple products. Apple is one of the few large companies that prioritize your private data on a mobile app. All of this comes down to a simple quote from Apple's privacy policy:
"We do not collect personal information associated with your Maps usage, except when you submit information through Ratings & Photos or Report an Issue."
Among the big three — Apple Maps, Google Maps, and Bing Maps — Apple Maps collects the least data according to them. It only collects randomly associated identifiers that are regularly reset, ensuring little chance of tracing.
You can also download offline maps using Apple Maps, which puts it on the same level as Google Maps in terms of accessibility. However, you'll notice that the UI or the features aren't significantly better than the traditional Google Maps.
Bonus: four alternative mapping apps if you simply don't like Google
If you don't want any of the navigation tools available above, there are others out there. However, not all of them are great when it comes to internet privacy.
But if you just want to tell Google to stick it, below are four mapping apps that are not Google but still actively track and use your data:
Bing Maps

MapQuest

Maps.me

Navmii
Bing Maps

if you trust Microsoft
While Microsoft is still number two in the search engine game, they have made significant strides over the years to remain competitive with Google.
Recently, Bing Maps started showing interest in open-source map data collection. This has helped Bing Maps get back in the race to be the top Google Maps alternative.
While it isn't the best or most trustworthy when it comes to data collection, these are a few steps in the right direction. If you don't want to be hit by programmatic ads, then Bing Maps may not be the best choice for you.
MapQuest

for neat features
MapQuest decided to go with the "good first impressions" route by immediately providing three pop-ups. One of those pop-ups is to access your location, which is already a tiny red flag but not uncommon for a navigation app.
MapQuest has a lot of handy features enabling you to estimate fuel costs and find local entertainment. However, MapQuest's privacy policy also doesn't provide any claims to defend your data.
Here's an excerpt from the privacy policy:
"… information or other data provided through these products is at your sole risk."
While all companies have something excluding them from liability, MapQuest makes no promises to protect your data. At least it makes them authentic in a way.
Maps.me

as a travel buddy
Maps.me has a lot of travel guides, hiking information, and ways to reach popular tourist destinations. It also uses OpenStreetMap like OsmAnd.
However, it isn't great when it comes to privacy. Maps.me states it will gather some general user data about you (first name, last name, etc.). It also shares that data with its business partners and advertisers.
Thankfully, you can also easily remove your information from the application. But if you don't want your data shared with governing bodies, avoid Maps.me.
Navmii

for serious navigation
Navmii is also one of the only navigation apps that provide additional equipment. With connected car integration, you can combine the touch-screen device of your choice into your dashboard. Just like Google Maps, it will directly load up on your car screen.
If you don't want to do that, you can also download the navigation app for mobile as well. It also analyzes driver behavior if you fancy your phone commenting on your driving. That could be useful data for supply chain managers and logistic businesses.
Navmii stands out with its unique features, offering more than your typical online map tool. It serves as a web mapping interface that offers both commercial and personal support, all while prioritizing your data privacy by not sharing it with unwanted sources. This section from its privacy policy gives away why they are solid:
"Navmii will not share your contact details with any advertiser, unless explicitly permitted or required by law."
So, while it does collect personal data (not good), it doesn't share that data with third parties (good).
How to choose the best Google Maps alternative
Choosing a mapping provider can be challenging. To make the best choice, you have to consider two key factors — convenience and privacy.
These two aspects represent opposite ends of the spectrum, so you may need to sacrifice one for the other. Here's a detailed overview that will help you make better decisions on both sides.
Deciding based on convenience
Most alternatives to Google Maps are indeed considered better for privacy, but when it comes to convenience and user experience (UX), few competitors can match it.
Waze comes close to it in terms of features, making it the top-ranked navigation app in this blog. If you are looking for specific niche features like customizing your navigation or getting analytics data for drivers, Navmii and OsmAnd are worth looking into.
Follow this small checklist to pick a navigation app that fits your needs:
Visit the features page of your map provider to find information about the most practical and niche use cases;

Check out customized features developed on OpenSource maps. 
Deciding based on privacy
Anytime you use a map application, you expose some bit of your location to the outside world. There's no way around it, so you should be prepared to share some data when using these apps.
This exposure is doubly true when it comes to online navigation. However, those who participate in offline use maps aren't 100% secure.
If you are concerned about this information getting into the wrong hands, a physical map might better serve you. You can pick up physical maps at most gas stations.
However, offline access on a suitable Google Maps alternative is typically enough to secure yourself. Always pay attention to your chosen navigation app's privacy policy to know how secure you are.
Here's a small list of things to look for in a privacy-conscious mapping company:
They mention privacy concerns in the privacy policy;

They only collect non-personalized data and do not collect any of your other information (unless you choose to provide it);

The company does not force you to provide mapping information but is still supported by others willing to donate data. This shows greater respect for your data;

The company does not use personalized advertising.
Wrap up — prioritize your privacy with a VPN
When it comes to finding alternatives to Google Maps, all companies will claim to be the one. However, most of them will not prioritize your privacy needs, often forgoing it to make more money off of your essential data.
Some apps offer more privacy than Google Maps (any of the five alternatives above), and there are also search engines that offer better privacy as well. 
On top of that, we always recommend you use a VPN (Virtual Private Network) to be extra cautious! Some VPNs offer a GPS spoofing feature that obscures your location from apps and services. Surfshark's GPS override does just that. However, this feature is only available on Android. A VPN can also help if you do not create an account and do not provide your location data.
By doing these two things, you give yourself the most excellent chance of remaining secure. But before you jump in with both feet, check out 15 Surfshark alternatives and see why you would want to choose us to secure your maps experience.
Protect your phone

And add a little zing to your online privacy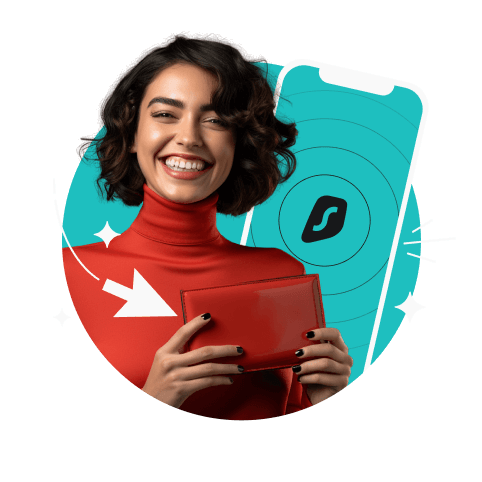 FAQ
What is the best alternative to Google Maps?
Waze Maps, Apple Maps, and OsmAnd serve as the best alternatives to Google Maps, depending on your specific requirements. If privacy is your top concern, using an open-source map with offline navigation is the preferred and most secure choice.
Is there a free alternative to Google Maps?
OsmAnd and Maps.me are both excellent free alternatives to Google Maps for Android and iOS. They use OpenStreetMap data to provide offline maps and other useful functionalities.
What is the alternative to Google Maps on a website?
Waze Maps and OsmAnd are great alternatives to Google Maps on a website. Both have offline maps and are available on web apps to navigate directions from your computer or browser.
What is the alternative to Google Maps for trucks?
Sygic Truck GPS Navigation, PTV Navigator, and Trucker Path are top Google Maps alternatives for trucks. They offer truck-optimized routes, turn-by-turn directions, and info on fuel, weigh stations, parking, and Rest Areas for commercial vehicles.
Is MapQuest better than Google Maps?
Yes, MapQuest offers more privacy than Google Maps, but it comes with more ads. Usability really depends on your preferences. Google Maps provides much higher accuracy since it's popular and collects a lot of user data.