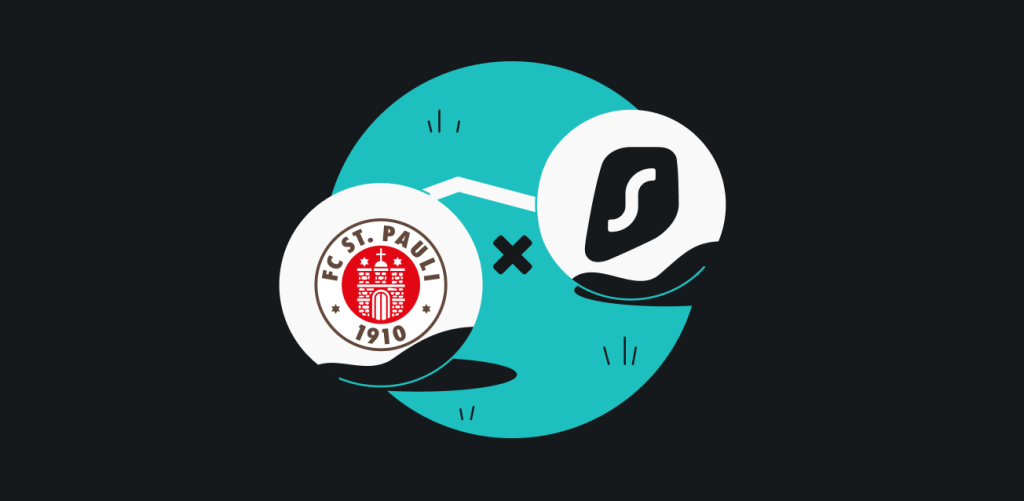 Gary Lineker says, "Football is a simple game; 22 men chase a ball for 90 minutes, and at the end, the Germans win." We say — online safety is a simple game; many cyberthreats tackle you, but in the end, a VPN wins.
To bring the online and offline victories home, Surfshark is partnering with a German football club, St. Pauli!
Introducing St. Pauli
FC St. Pauli's history starts before 1910. By now they have reached Germany's top football league, the 2nd Bundesliga, and had many successful seasons, promotions, solid league performances, strong values, emotional victories, and more. 
Over the years, the St. Pauli skull and crossbones symbol changed from a rebellious fan sign to a valuable commercial symbol. It's now a part of the club's official identity and merchandise, with the club owning its rights. This transformation shows the club's shift from grassroots rebellion to a protected identity.
The base of our partnership
Since the start, Surfshark has experienced booming growth, securing a place among the best VPNs in the world — what started as a VPN application with a few servers on a few operating systems became an industry-leading cybersecurity service known worldwide. We believe that our product is helpful for everybody — from non-profits to travelers, and from students to football fans.
Why is Surfshark the right choice for St. Pauli football team fans? Because with Surfshark, you can:
Stream content safely

Use on unlimited devices

Block ads and malware

Get private and safe access to local content everywhere in the world without buffering or annoying pop-ups.

Our

CleanWeb

feature stops annoying ads and protects you from malware attacks.
Bringing the A game online & offline
We're beyond grateful and honored to join this partnership and get the security ball rolling. We look forward to growing together and empowering each other toward a safer online life. To scoring all the online security goals together!
Use the code STPAULI to get over 80% off + 3 months free of Surfshark VPN