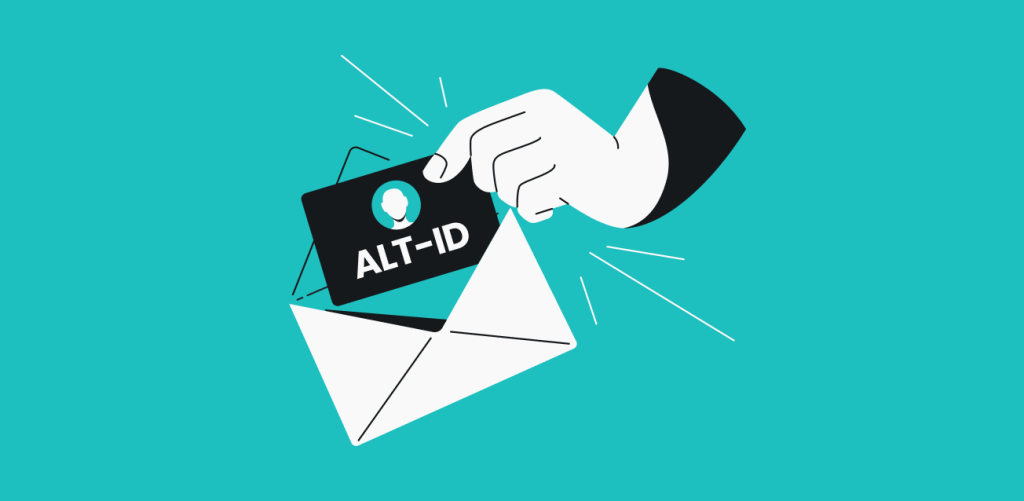 It's that time again… Time to announce an exciting new product! Sit back, grab your refreshing summer drink, and let's dive into all the details about our new online privacy protector — Alternative ID. 
What is Alternative ID?
Alternative ID is a Surfshark product that generates a brand-new identity and an email to use online. You give us the details about the identity you want us to create — we produce a new profile with an email address while keeping your true identity under wraps.
Need to sign up for a newsletter but don't want to give your email? Don't want your data on many websites in case they get breached? Alternative ID is your solution to all this and more.
What does Alternative ID do?
You might be wondering what exactly you're getting with Alternative ID. Here's what it does: 
Generates an alternative online persona;

Generates an alternative email;

Safely forwards emails to your real email address (as a proxy email would);

Does it for as long as you want it to and can be deleted or changed at any time.
Why should I get Alternative ID?
Now that you know what Alternative ID is, let's explore the benefits of getting it. And there are plenty! 
Maintains your email address & name private
You know the situation: a website asks you to sign up to access its services or a discount, and you end up registering, giving away your email address, name, or even more. 
With Alternative ID, you can reap the benefits of signing up without handing out your data. Using it helps you avoid giving personal information to one-time-use websites and sites with vague privacy protection practices. Your data is a hot commodity — let Alternative ID protect it for you.
Helps you avoid the risk of getting spam emails
Yes, you read that right — fewer spam emails! Want to get that subscription discount or deal but don't want to get flooded with promotions? Alternative ID can help with that.
Once you sign up for a few of those websites, stopping promotional emails can be hard since your email is on their database. 
Alternative ID is here to change the game — using it, you can generate a new email address and avoid getting spam (or even phishing) emails to your real one. Use this new email address to sign up for websites, and if it gets too spammy — generate a new one. One click, and no spam from that address will bother you again. 
Keeps your info out of data brokers' reach
It's no secret that some websites sell personal information to data brokers. That's why signing up for one-time-use websites is a risky business — your data might be the next chip on their table!  There's also the risk of websites being breached and malicious actors gaining access to your data.
With Alternative ID, your personal information is safe. Your real email or personal data is never entered into the website databases and cannot be sold or stolen by bad actors.
Prevents online strangers from seeing your real information
Your email may get exposed to malicious actors on public forums or marketplaces. Once they have your information, getting it off their hands is no easy feat. That's why preventing the exposure of your email is crucial.
With Alternative ID, you're safe from online stalking. Hop between websites with no worries and sign up for anything you want — your information stays hidden from online strangers.
Let Alternative ID take away the privacy risks — enjoy a safer, smoother online experience.
Alternative ID vs. disposable email services
You might be thinking: Alternative ID sounds similar to a burner email. Here's how the two differ:
| | Alternative ID | Burner email |
| --- | --- | --- |
| | Full online persona (with a name, age, gender, etc.) and an email address | Email address |
| | Protects your data by giving you an alternative to using your real information | Most burner email services lack transparent privacy policies |
| | Alternative ID works for as long as you want it to and can be re-generated or deleted at any time | Burner emails self-destruct after a short time |
| | Alternative ID safely forwards emails to your real address | Burner emails usually only operate on browser windows |
How to use Alternative ID
Getting started with Alternative ID is easy. Here's how you do it in three steps:
Get Surfshark.

You need a Surfshark One or One+ subscription plan and an active account to use Alternative ID. 

Set up Alternative ID.

Select Alternative ID on

my.surfshark.com/alternative-id

, provide the preferences for your online persona, and start using it.

Download the Surfshark extension.

For the best experience, download a Surfshark extension for

Chrome

,

Firefox

, or

Microsoft Edge

browsers.
What is the process of creating Alternative ID?
You might be curious how exactly you set up your Alternative ID. Here's how it goes:
You insert your preferences

for gender, birth date, and country;

We generate a persona and email address

with your provided details. Then we create safe forwarding from your newly formed email address to your real one;

Now,

you can use your Alternative ID

and brand new proxy email for as long as you like or change it anytime.
If you encounter any trouble, consult our Help Center here.
What else do you need to know about Alternative ID?
Alternative ID is not meant for registering to trustworthy sites (governmental institutions, banking websites) or websites that require you to use your real identity. Make sure to comply with the Terms of Service of the website that you are using.
Alternative ID is currently launched in its BETA version. The full version of Alternative ID is in the works, and it will bring even more exciting and useful features.