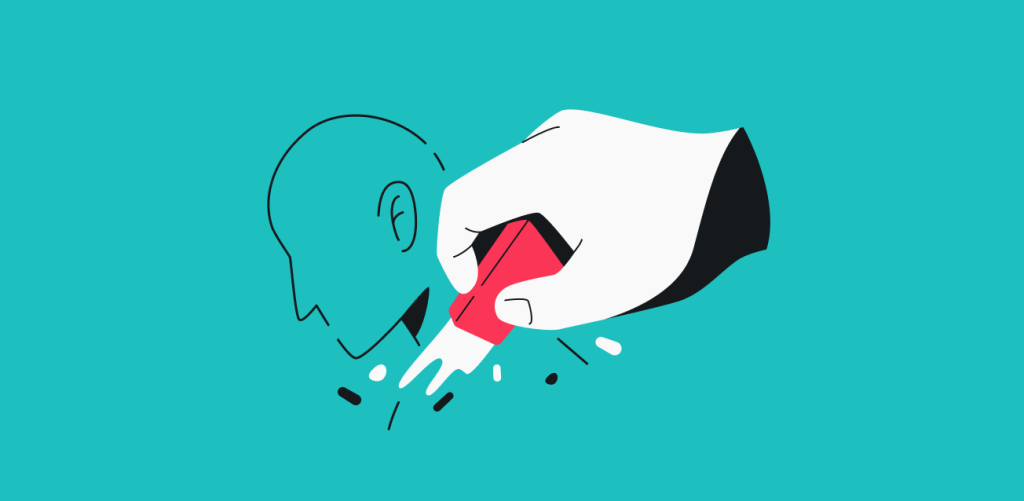 As people become more aware of their privacy online, governments pass laws to safeguard the public's fundamental right to data protection. Now, people throughout the EU and territories with similar policies request that organizations remove their data and that search engines like Google and Bing delist them from search engine results. One way to do this is by using your "right to be forgotten," introduced by GDPR. But what exactly is it? Is it becoming common practice? And if so, which countries exercise their "right to be forgotten" the most and the least?
What is the "right to be forgotten?"
The "right to be forgotten" gives individuals the right to ask organizations to delete their personal data. For example, you ask your previous employer or healthcare provider to delete all the data they have on you. Another way to exercise this right is by delisting web pages for queries related to your name from European search engine result pages. That's what we'll be focusing on in this study.
The "right to be forgotten" was first established in 2014 and redefined as the "right to erasure" with the GDPR adoption in 2018. Therefore, the right applies to countries covered by GDPR (the EU and the EEA) and some other European countries that have adopted similar laws, like the UK and Switzerland. 
How much do Europeans exercise their "right to be forgotten"?
To accurately answer this question, our researchers analyzed 32 countries that have submitted "right to be forgotten" requests between 2015 and 2021 to Google and Microsoft Bing. Over the recorded years, we found that over 1 million requests were submitted to these two search engines, with half of the requests stemming from Western European countries. Most notably, French requests accounted for nearly a fourth of all the submitted requests. 
Timeline of "right to be forgotten" requests
From 2015 to 2021, 1,066,274 "right to be forgotten" or "right to erasure" requests were submitted to Google and Bing. Of the two search engines, the vast majority (95.8%) of requests were delivered to Google. 
2015 marked the first full year the policy had been in place, where 169.2k requests were submitted throughout the year. After 2015, requests gradually decreased until 2020, when the Covid-19 pandemic started. 
The ensuing social distancing and work-from-home policies resulted in a massive shift online, which may have contributed to people reexamining their online presence and right to privacy.
"Right to be forgotten" cases rose nearly 30% in 2020, totaling 161.3k. Noteworthy examples include Cyprus and Portugal, which submitted almost three times more requests in 2020 than the previous year, while Iceland, Luxembourg, and Greece doubled their "right to be forgotten" requests year-over-year.
2021 saw an additional 15% increase across the board, with an all-time high of 185.7k requests across the analyzed countries. 
France leads in "right to be forgotten" requests
As we can see in the below graph, France is the clear leader for the total number of requests submitted between 2015 and 2021. The country's 255.6k requests account for nearly a fourth of all requests submitted over this period.
We see that 176.1k requests came from Germany and 125.3k from the UK, with each country accounting for around 17% and 12% of the total, respectively. Requests submitted by these three countries make up around half of all "right to be forgotten" requests submitted between 2015 and 2020. All other countries account for less than 10% of the total each.
Estonia leads in the "right to be forgotten" request density
As seen above, the three countries that have submitted the most "right to be forgotten" requests are also the three largest European countries in terms of population. Therefore it's worth taking a look at request density (i.e., requests per 10k people) to be able to compare countries better. Estonia comes first for this metric with 53 requests per 10,000 people — more than two and a half times higher than all other countries' combined average of 20. France takes the second position with 40, and the Netherlands takes third with 32 requests per 10k people.
Estonia saw its most significant year-on-year increase of 17.3% in 2021, while France and the Netherlands saw their most-significant increases in 2020. France's requests rose by 28.5%, and the Netherlands' requests rose by 25.8% from 2019 to 2020.
On the other end of the scale, some countries seem unaware or choose not to use the "right to be forgotten" as much. Bulgaria submitted the least requests per 10k people over the years, with around 6 — over three times lower than the average of all the examined countries. Hungary submitted around 6 requests, and Slovakia submitted only 7 per 10k people.
Western and Northern Europe have the highest request density, with 28 and 21 requests per 10k people, respectively, while Southern Europe issued 16 requests and Eastern Europe issued just eight requests per 10k people.
Most "right to be forgotten" requests are submitted to Google
Having used Google and Bing as our core markers for this study, we see that most of the "right to be forgotten" requests have been submitted to Google. 
From 2015 to 2021, Google received 1,020,959 requests, while Bing received just 45,315. This is no surprise, as Google is the world's most-used search engine. With this in mind, we can justifiably confirm that Google determines the overall trend in "right to be forgotten" requests.
From 2016 to 2017, both companies experienced their most significant decreases in "right to be forgotten" requests, where Google's dropped by 18.6% and Bing's dropped by 26.3%. 
The increased interest (pre-2017) and its subsequent decrease in the following months indicate how public engagement — initially high after the first "right to be forgotten" ruling — tends to dwindle over time. 
In 2020, Google experienced its most significant spike (30.7%), while Bing stayed consistent with the previous year, with only a 4% growth in requests. Bing's most considerable increase came in 2021, with a 31.5% growth, whereas Google recorded around 15% for that year. 
What types of information are people asking to delist?
Continuing with Google, an average of 4 URLs were included in each request submitted to the company over the years, meaning requesters asked to remove four web pages from its search results on average. Information about requesters within these webpages widely varied, from personal and professional information to connections with criminal activity. 
A total of 4,009,729 web pages were included in the requests submitted to Google over 2015-2021. While around half of the pages asked to be delisted from Google couldn't be classed into a specific category, nearly 17% fell under professional information, meaning pages that contained a requester's work address, contact information, or general information about their business activities.
Around 1 in 10 webpages referenced the requester concerning crimes, including those within their professional field. Around 6% contained the requester's personal information, such as their home address, residence, or other contact information, as well as images and videos of the individual.
How can you exercise your "right to be forgotten"?
Regardless of Google dominating the market, to fully exercise your "right to be forgotten," you should look into the search results displayed on other search engines too. 
Note that submitting a "right to be forgotten" request does not guarantee it being fulfilled. Before complying with a request, the search engine will evaluate whether the information within the web page is excessive, irrelevant, or of public interest, among other criteria.
Here are some other search engines, in addition to Google and Bing, where you can express your "right to be forgotten." 
Google
As with other search engines and following the GDPR "right to erasure" policy, you may issue a "right to be forgotten" request in Google's help center. To do this, you must complete a Personal Information Removal Request Form. 
Microsoft Bing 
Users may Request to Block Bing Search Results In Europe by filling out their details, residence, contact information, societal role, and the URLs they would like to block.
Yahoo 
European residents can use the Request to Block Search Results in Yahoo form for any URLs they would no longer like associated with their name. 
DuckDuckGo 
For any queries or requests around data rights, following the GDPR, users may contact [email protected], as per the DuckDuckGo Help Page.
Brave Search
Suppose you'd like to delist search results from Brave Search. In that case, you'll need to contact their data protection officer and the rest of their data protection team at [email protected], or an EU-nominated representative at [email protected], as per Brave Browser Privacy Policy. 
Ask.com 
If you have an Ask.com removal request under the "right to be forgotten" law, you can submit a customer support request according to this FAQ page.
Remember that the above search engine removal policies will not remove your data from other people's hands altogether but rather delist specific web pages from search results. If you want to take your privacy one step further, you should use a service like Incogni or similar.
Incogni acts as a data removal tool — removing your personal data from hundreds of data brokers' databases and conducting regular sweeps to ensure brokers don't add the information again.
Mapping the "right to be forgotten"
Implementing the "right to erasure" within the EU, the UK, Switzerland, and associated territories is a giant leap forward in the fight to preserve and sustain global data privacy. However, many critics still argue that the "right to be forgotten" could harm freedom of expression by removing online content worldwide. 
Time will only tell which countries will join the fight for online privacy and to what ends our data is private online. Where do you sit on the spectrum? Is the "right to be forgotten" a universal truth or a way to hide the past indefinitely? 
Methodology and sources
We analyzed 32 countries that submitted "right to be forgotten" requests to Google and Microsoft Bing between 2015 and 2021. Countries that had submitted requests for one company but not the other were excluded from the analysis due to discrepancies in the countries reported by the two companies. For example, while Russia's data protection law defines a right similar to GDPR's "right to erasure," only Microsoft reports on Russian requests. Excluding the countries present in one data set but not the other left us with a list of EU and EEA countries and the UK and Switzerland, which have also enforced regulations analogous to GDPR.
We aggregated the two data sets to calculate the total number of submitted requests and URLs specified per country and year. URLs defined within the "right to be forgotten" requests are unique webpages that were requested to delist from European search results. 
Note that Google presents its data cumulatively per week, and not all countries have data for every week of each year. Therefore, to calculate Google's request and URL totals, the value for the last week of each year was subtracted from the value for the last week of the following year (except for the first year a country had data for). This means that data for some parts of the year was attributed to the following year as opposed to its respective year.
For the complete research material behind this study, visit here.
Data was collected from:
References:
FAQs
How much has Google deleted because of the "right to be forgotten?"
According to the company's transparency report, Google has deleted around 2.3 million web links since 2014 — around half of all those requested to delist. 
Which countries have the "right to be forgotten?" 
As per GDPR, the right to erasure applies to all citizens residing in the EU or the European Economic Area (EEA). Other notable nations that uphold the "right to be forgotten" include the UK and Switzerland.
How can I exercise the "right to be forgotten" in the United States?
Unfortunately, the "right to be forgotten" in the US has a long way to go. As of 2023, American courts do not recognize the "right to be forgotten."