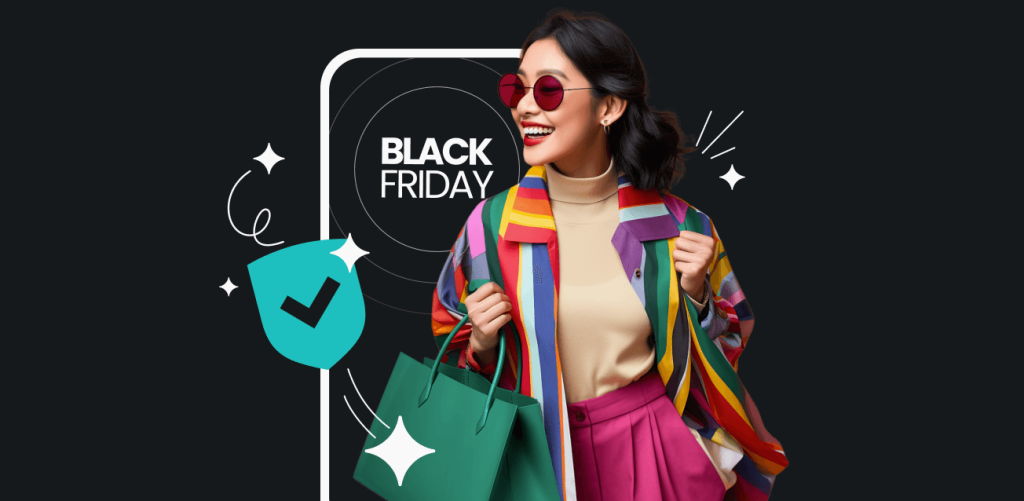 Black Friday is often the best time to snag unbelievable offers, but it's also when brands actively collect your data for future sales. You might sign up on the website to get a discount but then receive lots of spam. Or you could join an online marketplace and see higher prices than usual because they're based on your cookie data. Surfshark bundles are here to minimize the Black Friday risks and protect you beyond the sales season! 
What is the Surfshark bundle?
Surfshark bundles offer enhanced protection against cybersecurity threats. The included products protect you year-round, and they're particularly beneficial during and after the Black Friday season.
Currently, Surfshark offers Surfshark Starter and two enhanced cybersecurity bundles: Surfshark One and Surfshark One+. You can pick any of them to secure the most enticing Black Friday discounts while ensuring your online safety.
At a glance: Surfshark bundle for & after the Black Friday season
Let's explore the perks of the bundles during Black Friday and in the months that follow.
| During BF, you can: | After BF, you can: |
| --- | --- |
| Get better BF deals, avoid price discrimination, and shop safely with Surfshark VPN; | Continue using Surfshark VPN, Alternative ID, and Antivirus for your regular online shopping; |
| Get discounts while avoiding spam with Alternative ID; | Get notified with Alert if any of your credit card details or other personal data gets leaked from any of your BF merchant databases; |
| Protect yourself from malware and viruses as you check different BF offers with Antivirus. | Get your data removed from the data broker's databases with Incogni. |
Note: Surfshark VPN, Alternative ID, Antivirus, and Alert are included in the Surfshark One bundle. Surfshark One+ includes all of these products, plus Incogni, the data-removal tool.
Surfshark bundle use cases for the Black Friday season
Enjoy discounts while avoiding spam
You spot a discount, but the website asks you to register to claim it. It might lead to more spam emails, but there's no other way to get a discount… Or is there?
If you use an online alias generator (Alternative ID) included both in Surfshark One and Surfshark One+ bundles, you can claim that discount without the risk of getting more spam.
Alternative ID creates an alternative online persona and an email address for you. It forwards emails to your inbox so that you can confirm and get that discount while keeping your real email address private and your inbox free of future spam.
Get better deals
Surfshark VPN, one of our top products, is included in all bundles. You can use it on any e-commerce site to avoid personalized (possibly higher) prices.
Brands can use your unencrypted traffic info to show you prices based on your past searches, especially on Black Friday. You might feel inclined to buy more at this time of the year, but with the search history present, you might still not get the best deals possible. 
Here's what you should do: clear your cookies, clean your cache, and turn on your VPN. This way, you can explore prices unaffected by your browsing history. 
Shop safely
Black Friday is an active time for scammers trying to snoop on your traffic and get your credit card details. Or it could be advertisers tracking your habits and geographical location to push highly targeted offers.
But Surfshark VPN can give you peace of mind while shopping on countless online stores. It encrypts your connection, making your activities private and illegible to anyone trying to snoop on you. 
You don't need to worry about your digital footprint, snooping, price manipulation, or hackers peeking into your browser window — a reassuring thought, particularly for a Black Friday shopping spree. 
Protect yourself from malware and viruses
When you're in the mood to snatch the best deal, you might click on links faster than the bullet's speed. 
Lots of scammers take advantage of that. You might receive fake deal emails with malware or messages with links that will lead you to fake websites lurking for your credit card details. 
If you ever click on the wrong thing, Antivirus can protect you from malware or viruses. Use it for real-time monitoring for your Windows, macOS, and Android devices, too. It's not just for Black Friday!
Surfshark bundle use cases after the Black Friday season
Get alerts if your data is leaked
There are brands that you trust, and you feel comfortable giving them your real email address. You might even save your credit card data on their website for future use.
Unfortunately, even the brands we feel certain about might experience breaches. Alert will inform you if your details were leaked in a breach. Then, you can change the password of the leaked account and remove credit card data from it. 
The special thing about Alert is that you can enter not just your email but also your credit card details or National ID to track their leaks, too.
Remove your data from databases
If you weren't attentive to protecting your data while shopping, you might now have a problem for years to come. Lots of the personal information that you give to websites will be kept on the databases until you ask them to delete it. That information could get leaked or lead to spam flooding your inbox because a service shares its collected data with a third-party data broker.
What if you changed your opinion about the brand and wanted to withdraw all that shared data right now? Well, the process could be quite tedious. Brands want to keep your data to stay in contact and send tailored offers.
Incogni can help you with that. It makes automated data removal requests on your behalf and sends them repeatedly, if necessary, to keep your data off the data brokers' market or people-search websites. 
Conclusion
Surfshark bundles give you invaluable protection during Black Friday and all year-round: they help you get the best deals and discounts while keeping your data private, allow you to shop wherever you are in safety, and protect your devices from malware and viruses. 
See our Black Friday offers for all the bundles below!
80% OFF +up to 5 months FREE

Lift up your online security