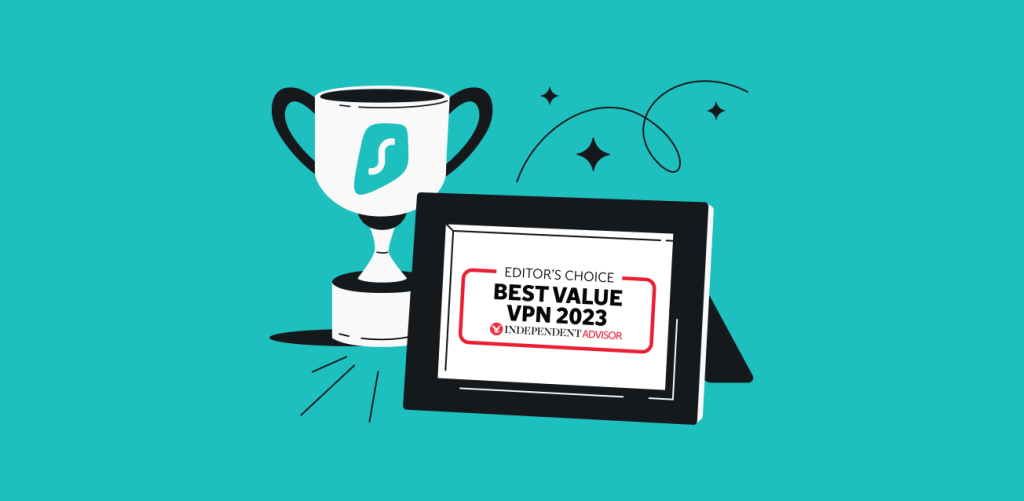 Surfshark has hit a major milestone! The Independent Advisor, a well-known British online newspaper with a global readership, crowned Surfshark the Best Value VPN — 2023. But what makes Surfshark truly stand out? Hang tight as we unveil a few takeaways. 
Surfshark's competitive edge: key factors to consider
Interested to know why the Independent Advisor chose Surfshark as the Best Value VPN for 2023? Here's why:
Pricing, plans, and overall value
The review unpacks the Surfshark One bundle, including Surfshark VPN, Antivirus, Search, and Alert. Moreover, it runs through the three subscription tiers (one, 12, and 24 months), as well as the 30-day money-back guarantee and free seven-day trial for Android, iOS, and macOS platforms. 
Compatible devices
From MacOS, Windows, and Apple TV, to Xbox, Android, iOS, and more, the Independent Advisor lists all devices compatible with Surfshark, including Chrome, Firefox, and Microsoft Edge browser extensions. 
Security and privacy
Employing AES-256 encryption and operating RAM-only servers that erase data upon shutdown, user data remains encrypted, anonymous, and protected. For more privacy and security initiatives, visit our Trust Center. 
Speed tests and unlimited device connections
The go-to choice for houses with multiple devices. In the review, the Independent Advisor mentions Surfshark VPN's unlimited, simultaneous connections and provides a full report on speed tests, including download, upload, and latency (ping). 
Added features
Added features enhance your online privacy and security, ensuring comprehensive protection for your online activities. Key features include:
Blocks malicious ads and websites.
Connects you via two different VPN servers, usually in different countries.
Allows you to choose which programs and websites to route via VPN and vice versa.
Shuts down your internet connection as soon as your VPN connection drops.
Independent audits and no-logs policy
Independent audits and assurance reports conducted by Cure53 and Deloitte verify the robustness of Surfshark's security measures. Surfshark's no-logs policy ensures personal data isn't recorded or stored.
Customer support
A 24/7 support team is available via live chat and email. On top of that, Surfshark has an extensive website knowledge base, with added YouTube videos and tutorials for pressing questions.
Server locations
Surfshark has 3,200 servers across 100 countries, each with a RAM-only diskless infrastructure, meaning user data is never stored. 
Onward and upwards — what's next for Surfshark?
We're thrilled to be awarded the Independent Advisor Editors' Choice for the Best Value VPN in 2023. Our heartfelt gratitude goes to our amazing customers for their unwavering support. We're thrilled to be a part of an illustrious list of the fastest and most secure VPNs tested in 2023 so far. Rest assured, we're going to continue pushing boundaries, driving innovation, and humanizing digital solutions for all. Thanks for being a part of the journey ahead!