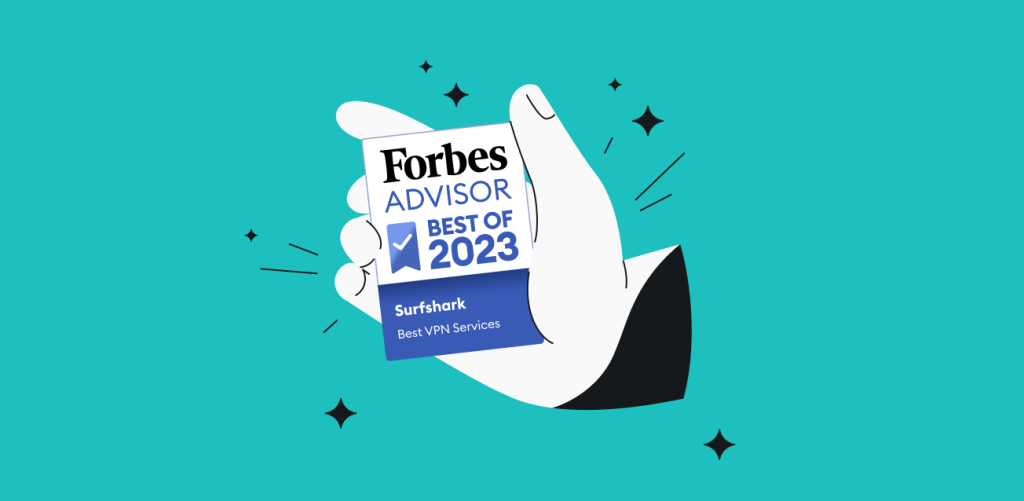 We've got some exciting news to share! Surfshark has just been recognized as the "Best VPN for Unlimited Connections." And boy, are we proud! 
This honor comes from Forbes Advisor, a world-class publication and front-runner for delivering unbiased personal finance advice, news, and reviews. This mention reaffirms our mission to provide top-tier, ultra-secure, and reliable VPN and other game-changing cybersec services to you, our global user base.
So, how did we earn this ultra-cool accolade? According to Forbes Advisor, it's all about our ability to run multiple connections seamlessly — applauding flagship features like Split Tunneling and MultiHop, which have seen us stand out in a crowded marketplace.
Forbes Advisor, in their overarching comments, had this to say about us:
"In a market of copycat VPNs, Surfshark manages to stand out with a list of unique features that includes split tunneling, allowing you to send only selected apps through the VPN tunnel and MultiHop connections, which bounce your tunnel across multiple servers for extra security."
Here's a quick rundown for those who might be new to this: Split Tunneling lets you choose which apps use the VPN tunnel and which don't, giving you the control and convenience you need to surf safely. On the flip side, MultiHop boosts your onsite security and anonymity by routing your VPN tunnel across multiple servers, making it a tough nut to crack for any snoopers out there.
All the other cool stuff Forbes loved about us
Besides giving a thumbs up to our MultiHop and Split Tunneling features, Forbes Advisor highlighted several other key elements that make Surfshark a standout VPN service. So, let's take a quick tour of these other cool bits that helped us score a spot on the list.
Unrivaled speed and performance
In Forbes' speed and latency tests, Surfshark ranked well, with an average upload between 14.18 to 14.26 Mbps and download speeds between 13.69 and 14.26 Mbps. Moreover, they found no significant performance issues.
Broad server network
Forbes gave us a tip of the hat for having more than 3,200 servers in over 100 countries. That's a lot of ground we've got you covered on.
Innovative feature set
Our unique features, such as GPS spoofing and the ability to instantly shut down compromised connections using Kill Switch, were highlighted as crucial benefits.
Simultaneous devices
With multiple connections, users can connect & use all their devices simultaneously, protecting and safeguarding them in real-time. 
User-friendly interface 
Lastly, Surfshark's ease of use was not overlooked. Forbes said we're fantastic for personal use because we're simple and loaded with features.
We can't thank Forbes Advisor enough for this prestigious recognition. It's pretty amazing to have our efforts appreciated on this level, and this motivates us to keep pushing boundaries and delivering the best possible VPN service at every turn. 
Until we meet again, why not take Surfshark for a spin? Experience firsthand the features that landed us on Forbes Advisor as the "Best VPN for Unlimited Connections."
And lastly, a massive shout out to our dedicated team for their non-stop hard work and to you, our amazing surfers, for your continuous support. This recognition is all because of you! Stay tuned for more updates, and remember, keep your life online safe and secure with Surfshark!