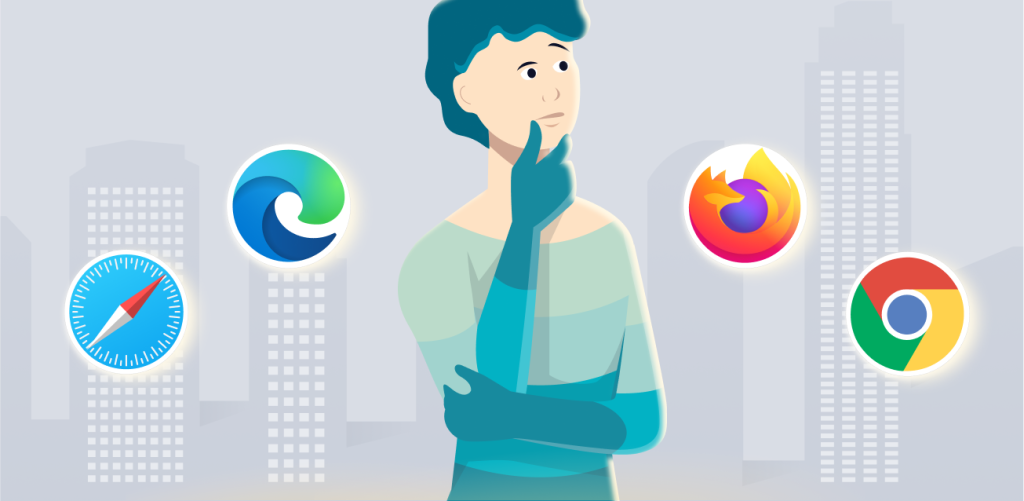 In the days of yore when Amazon was just a rainforest, information was sourced from sages, mages, or the pages of encyclopedias. To socialize, we had to leave home. Communication was through letters. Not emails. 
Alas, the digital age has crept upon us in full force, and mages are no more. Now, we have on-tap access to information & communication through the world wide web (www.), which is, in turn, explored through different types of browsers.
What is a web browser?
A web browser is a software program that gives you access to the internet. It displays websites on your screen and allows you to interact with them by entering texts and clicking on links. A few of the different types of internet browsers include Google Chrome, Mozilla Firefox, Apple Safari, and Microsoft Edge.
Web browsers usually adopt features like history tracking, bookmarking, and tabbed browsing that makes it easier to browse and interact with websites. 
Additionally, many browsers have built-in tools for debugging websites, analyzing network traffic, and inspecting the website code. Some of them also support plug-ins with additional features like spell-checking, ad blocking, malware blocking, and content filtering.
Web browsers vs. search engines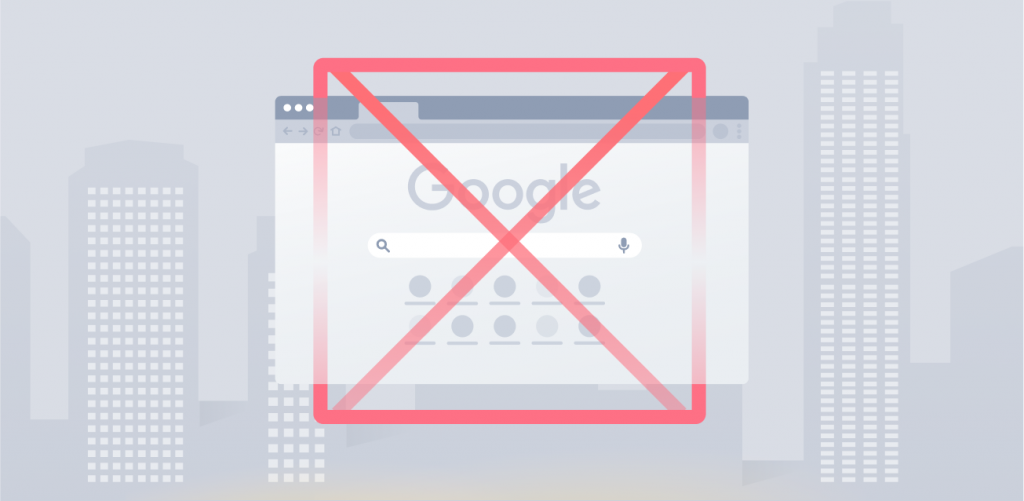 Many people believe that web browsers are search engines. Wrong. While web browsers can be used to search for information on the internet, they are not search engines themselves. Here's how they differ:
Search engines use algorithms to rank websites.

Web browsers allow users to view, locate, and access these websites.
When you type in your question into the address bar, it's not the browser that looks for the answer for you. It's the search engine. How does that work? If your address bar doesn't detect an address or a domain, it automatically searches the web for you.
How do web browsers work?
Let's put on our glasses (or adjust them anime-style) for a second.
Web browsers work by rendering HTML (Hypertext Markup Language) and XML (Extensible Markup Language) code into a visible web page. The browser downloads the code for the web page from a web server, then interprets and displays the code to create the web page. 
Basically, what you see on your social feeds every day are thousands of lines of translated code. The only difference is that a web page actually makes sense, and you have your browser to thank for that.
Different types of browsers 
Depending on your privacy and security considerations, web browsers offer different options. For instance, there are browsers that offer more private browsing options, like Opera, or browsers that focus on security, think Firefox. 
Curious to find out what each type of web browser has in store for you? Don't worry, I got you. So, get your peepers ready as we unpack the deets below: 
Google Chrome 
Number of users: 3.2 billion daily users. 
P.S. Daily users (users who engage with their browsers on a day-to-day basis) vary from general users (users who engage with the browser every now and then.)
Developer: Google Inc.
Pros and cons:
| Pros | Cons |
| --- | --- |
| Sleek design. Readily available across all OS (Windows, Linux, Mac). | Google data tracking (your data gets processed only by Google). |
| Safe and secure. Comes with a "safe browsing" option in settings and flags websites lacking HTTPS encryption as "not secure". Also has file download scanning and malware blacklists. | High CPU/RAM consumption when compared to other web browsers. |
| Syncs across all devices (laptops, smartphones, tablets, etc.) | |
| High speed (faster load times than its counterparts). | |
Privacy: Since Google & Chrome are not the most privacy-respecting entities, we only recommend Chrome if you think your data in exchange for their "free" protection features is a worthy trade-off. 
About Google Chrome: Google Chrome is a freeware web browser developed by Google. It was first released in 2008 for Microsoft Windows and was later ported to Linux, macOS, iOS, and Android. Google Chrome uses the Blink rendering engine.
Google Chrome is one of the most popular browsers, with a 63.06% market share as of 2021. Its popularity has led to Google launching a number of Chrome-based devices, including Chromecast and Chromebooks.
Safari
Number of users: 576 million daily users.
Developer: Apple Inc.
Pros and cons: 
| Pros | Cons |
| --- | --- |
| Acceptable performance and fast loading. | Zero customization features—so, users have limited control over the interface's look and feel. |
| Apple integration. Runs smoothly on macOS and iOS devices by default. | Unavailable for other operating systems. |
| Built-in privacy tools and security settings to protect users from hacks. | Data synchronization options are limited. |
| Allows emulation by web developers using the Simulator tool. | Restricted add-ons and extensions. |
Privacy: Safari tells you if you're being tracked. Yet, the browser is not open-source, which calls for some caution. We suggest you weigh your options carefully before deciding.
About Safari: Safari is a web browser developed by Apple Inc. It is the default browser on both macOS and iOS devices, with a market share of around 19.84%. 
Safari was first released as a public beta on January 7, 2003, and a final release was made available on April 3, 2003. The first version of Safari had poor support for web standards but improved over time. In 2005, Apple released Safari 2.0, which included better web standards support and new features.
Microsoft Edge
Number of users: 158 million daily users.
Developer: Microsoft Corporation.
Pros and cons:
| Pros | Cons |
| --- | --- |
| High speed. | A limited extension library. |
| The privacy settings of the browser are spelled out clearly. | |
| Users can save websites as apps that they can then use outside of the browser. | |
Privacy: Microsoft Edge was once branded one of the least privacy-friendly mainline browsers as it isn't open-source. We recommend only if privacy concerns are not a dealbreaker. 
About Microsoft Edge: Microsoft Edge is a new web browser that is included with Windows 10. It replaces Internet Explorer as the default web browser. It's based on the Chromium open-source project and supports the latest web standards.
One of the best features of Microsoft Edge is its built-in PDF reader. You can view and annotate PDF files without having to install a separate PDF reader. Microsoft Edge is not perfect, however. It does not support some older web standards, and it does not have as many extensions as other browsers.
Mozilla Firefox
Number of users: 198 million active users.
Developer: The Mozilla Foundation.
Pros and cons:
| Pros | Cons |
| --- | --- |
| It has a good extension library. | It's slow compared to other browsers. |
| It's tightly integrated with the Pocket app. | The start page of the browser has too many ads. |
| The browser isn't resource-hungry. | The browser can be slowed down by a lot of extensions. |
| It's compatible across devices and syncing occurs seamlessly. | |
Privacy: Mozilla's tracking protection has received high praise for its prevention of cross-site tracking without breaking websites. So, we recommend it.
About Mozilla Firefox: Mozilla Firefox is a free and open-source web browser developed by Mozilla Foundation and its subsidiary, Mozilla Corporation. Firefox uses the Gecko layout engine to render web pages, which implements the most current web standards.
Firefox was created in 2002 and first released in 2004. It is available for Windows, macOS, Linux, and BSD operating systems. 
Opera
Number of users: 380 million active users.
Developer(s): Opera Software, Otello Corporation, Opera Limited, Opera Software AS.
Pros and cons:
| Pros | Cons |
| --- | --- |
| It has the features of a Chromium codebase. | The user interface design is not clutter-free. |
| Protects the user's data by way of built-in data privacy features. | It is not as fast as other Chromium-based browsers like Chrome or Firefox. |
| The browser has built-in access to social media messaging apps. | Its browser features are not up to date with the latest trends for browsers. |
| It features turbo mode and battery saver mode. | |
Privacy: The opera browser is clearly laced with privacy issues. Even the Opera VPN attached to it secretly collects your data. 
About Opera: Opera is a web browser that uses the Blink engine, which is developed by Google. Opera is available for Microsoft Windows, macOS, and Linux operating systems. It also has an Android app and an iOS app.
Founded in 1995 by Jon Stephenson von Tetzchner and Geir Ivarsson, Opera has a number of features that distinguish it from other browsers. For example, Opera has a built-in ad blocker and battery saver. It also has a turbo mode that can speed up browsing on slower networks.
Internet Explorer
Number of users: 28 million active users.
Developer: Microsoft Corporation.
Pros and cons:
| Pros | Cons |
| --- | --- |
| Good compatibility with older websites. | It doesn't have an optimized UI. |
| | The browser lacks speed. |
| | It lacks essential browser features. |
| | It doesn't get active updates. |
Privacy: Internet Explorer does not offer privacy features.
About Internet Explorer: Internet Explorer is a web browser developed by Microsoft. It used to be one of the most popular browsers in the world and was included with older Windows operating systems. Since then, it was replaced by Edge.
Still, Internet Explorer has a few features that make it unique, including its tabbed browsing and InPrivate browsing modes. Besides its built-in support for Microsoft's ActiveX technology, which allows developers to create powerful web applications, Internet Explorer also includes several security features, such as phishing and malware protection.
Brave
Number of users: 15.5 million daily users.
Developer: Brave Software Inc.
Pros and cons:
| Pros | Cons |
| --- | --- |
| A minimalist interface that optimizes speed and performance. | Digital publishers and content creators cannot earn from Brave because it uses ad blockers. |
| Web tracker and native ad blockers. | It runs its own ad network but blocks ads from other ad networks. |
| Considerably lighter on system resources — opening multiple tabs consumes less RAM. | |
| It's fast. | |
Privacy: Brave's privacy system has suffered some backlash in recent times over cryptocurrency-related reasons and blockchain controversies. However, if these controversies don't bother you, we recommend Brave.
About Brave: Brave is a Chromium-based web browser with several features that set it apart from other browsers, including built-in ad and tracker blocking, a focus on privacy, and the ability to earn Basic Attention Tokens (BAT) by viewing ads. 
Tor
Number of users: 2 million active users.
Developer: The Tor Project.
Pros and cons:
| Pros | Cons |
| --- | --- |
| It's a free browser — easy to download and install. | The browser exhibits slow connections. |
| It's the only browser that gives access to onion sites. | Data can be stolen from IP addresses once they leave the exit node. |
| Tor is a secure browser. | It has slow loading speeds. |
Privacy: If the exit node issue is a minor hiccup you can overlook, then we recommend it.
About Tor: Tor is a volunteer-run anonymity web browser that helps you defend against traffic analysis — a form of network surveillance that threatens personal privacy and freedom. 
It works by a technology called onion routing, which involves nested layers that encrypt your traffic repeatedly. The browser then randomly routes your traffic through several different computers around the world. This makes it much harder for someone to track what you do online because the websites you visit will only see the IP address of the Tor server, not your actual IP address.
If you're looking for the best possible privacy when browsing, I recommend you check out our How to use Tor and Tor over VPN guides.
Which browser is the right one for me?
As with any choice in life, it depends on your needs. But this table with different browsers might help you decide. Take a look:
| | Speed | Usability & convenience | Privacy | Add-on compatibility |
| --- | --- | --- | --- | --- |
| Google Chrome | Very Good | Very Good | Bad | Very Good |
| Safari | Good | Very Good | Good | Good |
| Microsoft Edge | Good | Good | Mediocre | Very Good |
| Mozilla Firefox | Very Good | Very Good | Good | Very Good |
| Opera | Good | Good | Mediocre | Good |
| Internet Explorer | Mediocre | Mediocre | Bad | Bad |
| Brave | Very Good | Very Good | Very Good | Very Good |
| Tor | Bad | Mediocre | Unrivaled | Bad |
This is not a definitive table. Some of these points are based on my personal opinion. So, naturally, I urge you to take this table with a grain of salt and use whatever browser works best for you.
Each browser has a different layout and offers different features. Most browsers have add-ons that you can install to customize your browsing experience (Try to avoid installing add-ons on Tor). In that case, if you want to block ads from appearing on web pages, you can install an ad blocker extension in the browser. 
Some web browsers also offer a "private browsing" mode (otherwise known as incognito mode) or come with built-in ad blockers (looking at you, Brave). This helps protect your privacy by preventing the browser from storing information about the websites you visit.
To illustrate, Safari's private browsing mode deletes all cookies, website data, and history when you close the window. Firefox also has a private browsing mode that deletes all cookies and history when you close the window. 
If you're looking for a web browser with more privacy-oriented features, consider using a browser that offers tracking protection or do-not-track options (like Firefox, Brave, or Tor). Tracking protection prevents websites from gathering information about you without your consent, while do-not-track tells websites not to track your activity.
Want to learn more? See which browser is best for privacy. 
A cybersec rule – it's secure while it's hidden
The many threats the internet presents mean that you can ill afford to be laggard about your online security. On that note, a VPN is the surest way to keep your web surfing outside the radars of online trackers. 
Regardless of what browser you use, you should still use a VPN for additional privacy. So, If you're looking to tighten up your online security, a no-fail VPN like Surfshark should be your first stop.
And if you opt in for our Surfshark One deal, you'll gain access to Surfshark Search – our private search engine that doesn't track you and shows (literally) no ads.
Be safe on any browser you use
Protection from online threats and data thieves
Get Surfshark