Digital democracy|Digital freedom
42 internet restrictions recorded in the first half of 2023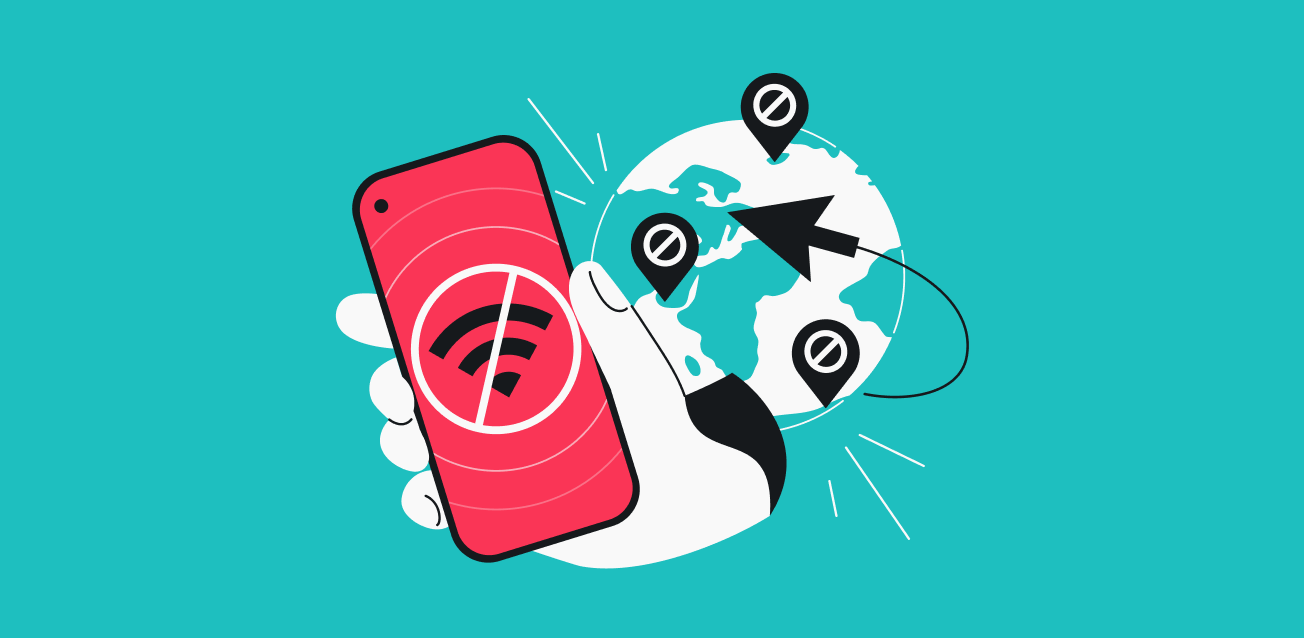 In the first half of this year, 4.24 billion people were under the shadow of digital suppression. Such figures are not just mere statistics; they represent individuals living in countries like China and the UAE, where long-term internet restrictions have become a distressing norm. The figures also represent the 42 new restrictions that were recorded in the first half of 2023.
Keep reading as we expand on our 2022 global internet censorship report¹, and shed light on global internet restrictions for the first half of 2023. We'll highlight key patterns, incidents, and the complex interplay between political events and digital suppression.
The first half of 2023 saw 82 cases of internet restrictions affecting 29 countries, including those with established histories of restrictions and newcomers to this concerning trend. Out of these 82 incidents, 40 were ongoing before the start of 2023, while 42 started in the first six months of this year.
Currently, 22 of the 196 analyzed countries and territories are imposing internet restrictions. Most of these cases can be traced back to Asia, with 15 countries sustaining ongoing internet restrictions.
Notable temporary restrictions that started and ended within the first 6 months of 2023:
Turkey (February 8): amid severe earthquakes and alleged government concerns over online disinformation, Twitter was taken down for 12 hours².
Suriname (February 17 to February 18): making its debut on this list, Suriname became the 77th country to institute internet restrictions since 2015. Amidst public outcry over the rising cost of living and protests at the National Assembly, access to social media and messaging platforms was restricted³.
Senegal (June 1 to June 7): in response to widespread protests over the sentencing of opposition leader Ousmane Sonko, social media platforms were restricted. Mobile internet services were also suspended a few days later⁴.
Notable restrictions that started in the first half of 2023 and are still ongoing:
Ethiopia (February 10): amid protests over the split of the Ethiopian Orthodox Tewahedo Church, the government restricted Facebook, Telegram, and TikTok, later extending the ban to YouTube⁵.
Sudan (April 15): in the heat of an armed conflict between rival military factions, the country experienced a series of internet disruptions⁶.
Notable long-term restrictions that started earlier and are still ongoing:
China (2009): for over a decade, China has banned foreign social media platforms, such as Twitter, Facebook, and YouTube. This long-term restriction is still in place⁷.
The UAE (2015): Voice over Internet Protocol (VoIP) services, including WhatsApp, FaceTime, and Skype, were banned⁸.
Russia (2022): following its invasion of Ukraine in 2022, Russia banned Twitter, Facebook, and Instagram⁹. These restrictions continue to be in effect.
Newly-imposed restrictions by country
Iran, India, and Pakistan were the top three countries leading in new internet restrictions for the first half of 2023. This is hardly surprising given that Asia has long been the focal point of internet shutdowns, with these nations ranking 2nd, 1st, and 4th, respectively, in terms of restriction counts globally since 2015.
Iran had the most internet disruptions in the first half of 2023, with 14 cases in total. All of these occurred in Zahedan during Friday protests over the Zahedan massacre¹⁰.
India closely trailed Iran, with 9 recorded cases of internet restrictions. The majority of these restrictions happened during protests.
Pakistan ranked third in internet disruptions in the first half of 2023, with 3 recorded cases. These were sparked following the arrest of former Prime Minister Imran Khan¹¹.
Internet disruptions by type and cause
Protests were the leading cause of government-imposed internet restrictions. More than two-thirds of the new disruptions (a total of 30) were triggered by public demonstrations, highlighting that the internet is a battleground for vital information during periods of civil unrest.
In contrast, only one case was linked to a country's internet law. This occurred in Brazil, where a judge ordered a ban on Telegram¹².
Similarly, another solitary case was tied to electoral activities. In this instance, Turkey's Information Technologies and Communications Authority blocked access to the popular social platform Ekşi Sözlük¹³ in the lead-up to the Turkish elections.
Lastly, nearly a quarter of the restrictions (precisely 10) resulted from other kinds of political turmoil, such as fighting between rival military factions, as was the case in Sudan⁶.
5 countries resorted to nationwide internet restrictions in the first half of 2023. Nationwide restrictions are the strictest form of internet shutdowns and the most economically devastating. In Africa alone, three countries imposed nationwide restrictions: Mauritania (twice), Senegal, and Sudan. Pakistan and Cuba were the other two countries that imposed nationwide restrictions.
All new local internet shutdowns, reaching 24 instances, were enforced by just 3 countries or territories. Iran led the charge with 14 cases, followed by India with 8, while Jammu and Kashmir experienced 2 such incidents.
Overview of social media restrictions
Facebook, chiefly targeted by autocratic governments, continued to face heavy restrictions in the first half of 2023. The platform was restricted in Ethiopia, Guinea, Senegal, Pakistan, and Suriname, surpassing the 4 countries that restricted the platform in 2022. Since 2015, a staggering 46% of the global population has experienced government-imposed Facebook restrictions.
Telegram, Instagram, and YouTube shared the second spot on the list of most-blocked social platforms, each facing restrictions in 4 countries. WhatsApp and Twitter trailed closely behind, each being blocked by 3 countries.
TikTok was restricted by just one country in the first half of 2023 — Ethiopia⁵. However, with the state of Montana enacting a law to ban TikTok on personal devices from next year¹⁴, the US is poised to become the eighth country to prohibit this platform, as tracked by our Internet Shutdown Tracker¹⁵. This trend highlights the widening net of digital censorship across social media.
Internet restrictions seem to be declining, but the reality is more complex
On the surface, the first half of 2023 saw a 31% reduction in new internet disruption cases compared to the same period in 2022. However, the number of countries imposing these restrictions has increased from 13 to 14. The consequence is that more people are now impacted by new internet restrictions (excluding ongoing cases), the number rising from 2.08 billion in the first half of 2022 to 2.35 billion in the same period in 2023.
Asia continues to lead in internet disruptions, accounting for 71% of new global cases. However, Africa now leads by country count, with the first half of 2023 seeing twice as many African countries imposing restrictions compared to the first half of 2022.
During the first half of 2023, there were 42 newly imposed internet restrictions compared to 61 in the same period in 2022. This decrease primarily comes from the drop in cases from Jammu and Kashmir, which fell from 35 in the first half of 2022 to just 2 in the same period in 2023.
However, if we were to exclude Jammu and Kashmir, global restrictions increased by 54%, jumping from 26 cases in the first half of 2022 to 40 in the first half of 2023. This deeper analysis suggests that the global internet shutdown situation (excluding Jammu & Kashmir) may have worsened.
Halfway there. Reflecting on global internet restrictions and looking ahead
The first half of 2023 saw an increase in countries imposing internet restrictions, impacting a staggering 4.24 billion individuals globally.
As we move into the next half of 2023, internet freedom grows ever more critical. It's not merely a statistic — it's about safeguarding people's opportunities for growth, knowledge, and democracy. The conversation around internet shutdowns must continue as it remains a deeply human issue.
Methodology and sources
Please refer to the Internet Shutdown Tracker's methodology page¹⁶ for methodology, data sources, and data spreadsheet.
Terminology:
Social media/messaging app restrictions occur when a government restricts access to one or several specific platforms.
Local internet disruptions may occur in certain provinces, states, or districts. This type of restriction can be enforced to curb localized protests, rallies, or similar from spreading to the entire country.
National internet disruptions refer to instances when the internet is restricted across the whole country. This is the strictest form of internet censorship and the most economically devastating.
For the complete research material behind this study, visit here.
Data was collected from:
Surfshark (2023). Internet restrictions in 2023'H1by country;
United Nations (2023). World Population Prospects 2022.
References:
¹ Surfshark (2023). 4.2 billion people experienced internet censorship in 2022;
² NetBlocks (2023) Twitter restricted in Turkey in aftermath of earthquake;
³ NetBlocks (2023) Social media restricted in Suriname amid cost of living protests;
⁴ NetBlocks (2023) Social media restricted, mobile internet cut in Senegal amid political unrest;
⁵ NetBlocks (2023) Social media and messaging apps restricted in Ethiopia amid religious tensions;
⁶ The Record (2023) Sudan internet shutting down as fighting causes power cuts;
⁷ TechCrunch (2009) China Blocks Access To Twitter, Facebook After Riots;
⁸ Arabian Business (2017) VoIP services banned in UAE, telecoms warn;
⁹ NetBlocks (2022) Instagram restricted in Russia as online space continues to shrink;
¹⁰ Iran Wire (2023) Activists Say Internet Shutdowns in Baluchistan Must Stop;
¹¹ NetBlocks (2023) Internet disrupted in Pakistan amid arrest of former PM Imran Khan;
¹² The New York Times (2023) Brazilian Judge Bans Telegram App Amid School Attacks Inquiry;
¹³ Duvar English (2023) Turkey's information authority blocks access to popular social network Ekşi Sözlük;
¹⁴ James Clayton and Annabelle Liang (2023). BBC. TikTok: Montana to become first US state to ban app on personal devices;
¹⁵ Surfshark (2023) Internet Shutdown Tracker;
¹⁶ Surfshark (2023). Internet shutdown tracker methodology.
FAQ
The government may turn to internet censorship measures, such as social media restrictions or network connection disruptions, because of protests, internet law, elections, or political turmoil (for example, military unrest).
Governments may restrict internet access through various means, such as through IP blocking, Deep Packet Inspection (DPI), HTTPS-based filtering, and DNS poisoning. As a result, people may be unable to access specific services or websites.
India has had the most internet restrictions worldwide since 2015, with 111 recorded cases, followed by Iran with 41 cases and Venezuela with 35 cases. This data is sourced from Surfshark's Internet Shutdown Tracker, last updated on July 4, 2023.